COMING SOON March, April, May, June 2022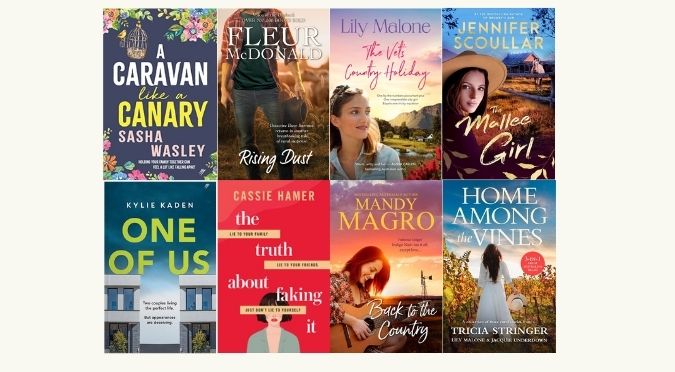 Here they are..
All the story blurbs
Find your pre-order links here or head to your preferred e-Retailer to secure your copies in paperback or eBook
And happy reading…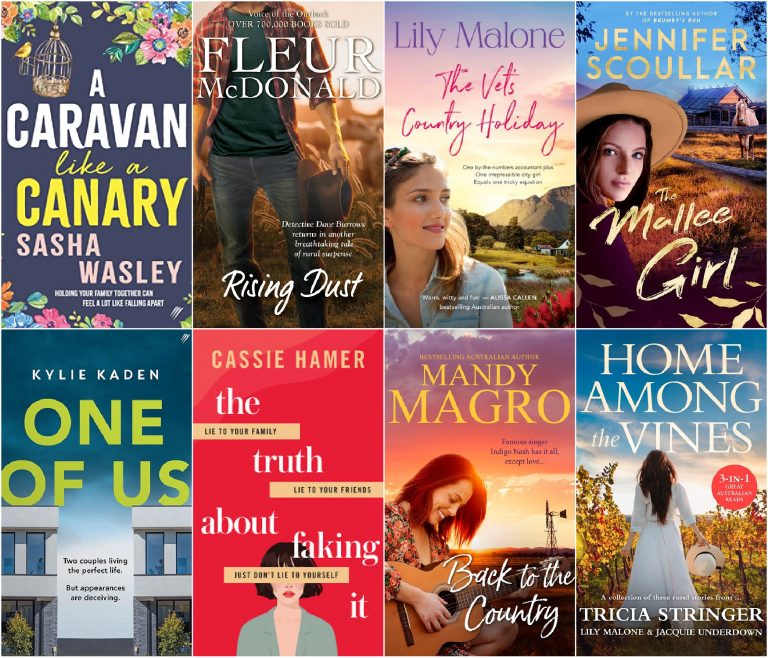 Out 29 March 2022
Two road trips. Twenty years apart. Can the memories of a troubled family past finally be put to rest?
When Tara Button's mother asks her to drive the old family caravan from one end of the state to the other, it's her tearaway brother Zac who convinces her it's a good idea. The yellow caravan is an obnoxiously bright reminder of their family's troubled past, but Tara's mother is on her last legs, and her dying wish is to see the caravan and her kids one last time. Besides, the road trip might keep Zac out of trouble – and that's always been a second job for Tara.
Tara doesn't expect Zac's enigmatic, quietly attractive friend Danh to come along for the drive. Or the bikies that seem to be following them up the coast … Then Zac unveils another mess for Tara to clean up, and their chaotic family threatens to derail her life once again.
As they travel along the familiar route, memories of the Button's last trip in the caravan engulf Tara, but the open road, a shared mission and a rediscovered love for the wild, glorious ocean start to chip away at her reserve. When forced to face her past, will Tara find the courage to let go and discover her dreams?
Pre-order A Caravan Like a Canary
Out 29 March 2022
'Detective Dave Burrows returns in another breathtaking tale of rural suspense.'
After the family's devastating tragedy, Detective Dave Burrows is crystal clear that his wife, Mel, is no longer interested in their marriage.
Before Dave can talk to Mel, he and his partner, Bob Holden, are sent to investigate a suspected sheep stealing at a station north of Carnarvon where they very quickly realise that this crime is a lot more than just stock theft.
As a ferocious tropical storm floods the airstrip and uncovers more than anyone expected, Dave and Bob find themselves isolated, outnumbered and in extraordinary danger. Dave has to confront the guilt and trauma of his past before he can move forward. And perhaps there's no way out this time.
Pre-order Rising Dust
Out 30 March 2022
One by-the-numbers accountant
Plus one irrepressible city girl
Equals one tricky equation
For city vet Isabella Passmore, the opportunity to pet-sit in the country knocks at the perfect time. Bring on that fresh air! But after three days of holiday bliss, Izzy is bored silly. If the air gets any cleaner, she'll start slinging mud. Then she gets offered work in the second-hand shop. Saved!
Maybe.
It's been years since Elliot Field's parents rolled out the red carpet, but Elliot only needs one day to learn that this welcome mat comes with strings. His parents' new business is sinking, and they expect him to fix their financial problems.
To prepare for the week from hell, he'll need a mug that's not steeped in bad memories, but nothing could prepare him for the employee he encounters at the second-hand shop.
For Izzy, pursuing Elliot is a most welcome diversion from walking another lap of town with the dog. For Elliot, their random encounters add up to the sum of much bigger things.
He's always been a numbers man and he's kept his heart locked away, but in irrepressible Izzy, is Elliot's number finally up?
Pre-order The Vet's Country Holiday
Out 12 April 2022
Set among the majesty of the High Country snowgums, The Mallee Girl is a moving and heartfelt story about the power of love and the land to heal old wounds, and the freedom that comes in confronting your greatest fears.
Armed with nothing but some loose change and her beloved dog Duke, Mallee girl Pippa Black has finally found the courage she needs to escape a dangerous relationship. Two cryptic words written on a paper napkin send her in search of the one person who might help her – a long-lost brother she has always dreamed of finding.
Pippa's quest leads her to the remote town of Currajong, high in the beautiful Victorian alps. As a runaway seeking refuge among strangers, Pippa learns that she's been mistakenly implicated in a shocking crime. She finds her way to Brumby's Run, a wild-horse sanctuary, where she begins work assisting the enigmatic farm manager Levi, and becomes entranced by Thowra, a magnificent golden stallion who leads a herd of brumbies in the region. Both man and horse will teach Pippa more about herself than she ever thought possible – including when to run, when to hide, and when to stand up and fight.
Pre-order The Mallee Girl
Out 4 May 2022
Lie to your friends. Lie to your family. Just don't lie to yourself…
'Funny, smart, heartfelt fiction for readers of Holly Wainwright from a distinctive new voice.'
The Trainor women have always been excellent at hiding their true feelings… until now. Ellen's estranged husband, David, has managed to interrupt her fabulous life of bridge and zumba by getting himself killed in a Thai boating accident. She's hardly surprised. It's simply the final in a long line of mistakes, the first was leaving her to go on a worldwide sailing trip with his mysterious, long-lost brother. Ah, well. At least she's now free to marry her rich but dull boyfriend, Kenneth.
Regrettably, her daughter, self-possessed TV news broadcaster Natasha and granddaughter, reality TV producer Georgie, seem to take the whole 'dead' thing very personally and they decide to dig deeper, though neither really has time. Natasha is on the nose at her network and a toxic secret from her past is about to set off a catastrophic personal crisis. Meanwhile, Georgie is furiously focused on denying her true feelings for a contestant on her show, The Single Gal.
Neither Ellen, Natasha, nor Georgie are agreed on quite how they should feel about David's death but they're certain about one thing – it isn't quite what it seems – and discovering the truth will unravel the tapestry of lies they've been spinning to themselves and each other.
One way or another, all three women are faking it and as matters come to a head, the truth wills out in the most unexpected of ways…
Pre-Order The Truth About Faking It
Out 3 May 2022
'A riveting domestic thriller with an explosive climax.'
Behind the tall hedges of the affluent, gated community of Apple Tree Creek, not all is as it seems …
Out of the blue, Gertie's husband decides they need a break and he's leaving her with their three children. Two streets east and three gardens down, successful businesswoman Rachael discovers her husband has cheated on her – again – even though she's pregnant with his third child. Thrown together by a chance encounter, the two women bond over the shared disaster that is their marriages.
But did one husband push his wife too far?
When the ambulance sirens cut through the serenity of Apple Tree Creek, the small community is shocked at the violence that's played out in their midst. CCTV reveals no outsiders visited the estate that night, confirming that the assailant must have been one of their own. Is the culprit still living among them? And why didn't any of the cameras, designed to keep them all safe, catch anything?
As the web of neighbourly relationships unravels and the workings of their inner lives are exposed, questions will be asked, but not everyone wants to learn the answers.
You can only push people so far.
Pre-order One Of Us
Out 4 May 2022
'Set in the heart of the Australian countryside comes a compelling romance with a touch of mystery from bestselling author Mandy Magro.'
Country singer Indigo Nash has it all, except love…
At the height of her musical career, Indigo should be nothing but happy. But Indi is disillusioned with show business, finding herself depressed and lonely. When she reaches breaking point, a simple life back in the country begins to beckon her. But the demons left lingering in the shadows from a childhood trauma follow her, and reoccurring nightmares of that fateful night plague her… Can she unearth the truth of her family's deep dark secrets?
For two years Harley Knight has travelled the world with Indi as her bodyguard. She's a stubborn woman who drives him nuts, but also, in her vulnerable moments, shows him a side of herself he secretly loves and always has since they were teenagers. When she hits rock bottom, he convinces her to return with him back to their hometown of Kuranda and stay at his property, where Harley hopes the peaceful landscape will give her the time and space she needs to heal.
With these precious few weeks, can he show her what she's missing by constantly running away, or is time to let her go?
Pre-order Back to the Country
Out 1 June 2022
A paperback-only bindup of previously published stories by Australian authors
A collection of three rural stories about finding home in unexpected places.
SOMETHING IN THE WINE by Tricia Stringer
High school teacher Keely's beach holiday plans are turned upside down when a medical emergency and an intervention by a kind stranger finds her recovering in a Margaret River vineyard instead. At first left downcast, slowly the lovely food, spectacular wine and beautiful landscape of the area begin to work their spell. Keely didn't mean to fall for anyone, but she can't help her feelings for clever, passionate wine-maker Flynn. Can what Keely feels be real? Or is it just something in the wine?
THE GOODBYE RIDE by Lily Malone
Olivia is a woman on a mission. The motorbike that once belonged to her late brother has come up for re-sale, and she is determined to buy it back. Only one person stands in her way; and she's just tripped and fallen at his feet. How far will Liv go to make the motorbike hers? Can a viticulturalist fall for a man who prefers beer? And will a weekend among the vines be long enough for Liv to believe she can trust him with her heart?
SWEET FROM THE VINE by Jacquie Underdown
Back in her hometown for a fresh start, newly divorced Matilda has landed the perfect job on the breathtaking local vineyard. The only catch is Mitch – widower, single dad, her old high school flame and her new boss. When the sparks between them grow so bright they can't be ignored, Matilda is forced to question what she truly wants in life. But first Mitch must learn that moving on is not a betrayal, and find the courage to fight for his second chance at love.
Pre-order Home Among the Vines
(paperback-only bindup)
*All stories in this bindup are available individually as eBooks
We hope you're enjoying our Book News 
We'd love you to follow us on Facebook & Instagram
And do regularly check our COMING SOON page for 2022 releases up for pre-order now
You can also subscribe below by email to receive our occasional Book News blog post – and never miss a new book release!
Stay up-to-date on the latest Australian fiction releases and news