COMING SOON – June to October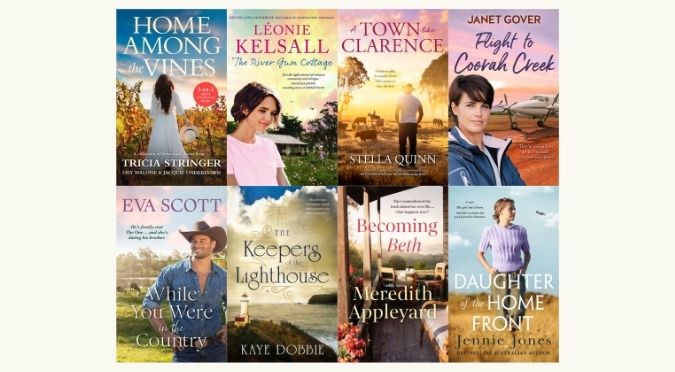 Here they are in one place…
COMING SOON and up for pre-order right now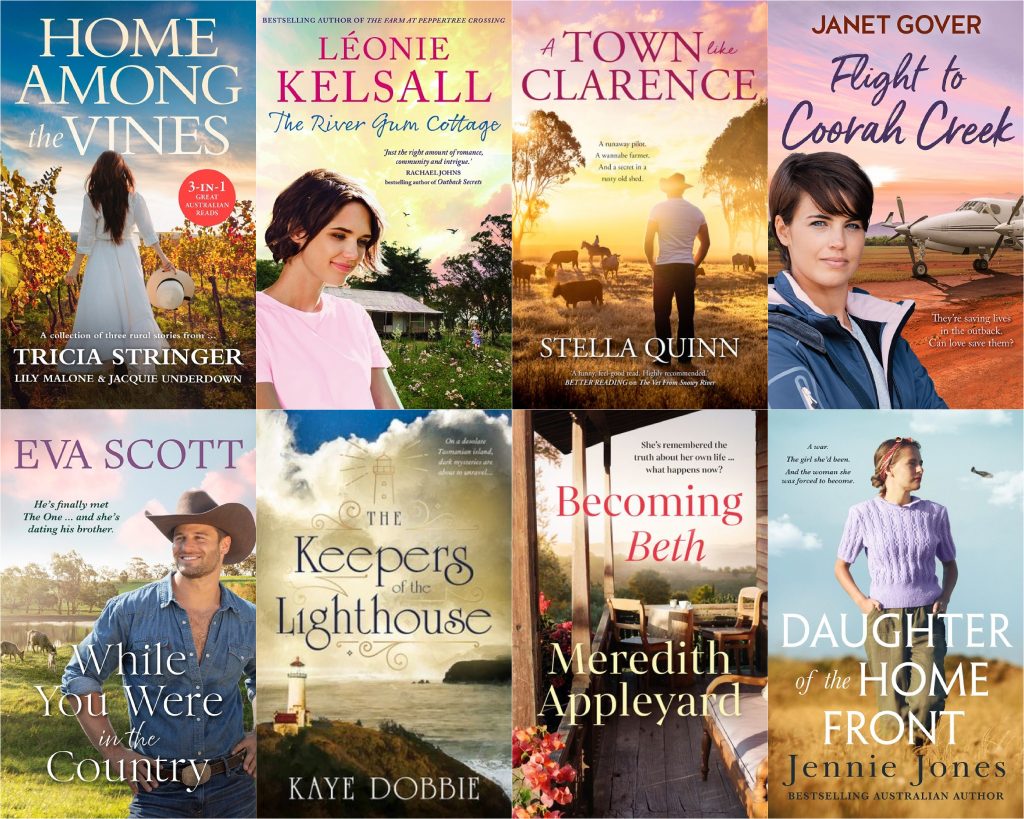 Ready to read the story blurbs?
Out 1 June 2022
A paperback-only bindup of previously published stories by Australian authors
A collection of three rural stories about finding home in unexpected places.
SOMETHING IN THE WINE by Tricia Stringer
High school teacher Keely's beach holiday plans are turned upside down when a medical emergency and an intervention by a kind stranger finds her recovering in a Margaret River vineyard instead. At first left downcast, slowly the lovely food, spectacular wine and beautiful landscape of the area begin to work their spell. Keely didn't mean to fall for anyone, but she can't help her feelings for clever, passionate wine-maker Flynn. Can what Keely feels be real? Or is it just something in the wine?
THE GOODBYE RIDE by Lily Malone
Olivia is a woman on a mission. The motorbike that once belonged to her late brother has come up for re-sale, and she is determined to buy it back. Only one person stands in her way; and she's just tripped and fallen at his feet. How far will Liv go to make the motorbike hers? Can a viticulturalist fall for a man who prefers beer? And will a weekend among the vines be long enough for Liv to believe she can trust him with her heart?
SWEET FROM THE VINE by Jacquie Underdown
Back in her hometown for a fresh start, newly divorced Matilda has landed the perfect job on the breathtaking local vineyard. The only catch is Mitch – widower, single dad, her old high school flame and her new boss. When the sparks between them grow so bright they can't be ignored, Matilda is forced to question what she truly wants in life. But first Mitch must learn that moving on is not a betrayal, and find the courage to fight for his second chance at love.
Pre-order Home Among the Vines
(paperback-only bindup)
*All stories in this bindup are available individually as eBooks
Out 1 July 2022
They're saving lives in the outback. Can love save them?
Pilot Jess Pearson is running away from a broken heart and a terrible burden of guilt. A new job flying an air ambulance in outback Australia is a lifeline, after the headlines claimed she betrayed her lover to escape a prison sentence. That was all lies, and in Coorah Creek she has a chance to start over. She's not hoping for forgiveness or love, just to escape from the past. But no matter how many people she helps save, can she ever atone for a lost life?
Dr Adam Gilmore is a brilliant doctor who wants only two things-to work and to be left alone. Unwilling to let any woman past his well-built barriers, he gives everything of himself to his patients. But when the new pilot comes to his small town, with a dedication to the job that matches his own, he starts to wonder if maybe he doesn't have to shoulder the burden alone …
Can these battered souls learn to take strength from each other? Or will their desire to deal with their demons alone keep them apart forever?
Pre-order Flight to Coorah Creek
available in eBook format only
* this is a newly polished version of a previously published story
Read more about Janet Gover
Out 5 July 2022
'A heart-warming rural romance from the best-selling author of The Wattle Seed Inn.'
Sometimes, home isn't a place: it's a feeling.
Lucie Tamberlani had it all: a business manager with a passion for naturopathy, she was set to take over the bookwork at the family strawberry farm in South Australia. But the unexpected fallout from a relationship sees her flee to Melbourne, raising her daughter alone. Summoned back to the farm after her father's death, Lucie must find a way to deal with not only grief, guilt, and the betrayal that forced her away – but the fear of losing her daughter.
Jack Schenscher is doing it tough: caring for his aged grandparents and managing their wheat farm while simultaneously pursuing his passion of sustainable eco-farming on his own acreage leaves him with little time and even less money. With the death of his business partner, he could lose all he has worked toward. Yet when he meets Lucie, can he set aside one passion for another?
Both Lucie and Jack must discover that home is wherever the heart is.
Pre-order The River Gum Cottage
Read more about Leonie Kelsall
Out 6 July 2022
When Kirsty Fox goes on the run to escape a crash-and-burn at work, she finds a family she didn't know she needed… 'A witty and warm rural romance perfect for readers of Rachael Johns and Alissa Callen.'
They say change is as good as a holiday. Joey Miles is hoping so after leaving the city behind, his stockbroking career in flames, to embrace a brand-new challenge: farming. But while returning to his hometown somehow feels right, he's got a long way to go to get back on his feet financially and the last thing he needs is the townsfolk meddling in his love life (or lack thereof).
To the townsfolk of Clarence, Joey has always been the ultimate tragic romantic hero – and it's time this hero had a happy ever after…
But Kirsty Fox is only in Clarence to dig up information about a World War II figure from her family's past – she has no intention of sticking around and finding out if Joey is as adorable as he seems. Kirsty doesn't stick around. Ever.
But when the locals of Clarence spy the chemistry between these two, a secret item gets added to the agenda of the next town committee meeting: matchmaking. This warm-hearted community will pull every trick in the book to show Joey and Kirsty everything they've unwittingly been searching for is right under their noses… What could possibly go wrong?
Pre-order A Town like Clarence
Read more about Stella Quinn
Out 3 August 2022
'Inspired by the popular 90s romcom While You Were Sleeping, this is both a nostalgic throwback and a modern-day love story about what happens when the man of your dreams isn't quite who you expected.'
He's finally met The One … and she's dating his brother.
Ant Murphy has spent his life picking up after his famous AFL star brother. So when he gets a phone call telling him that Jed has ended up in the hospital after a drink-driving incident, Ant is far from surprised. He's not even shocked by Jed's manager's wild scheme to have him spend the next six weeks living in the country with a girlfriend Ant didn't even know about. All par for the course in his brother's crazy life.
In fact, Ant isn't thrown by anything … until he turns up at the new girlfriend's farmhouse and discovers that he already knows her. Intimately.
Frankie Fox has dealt with a lot over the last few weeks. She's turned thirty, lost her roof in a storm, been ghosted by The One, and is now somehow dating her longstanding celebrity crush, THE Jed Murphy. But none of these come close to the blow of having The One turn up on her doorstep after weeks of silence … and for him to turn out to be Jed's brother.
With a secret she's forbidden from revealing, growing feelings for her boyfriend's brother, two Murphys living in her home and her future happiness on the line, Frankie must ask the most important question of all: is all this trouble really worth a new roof?
Pre-order While You Were in the Country
Read more about Eva Scott
Out 3 August 2022
'A lonely windswept lighthouse island in Bass Strait hides a dangerous secret hundreds of years in the making … Secrets and sabotage keep readers guessing in the new novel from Kaye Dobbie.'
1882
Laura Webster and her father are the stalwart keepers of Benevolence Island Lighthouse, a desolate place stranded in the turbulent Bass Strait. When a raging storm wrecks a schooner just offshore, the few survivors take shelter with the Websters, awaiting rescue from the mainland. But some of the passengers have secrets that lead to dreadful consequences, the ripples of which echo far into the future …
2020
Nina and her team of volunteers arrive on Benevolence to work on repairs, with plans to open up the island to tourists. Also on the expedition, for reason of his own, is Jude Rawlins, a man Nina once loved. A man who once destroyed her.
But the idyllic location soon turns into a nightmare as random acts of sabotage leave them with no communication to the mainland and the sense of someone on the island who shouldn't be there.
The fingers of those secrets from the passengers lost long ago are reaching into the present, and Nina will never be the same again …
Pre-order The Keepers of the Lighthouse
Read more about Kaye Dobbie
Out 7 September 2022
'Beth has forgotten the core truth of her own life. In a cruel move, her dead mother is about to remind her. A wise and ultimately warm-hearted story about self-discovery, family and community for readers of Tricia Stringer and Liz Byrski.'
Since adolescence, 58-year-old Beth has lived her life with blinkers on, repressing the memory of a teenage trauma. Her mother, Marian, took control of that situation, and of all else in their family life – and as much as she could in the small town of Miner's Ridge as well.
Now Marian is dead, and Beth, unemployed and in the middle of an embarrassing divorce, is living with her gentle-hearted father in the family home. Beth feels obliged to take over her mother's involvement in the local town hall committee, which becomes a source of new friendships, old friendships renewed, and a considerable amount of aggravation.
Researching town hall history, Beth finds photographs that show Marian in a surprising light; sorting through Marian's belongings, she realises that her mother has left a trail of landmines, cruel revelations that knock the feet out from under her supposed nearest and dearest. Beth struggles to emerge from the ensuing emotional chaos … in middle age, can she really start anew?
'A deeply felt, acutely observed novel about mothers and children, about what people hide from themselves and each other, about the richness and difficulties of community, and about becoming your own person.'
Pre-order Becoming Beth
Read more about Meredith Appleyard
Out 5 October 2022
'A dazzling, heart-breaking story of redemption from bestselling author Jennie Jones'
Townsville, 1942. Young women aged sixteen and over are obliged by law to join the war effort, and Emma Hatton's world is at last about to change. Longing to escape the humdrum poverty of oceanside Blueholm Bay and the demands of her domineering mother, Emma reaches the bustling wartime mayhem of Townsville where the city streets are filled with glamorous GIs and red lipstick is the colour of the day. Befriending charismatic Cassie O'Byrne, Emma believes her adult life has finally begun.
Private Frank Kendrick's kisses make her heart beat faster and with all the talk of his family in California, surely a proposal is imminent. But after a hasty seduction, Frank disappears and Emma finds herself in trouble.
Her family's solution is the Holy Refuge of Saint Philomena in Brisbane, a prison-like 'home' where unmarried, pregnant young women are sent to repent and used as drudges while they wait out their term before their babies are forcibly adopted. Longing to keep her child, Emma befriends other girls struggling in this cruel environment while her dearest friend of all seeks a way to help.
Cassie's solution, and the courageous choices Emma must make, lead her to true adulthood, forever friendships … and a home and family she could never have anticipated.
Pre-order Daughter of the Home Front
Read more about Jennie Jones
We hope you're enjoying our Book News 
We'd love you to follow us on Facebook & Instagram
You can also subscribe below by email to receive our occasional Book News blog post – and never miss a new book release!
Stay up-to-date on the latest Australian fiction releases and news