COMING SOON! Here they are…
Published:
September 8, 2021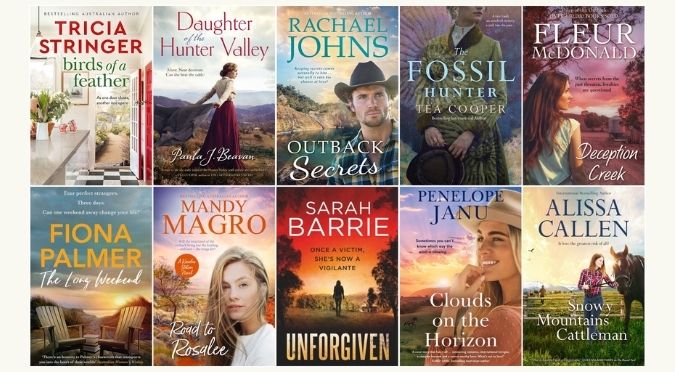 What a lineup!
Releasing in paperback and eBook and up for pre-order now in both formats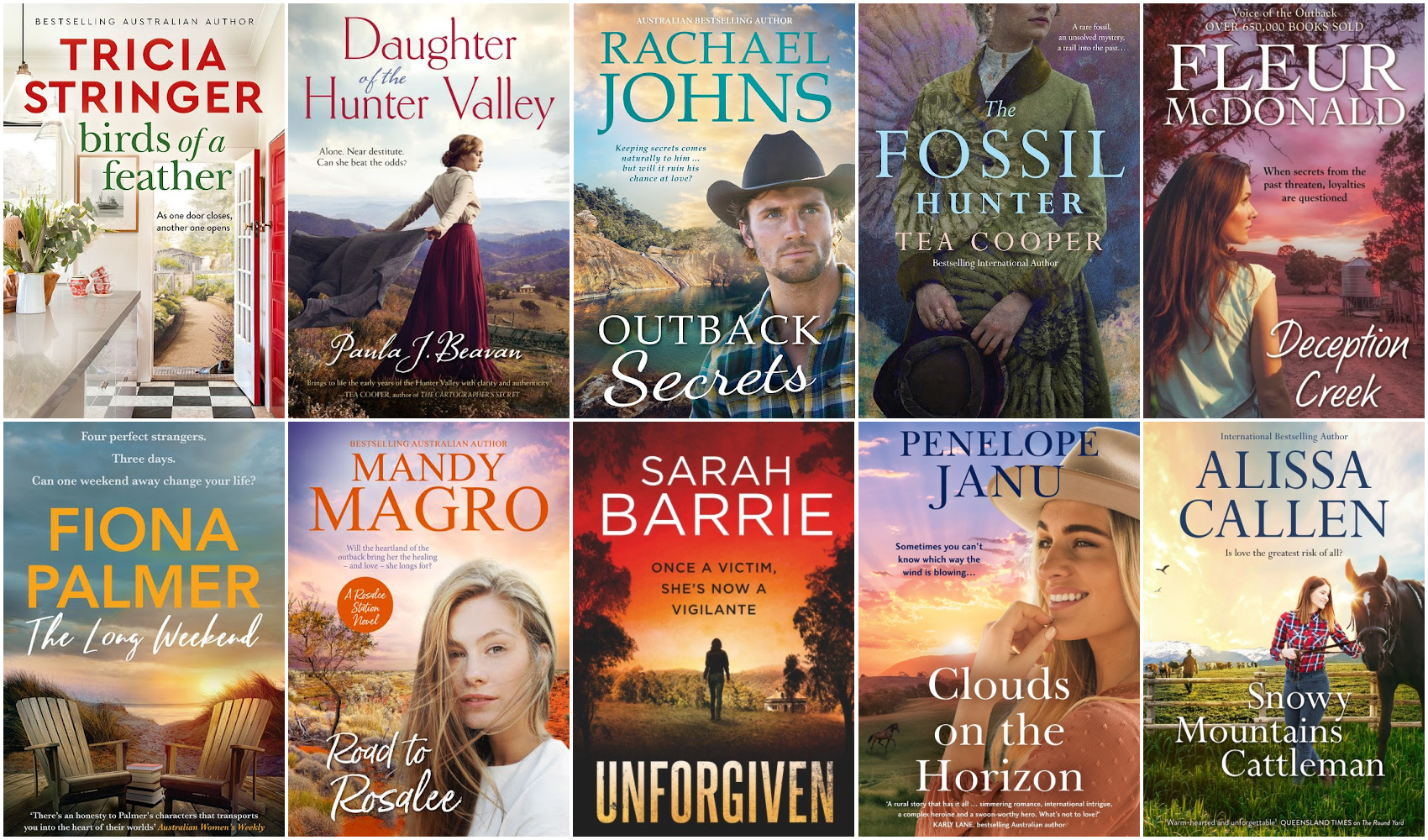 Read all the story blurbs and find your pre-order links
Happy Reading!
Out 29 September 2021
When three women are thrown together by unusual circumstances, ruffled feelings are just the beginning.
A wise, sharply observed celebration of the life-changing power of female friendships.
Eve has been a partner in a Wallaby Bay fishing fleet as long as she can remember. Now they want her to sell – but what would her life be without work? She lives alone, her role on the town committee has been spiked by malicious gossip and she is incapacitated after surgery. For the first time in her life she feels weak, vulnerable – old.
When her troubled god-daughter Julia arrives at Wallaby Bay, she seems to offer Eve a reprieve from her own concerns. But there is no such thing as plain sailing. Eve has another house guest, the abrasive Lucy, who is helping her recuperate and does not look kindly on Julia's desire for Eve's attention.
But Lucy, too, has demons to battle and as each woman struggles to overcome their loss of place in the world, they start to realise that there may be more that holds them together, than keeps them apart.
But will these birds of feather truly be able to reinvent what family means? Or will the secrets and hurts of the past shatter their precarious hold on their new lives … and each other?
Pre-order Birds of a Feather
Out 29 September 2021
Alone. Near destitute. Can she beat the odds?
An exciting Australian historical debut.
1831, New South Wales
Reeling from her mother's death, Madeleine Barker-Trent arrives in the newly colonised Hunter River to find her father's promises are nothing more than a halcyon dream. A day later, after a dubious accident, she becomes the sole owner of a thousand acres of bushland, with only three convicts and handsome overseer Daniel Coulter for company.
Determined to fulfil her family's aspirations, Maddy refuses to return to England and braves everything the beautiful but wild Australian country can throw at her – violence, danger, the forces of nature and loneliness. But when a scandalous secret and a new arrival threaten to destroy all she's worked for, her future looks bleak …
Can Maddy persevere or should she simply admit defeat?
Pre-order Daughter of the Hunter Valley
Out 27 October 2021
Keeping secrets comes naturally to him…but will it ruin his chance at love?
Liam Castle knows the secrets of everyone in Bunyip Bay. As the owner of the pub, he's heard it all – from marriage proposals and farming disasters to family rifts and everything in between. The locals love to confide in him, but no one knows he's hiding a tragic past.
And he wants to keep it that way.
Agricultural pilot Henrietta Forward lives for her job, choosing work over romance. But when an incident in the air brings Henri home to Bunyip Bay earlier than planned, she finds herself questioning everything she believes about herself.
But Henri's secret isn't her only problem.
Her mother will stop at nothing to have her settled down back in the Bay, and while Henri had always known domesticity wasn't the life for her, now she wonders what her future holds. So when Liam – always the first to lend a hand to those in need – agrees to play along with Henri's scheme to ward off her mother, she has mixed feelings. What happens when a pretend romance starts to feel like the real thing?
Will Henri's demons and Liam's traumatic past prove too great a barrier to love?
Pre-order Outback Secrets

Out 27 October 2021
A rare fossil, an unsolved mystery, a trail into the past
Wollombi, The Hunter Valley 1847
The last thing Mellie remembers before the fever takes her is running through the bush as a monster chases her – but no one believes her story. In a bid to curb Mellie's overactive imagination, her benefactors send her to visit a family friend, Anthea Winstanley. Anthea is an amateur palaeontologist with a dream. She is convinced she will one day find proof the great sea dragons – the ichthyosaur and the plesiosaur – swam in the vast inland sea that millions of years ago covered her property at Bow Wow Gorge, and soon Mellie shares that dream for she loves fossil hunting too…
1919 When Penelope Jane Martindale arrives home from the battlefields of World War 1 with the intention of making her peace with her father and commemorating the death of her two younger brothers in the trenches, her reception is not as she had hoped. Looking for distraction, she finds a connection between a fossil at London's Natural History museum and her brothers which leads her to Bow Wow Gorge. But the gorge has a sinister reputation – 70 years ago people disappeared. So when PJ uncovers some unexpected remains, it seems as if the past is reaching into the present and she becomes determined to discover what really happened all that time ago…
Pre-order The Fossil Hunter
Out 2 November 2021
A returned criminal, a cult-like family and cybercrime all clash against the backdrop of the Flinders Ranges in this thrilling new rural suspense novel from the best-selling Voice of the Outback.
Emma Cameron, a recently divorced farmer and a local in Barker, runs Deception Creek, the farm that three generations of her family have owned before her. Every day Emma pushes herself hard on the land, hoping to make ten-year-old memories of a terrible car accident disappear. And now there are more recent nightmares of an ex-husband who refuses to understand how much the farm means to Emma.
When criminal Joel Hammond is released from jail and heads home to Barker, Detective Dave Burrows and his officer Senior Sergeant Jack Higgins are on high alert. Joel has a long and sorry history with many of the townsfolk and they are not keen to see him home to stay.
Not all of the Barker locals want to see Joel run out of town though. Some even harbour doubts about Joel's conviction. The town finds itself split down the middle, families pitted against each other with devastating outcomes.
Pre-order Deception Creek
Out 1 December 2021
Four perfect strangers.
Three days.
Can one week away change your life?
The unputdownable new drama by one of Australia's most beloved storytellers
Coming together for a writing workshop with bestselling author Jan Goldstein, four strangers converge upon a luxury forest retreat. But along with their notepads and laptops, each of the participants has brought some emotional baggage.
Beth is a solo parent and busy career woman haunted by a tragic car accident. Simone, the youngest at 26, is a successful Instagram star but she's hiding behind a facade. Jamie is the only man. He's a handsome personal trainer – but he looks out of place with a pen in his hand. Finally, Alice is a wife and mum recovering from post-natal depression. She and Jamie soon realise they are not such perfect strangers after all.
Only one thing is for sure: on this creative getaway, nothing will go according to script.
Pre-order The Long Weekend
Out 1 December 2021
Will the heartland of the outback bring her the healing – and love – she longs for?
A new Rosalee Station novel 
City girl Melody Harrison finds herself questioning everything in the wake of her mother's deathbed confession of a long-held secret – a secret that drives her far into the outback, to the wide-open skies of Rosalee Station…
Matt and Sarah Walsh have finally reached a time in their lives where they are at peace, but their happiness is again thrown into turmoil when Matt answers the door to a young woman with shocking news. But what is the truth? Only by offering her sanctuary at Rosalee Station will they find space to come to grips with each other.
Long ago accepting he's never going to fit in with his wealthy family, Zai Wellstone has finally landed his dream job as head stockman at Rosalee Station. It's here he crosses paths with the most intriguing woman he's ever met, Melody, the new camp cook. Sparks fly between them from their first encounter, but will the secrets she's keeping stand in their way?
Rosalee Station is the place where love is found and family ties mean more than anything – will its magic once again show a heartbroken young woman her way forward, to the healing and connection she craves?
Pre-order Road to Rosalee
Out 1 December 2021
Once a victim, she's now a vigilante. An addictive and suspenseful thriller for readers of Candice Fox and Sarah Bailey.
Lexi Winter is tough, street-smart and has stood on her own two feet since childhood, when she was a victim of notorious paedophile the Spider. All she cares about now is a roof over her head and her long-term relationship with Johnny Walker. She isn't particular about who she sleeps with … as long as they pay before leaving.
Lexi is also an ace hacker, tracking and entrapping local paedophiles and reporting them to the cops. When she finds a particularly dangerous paedophile who the police can't touch, she decides to gather enough evidence to put him away. Instead, she's a witness to his death …
Detective Inspector Rachael Langley is the cop who cracked the Spider case, 18 years earlier – but failed to protect Lexi. Now a man claiming to be the real Spider is emulating his murderous acts, and Rachael is under pressure from government, media and her police colleagues. Did she get it wrong all those years ago, or is this killer a copycat?
Lexi and Rachael cross paths at last, the Spider in their sights … but they may be too late …
Pre-order Unforgiven
Out 5 January 2022
Will a misunderstanding and past trauma stand in the way of profound attraction?
'Immovable determination meets irresistible charm in this delightful rural romance from an award-winning and much-loved author – for readers of Rachael Johns, Karly Lane and Fleur McDonald.'
When Phoebe Cartwright finds Sinn Tørrissen, a naval officer and meteorologist, frozen half to death in the middle of a thunderstorm, she believes she's saved his life.
Sinn, unfailingly competent and infuriatingly arrogant, disagrees. In Phoebe's small country town to track down the members of an illegal horse-racing syndicate, the last thing he needs is to become entangled with Phoebe.
A much-loved member of her community, the prickly and independent Phoebe is used to solving other people's problems, not being told what to do. So when she learns her younger sister could be implicated in their father's dishonest accounting for the syndicate, she insists on working with Sinn to uncover the truth.
Sinn is both confused and entranced by the passionate Phoebe and in spite of her resistance, Phoebe finds herself drawn to him. But Phoebe is determined to protect her sister above all, and the secrets she cannot tell Sinn threaten to sweep his investigation – and their romance – way off course. Sometimes even a meteorologist can't judge which way the wind is blowing.
With clouds building on the horizon, can Phoebe and Sinn weather the gale and find in each other a shelter from the storm?
Pre-order Clouds on the Horizon
Out 2 February 2022
The greatest risk of all is love …
Interior stylist Grace Davenport has come to the mountains for solitude and a place to heal after her parents' death. Returning to their beloved town of Bundilla, she plans to restore a local bluestone mansion in honour of their memory. She'll just be there for the summer, until she figures out her next step.
Rowan Parker never used to think twice about taking risks until his love for a woman blinded him to all common sense. Now, between his cattle farm in the high country and his work as a stonemason, there's no room in his life for further mistakes. But when he meets the beautiful but reserved new owner of the historic mansion he's been hired to rebuild, he realises his best laid plans have run amuck.
Together, Grace and Rowan work to bring the mansion back to life. But when they uncover a hidden trove of post-WWII secrets about the house's former inhabitants, their quest to find answers draws them ever closer. And just when the stone rubble around them begins to resemble a home, a landslide threatens all that Rowan and Grace have rebuilt. With their futures as unstable as the mountainside, each must fight for what they really want, even if it means losing everything…
Pre-order Snowy Mountains Cattleman
Are you excited by this lineup of upcoming new releases?
So are we!
We hope you're enjoying our Book News 
Subscribe below by email to receive our occasional Book News blog post – and never miss a new book release!
We'd also love you to follow us on Facebook & Instagram 
Stay up-to-date on the latest Australian fiction releases and news