Coming Soon Books – December to April
Published:
November 28, 2021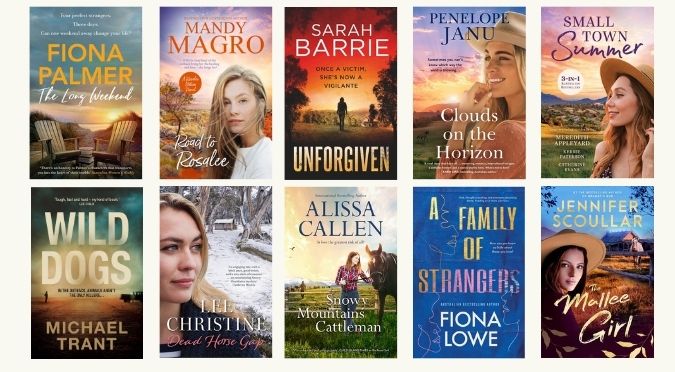 Here they are…
Releasing in eBook and paperback and all up for pre-order now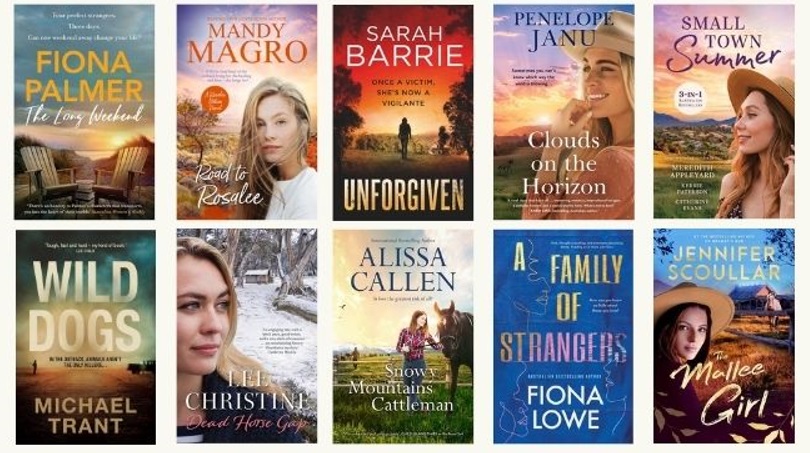 Read all the story blurbs and find your pre-order links or head to your favourite e-Retailer
Happy book pre-ordering 😉
Out 1 December 2021
Four perfect strangers.
Three days.
Can one week away change your life?
The unputdownable new drama by one of Australia's most beloved storytellers
Coming together for a writing workshop with bestselling author Jan Goldstein, four strangers converge upon a luxury forest retreat. But along with their notepads and laptops, each of the participants has brought some emotional baggage.
Beth is a solo parent and busy career woman haunted by a tragic car accident. Simone, the youngest at 26, is a successful Instagram star but she's hiding behind a facade. Jamie is the only man. He's a handsome personal trainer – but he looks out of place with a pen in his hand. Finally, Alice is a wife and mum recovering from post-natal depression. She and Jamie soon realise they are not such perfect strangers after all.
Only one thing is for sure: on this creative getaway, nothing will go according to script.
Pre-order The Long Weekend
Out 1 December 2021
Will the heartland of the outback bring her the healing – and love – she longs for?
A new Rosalee Station novel 
City girl Melody Harrison finds herself questioning everything in the wake of her mother's deathbed confession of a long-held secret – a secret that drives her far into the outback, to the wide-open skies of Rosalee Station…
Matt and Sarah Walsh have finally reached a time in their lives where they are at peace, but their happiness is again thrown into turmoil when Matt answers the door to a young woman with shocking news. But what is the truth? Only by offering her sanctuary at Rosalee Station will they find space to come to grips with each other.
Long ago accepting he's never going to fit in with his wealthy family, Zai Wellstone has finally landed his dream job as head stockman at Rosalee Station. It's here he crosses paths with the most intriguing woman he's ever met, Melody, the new camp cook. Sparks fly between them from their first encounter, but will the secrets she's keeping stand in their way?
Rosalee Station is the place where love is found and family ties mean more than anything – will its magic once again show a heartbroken young woman her way forward, to the healing and connection she craves?
Pre-order Road to Rosalee
Out 1 December 2021
Once a victim, she's now a vigilante. An addictive and suspenseful thriller for readers of Candice Fox and Sarah Bailey.
Lexi Winter is tough, street-smart and has stood on her own two feet since childhood, when she was a victim of notorious paedophile the Spider. All she cares about now is a roof over her head and her long-term relationship with Johnny Walker. She isn't particular about who she sleeps with … as long as they pay before leaving.
Lexi is also an ace hacker, tracking and entrapping local paedophiles and reporting them to the cops. When she finds a particularly dangerous paedophile who the police can't touch, she decides to gather enough evidence to put him away. Instead, she's a witness to his death …
Detective Inspector Rachael Langley is the cop who cracked the Spider case, 18 years earlier – but failed to protect Lexi. Now a man claiming to be the real Spider is emulating his murderous acts, and Rachael is under pressure from government, media and her police colleagues. Did she get it wrong all those years ago, or is this killer a copycat?
Lexi and Rachael cross paths at last, the Spider in their sights … but they may be too late …
Pre-order Unforgiven
Out 5 January 2022
Will a misunderstanding and past trauma stand in the way of profound attraction?
'Immovable determination meets irresistible charm in this delightful rural romance from an award-winning and much-loved author – for readers of Rachael Johns, Karly Lane and Fleur McDonald.'
When Phoebe Cartwright finds Sinn Tørrissen, a naval officer and meteorologist, frozen half to death in the middle of a thunderstorm, she believes she's saved his life.
Sinn, unfailingly competent and infuriatingly arrogant, disagrees. In Phoebe's small country town to track down the members of an illegal horse-racing syndicate, the last thing he needs is to become entangled with Phoebe.
A much-loved member of her community, the prickly and independent Phoebe is used to solving other people's problems, not being told what to do. So when she learns her younger sister could be implicated in their father's dishonest accounting for the syndicate, she insists on working with Sinn to uncover the truth.
Sinn is both confused and entranced by the passionate Phoebe and in spite of her resistance, Phoebe finds herself drawn to him. But Phoebe is determined to protect her sister above all, and the secrets she cannot tell Sinn threaten to sweep his investigation – and their romance – way off course. Sometimes even a meteorologist can't judge which way the wind is blowing.
With clouds building on the horizon, can Phoebe and Sinn weather the gale and find in each other a shelter from the storm?
Pre-order Clouds on the Horizon
Out 5 January 2022
Paperback only
A collection of heartwarming stories about summer, romance and community from three Australian authors.
HOME AT LAST by Meredith Appleyard
When the chance of Anna Kelly's dream job as a pilot with the Royal Flying Doctor Service comes up she takes it, even though she has to move to remote Broken Hill – a place she had hoped she would never see again. The painful memories the town provokes remind Anna why she keeps men at arm's length, but the distractingly attractive flight nurse Nick Harrison has a way of finding a path through her defences. But will he still want her if the truth comes out?
RETURN TO JACARANDA AVENUE by Kerrie Paterson
Twenty-five years ago, Polly Chappell and Matt Enright were in love – but their relationship came to a traumatic end. Now Polly has moved back to her home town, their attraction turns out to be stronger than ever, but both have their reasons to resist rekindling their romance – until someone attempts to run Polly out of town with escalating threats, and Matt's protective instincts surface. Will the secret she keeps bring them together – or get them killed?
THE HEALING SEASON by Catherine Evans
Small town Dulili is suffering a people drought. The locals put a plan into action to entice newcomers; who could resist renting a beautiful homestead for a dollar a week?
Lachlan has spent his life running, and Dulili is just far enough away for a new start. Alicia used to know exactly what her life would look like: marry her best friend, manage her home town agricultural store, and live in her grandparent's old house. But life never goes to plan. Until a new employee walks through her door and offers a new friendship – and potentially something more.
Pre-order Small Town Summer

*Note – each story is available individually as an eBook and this bindup will be paperback only
Head to your preferred e-retailer to buy the individual stories
Home at Last by Meredith Appleyard is also available in paperback
Out 1 February 2022
'Wild Dogs is a page-turning action thriller set in the WA outback, introducing Australia's answer to Jack Reacher'
In the drought-ridden rangelands of Western Australia, Gabe Ahern makes his living trapping wild dogs for local station owners.
Still coming to terms with his wife's death – and the part he played in it – the old bushman leads a solitary life. Until one morning, when he rescues a young Afghan man, Altair, from certain execution.
Now, with a gang of people smugglers on his tail and the lives of Altair's family on the line, Gabe is drawn into a ruthless game of cat and mouse. His main opponent is Chase Hunter, a kangaroo hunter with bush skills as wily and sharp as his own.
As the old dogger and roo-shooter go head to head, Gabe will need all his cunning to come out of this alive…
'Tough, fast and hard – my kind of book' LEE CHILD
Pre-Order Wild Dogs


Out 1 February 2022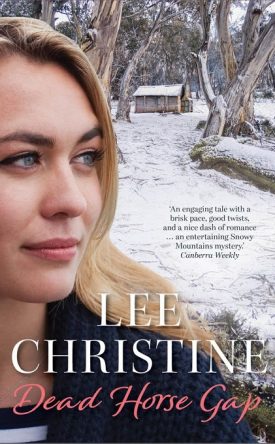 'A thrilling tale of snow-bound crime and suspense from the bestselling author of Charlotte Pass and Crackenback.'
When a light plane crashes at night in the midst of the New South Wales Snowy Mountains, Sydney Homicide's Detective Sergeant Pierce Ryder and Detective Constable Mitchell Flowers are sent to investigate what immediately looks like foul play.
As Ryder and Flowers investigate the crash they uncover a generations-old feud between two local families. Could the bitterness that has been carried through the years have anything to do with the death of the pilot?
Meanwhile, Detective Constable Nerida Sterling is already deep undercover in the Snowies, her assignment to infiltrate a drug ring operating in the mountains and to ultimately hunt down a murderer. As her cover becomes more and more tenuous, what lengths will Sterling go to in order to get the information that she needs?
Pre-order Dead Horse Gap
Out 2 February 2022
The greatest risk of all is love …
Interior stylist Grace Davenport has come to the mountains for solitude and a place to heal after her parents' death. Returning to their beloved town of Bundilla, she plans to restore a local bluestone mansion in honour of their memory. She'll just be there for the summer, until she figures out her next step.
Rowan Parker never used to think twice about taking risks until his love for a woman blinded him to all common sense. Now, between his cattle farm in the high country and his work as a stonemason, there's no room in his life for further mistakes. But when he meets the beautiful but reserved new owner of the historic mansion he's been hired to rebuild, he realises his best laid plans have run amuck.
Together, Grace and Rowan work to bring the mansion back to life. But when they uncover a hidden trove of post-WWII secrets about the house's former inhabitants, their quest to find answers draws them ever closer. And just when the stone rubble around them begins to resemble a home, a landslide threatens all that Rowan and Grace have rebuilt. With their futures as unstable as the mountainside, each must fight for what they really want, even if it means losing everything…
Pre-order Snowy Mountains Cattleman
Out 2 March 2022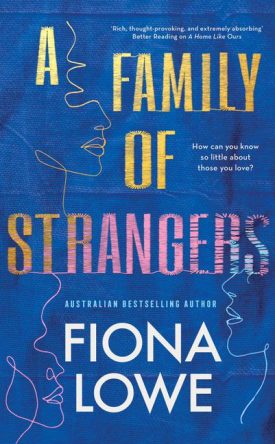 'Acutely observed, sharp and absorbing – an insightful exploration of the pain and beauty of mother-daughter relationships. The page-turning new novel from bestselling Australian author Fiona Lowe.'
How can you know so little about those you love?
With a coveted promotion dangling within reach, the last thing Addy Topic needs to do is waste precious time singing in Rookery Cove's choir. But when she's reminded how much music meant to her late mother, she can't say no. The building pressure raises the ghosts that sent her running from Rookery Cove years earlier – memories she's spent decades hiding from, silencing them with work, alcohol and sex.
For Stephanie Gallagher, Rookery Cove was meant to be a new beginning in the slow lane. A place where she and her husband can embrace community, parenthood and evenly share the load. But the sea-change is changing everything. How much longer can they survive as a family?
Brenda Lambeck is finding her feet after the death of her husband when her best friend convinces her to join the choir. Beloved as a grandmother, Brenda is determined to mend the fraught relationship she has with her daughter, Courtney. But is that even possible when she continues to lie?
In the wake of a spectacular betrayal, three women are forced to face the uncompromising truths about the choices that have shaped their relationships with those they love most. The consequences will shatter their lives and all they hold dear. After such a disaster is rebuilding even possible?
Pre-order A Family of Strangers
Out 12 April 2022
Set among the majesty of the High Country snowgums, The Mallee Girl is a moving and heartfelt story about the power of love and the land to heal old wounds, and the freedom that comes in confronting your greatest fears.
Armed with nothing but some loose change and her beloved dog Duke, Mallee girl Pippa Black has finally found the courage she needs to escape a dangerous relationship. Two cryptic words written on a paper napkin send her in search of the one person who might help her – a long-lost brother she has always dreamed of finding.
Pippa's quest leads her to the remote town of Currajong, high in the beautiful Victorian alps. As a runaway seeking refuge among strangers, Pippa learns that she's been mistakenly implicated in a shocking crime. She finds her way to Brumby's Run, a wild-horse sanctuary, where she begins work assisting the enigmatic farm manager Levi, and becomes entranced by Thowra, a magnificent golden stallion who leads a herd of brumbies in the region. Both man and horse will teach Pippa more about herself than she ever thought possible – including when to run, when to hide, and when to stand up and fight.
Pre-order The Mallee Girl
We'll bring you exclusive content from each of these books on release day
We hope you're enjoying our Book News 
You can also subscribe below by email to receive our occasional Book News blog post –
and never miss a new book release!
Stay up-to-date on the latest Australian fiction releases and news