COMING SOON – August to November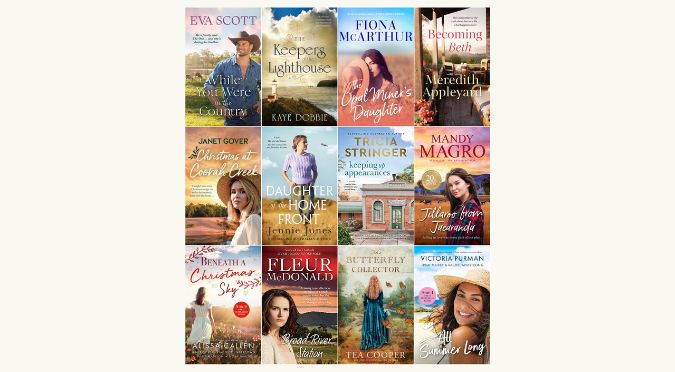 Here they are!
Coming soon and all of them up for pre-order right now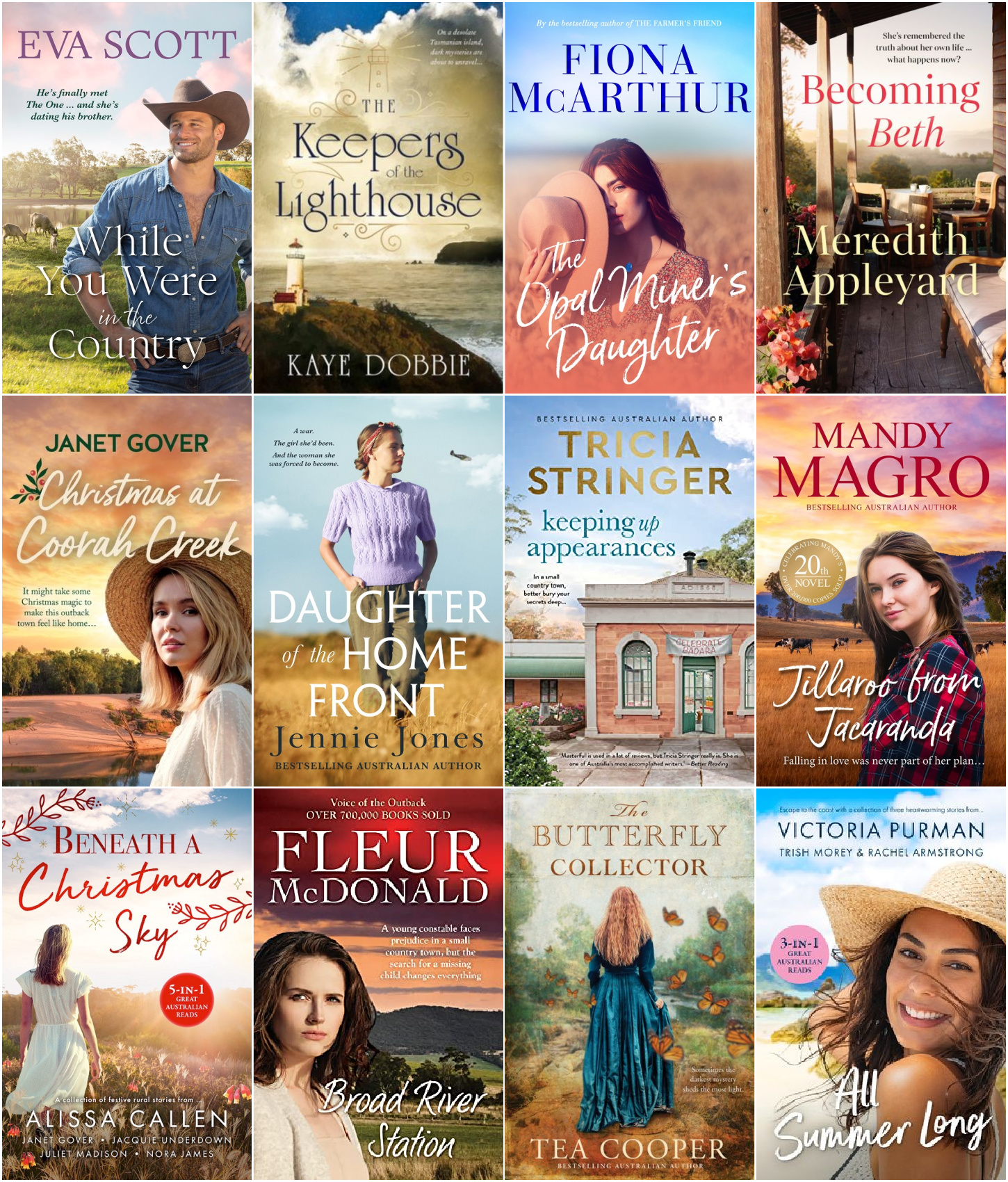 Read all the story blurbs in one place
Out 3 August 2022
'Inspired by the popular 90s romcom While You Were Sleeping, this is both a nostalgic throwback and a modern-day love story about what happens when the man of your dreams isn't quite who you expected.'
He's finally met The One … and she's dating his brother.
Ant Murphy has spent his life picking up after his famous AFL star brother. So when he gets a phone call telling him that Jed has ended up in the hospital after a drink-driving incident, Ant is far from surprised. He's not even shocked by Jed's manager's wild scheme to have him spend the next six weeks living in the country with a girlfriend Ant didn't even know about. All par for the course in his brother's crazy life.
In fact, Ant isn't thrown by anything … until he turns up at the new girlfriend's farmhouse and discovers that he already knows her. Intimately.
Frankie Fox has dealt with a lot over the last few weeks. She's turned thirty, lost her roof in a storm, been ghosted by The One, and is now somehow dating her longstanding celebrity crush, THE Jed Murphy. But none of these come close to the blow of having The One turn up on her doorstep after weeks of silence … and for him to turn out to be Jed's brother.
With a secret she's forbidden from revealing, growing feelings for her boyfriend's brother, two Murphys living in her home and her future happiness on the line, Frankie must ask the most important question of all: is all this trouble really worth a new roof?
Pre-order While You Were in the Country
Read more about Eva Scott
Out 3 August 2022
'A lonely windswept lighthouse island in Bass Strait hides a dangerous secret hundreds of years in the making … Secrets and sabotage keep readers guessing in the new novel from Kaye Dobbie.'
1882
Laura Webster and her father are the stalwart keepers of Benevolence Island Lighthouse, a desolate place stranded in the turbulent Bass Strait. When a raging storm wrecks a schooner just offshore, the few survivors take shelter with the Websters, awaiting rescue from the mainland. But some of the passengers have secrets that lead to dreadful consequences, the ripples of which echo far into the future …
2020
Nina and her team of volunteers arrive on Benevolence to work on repairs, with plans to open up the island to tourists. Also on the expedition, for reason of his own, is Jude Rawlins, a man Nina once loved. A man who once destroyed her.
But the idyllic location soon turns into a nightmare as random acts of sabotage leave them with no communication to the mainland and the sense of someone on the island who shouldn't be there.
The fingers of those secrets from the passengers lost long ago are reaching into the present, and Nina will never be the same again …
Pre-order The Keepers of the Lighthouse
Read more about Kaye Dobbie
Out 30 August 2022
'The heartwarming new medical rural romance from the bestselling author of The Bush Telegraph.'
Obstetrician Riley Brand leaves the city behind to go in search of her mother, who's taken leave from her marriage to pursue a passion for opal mining in the dry backblocks of an old mining town. Accepting a short-term posting as a fertility expert in Lightning Ridge, Riley plans to assist women pursue their baby dreams in remote and regional areas, while at the same time helping to rekindle her parents' love for each other.
The small dusty community is a far cry from her polite medical practice on the North Shore of Sydney, but the down-to-earth locals soon welcome her into the fold with their Friday night social gatherings. But no one is more welcoming than enigmatic doctor Konrad Grey, the GP who's working alongside her.
When an employee of their medical practice confesses she's hiding an unwanted pregnancy, and then goes into emergency labour, Konrad and Riley are thrown together in challenging and wonderful ways.
'A moving and heartwarming story about new life and new loves, about the treasures to be found above and beneath the surface of a small country town, and about the important choices women must make in life.'
Pre-order The Opal Miner's Daughter
Read more about Fiona McArthur
Out 7 September 2022
'Beth has forgotten the core truth of her own life. In a cruel move, her dead mother is about to remind her. A wise and ultimately warm-hearted story about self-discovery, family and community for readers of Tricia Stringer and Liz Byrski.'
Since adolescence, 58-year-old Beth has lived her life with blinkers on, repressing the memory of a teenage trauma. Her mother, Marian, took control of that situation, and of all else in their family life – and as much as she could in the small town of Miner's Ridge as well.
Now Marian is dead, and Beth, unemployed and in the middle of an embarrassing divorce, is living with her gentle-hearted father in the family home. Beth feels obliged to take over her mother's involvement in the local town hall committee, which becomes a source of new friendships, old friendships renewed, and a considerable amount of aggravation.
Researching town hall history, Beth finds photographs that show Marian in a surprising light; sorting through Marian's belongings, she realises that her mother has left a trail of landmines, cruel revelations that knock the feet out from under her supposed nearest and dearest. Beth struggles to emerge from the ensuing emotional chaos … in middle age, can she really start anew?
'A deeply felt, acutely observed novel about mothers and children, about what people hide from themselves and each other, about the richness and difficulties of community, and about becoming your own person.'
Pre-order Becoming Beth
Read more about Meredith Appleyard
Out 1 October 2022
It might take some Christmas magic to make this outback town feel like home…
Eager to make a real difference, English nurse Katie Brooks has travelled halfway around the world to work on an air ambulance in outback Queensland. She was prepared to be a fish out of water, but she hadn't anticipated how challenging the isolation would be. And she'd certainly never expected to be rescued on day one by Scott Collins: Coorah Creek's prodigal son, who might just be the best thing about the town.
Meeting Katie is the one bright spot in Scott's reluctant return to his childhood home. He has nothing but bad memories of growing up. He once vowed never to return, but now he needs to put old ghosts to rest, before beginning a new life as far away as he can get.
Katie is determined to stay. Scott is just as determined to leave. Can a small-town Christmas change their minds?
Pre-order Christmas at Coorah Creek
available in eBook format only
* this is a newly polished version of a previously published story
Read more about Janet Gover
Out 5 October 2022
'A dazzling, heart-breaking story of friendship and redemption from bestselling author Jennie Jones'
A war. The girl she'd been. And the woman she was forced to become.
Townsville, 1942. Young women aged sixteen and over are obliged by law to join the war effort, and Emma Hatton's world is at last about to change. Longing to escape the humdrum poverty of oceanside Blueholm Bay and the demands of her domineering mother, Emma reaches the bustling wartime mayhem of Townsville where the city streets are filled with glamorous GIs and red lipstick is the colour of the day. Befriending charismatic Cassie O'Byrne, Emma believes her adult life has finally begun.
Private Frank Kendrick's kisses make her heart beat faster and with all the talk of his family in California, surely a proposal is imminent. But after a hasty seduction, Frank disappears and Emma finds herself in trouble.
Her family's solution is the Holy Refuge of Saint Philomena in Brisbane, a prison-like 'home' where unmarried, pregnant young women are sent to repent and used as drudges while they wait out their term before their babies are forcibly adopted. Longing to keep her child, Emma befriends other girls struggling in this cruel environment while her dearest friend of all seeks a way to help.
Cassie's solution, and the courageous choices Emma must make, lead her to true adulthood, forever friendships … and a home and family she could never have anticipated.
Pre-order Daughter of the Home Front
Read more about Jennie Jones
Out 5 October 2022
As tensions simmer in a small country town, three women are going to need more than CWA sausage rolls and can-do community spirit to put things right. 'From a bestselling Australian author comes a delightful novel full of practical wisdom and dry humour that examines female friendship, buried secrets and why honesty is (usually) the best policy.'
Privacy is hard to maintain in Badara, the kind of small Australian country town where everyone knows everyone else's business. So discovers single mum Paige when she and her three children arrive from the city seeking refuge. Paige's only respite from child care and loneliness is the Tuesday gym club, where she had feared the judgement of the town matriarchs, but she is met only with generosity and a plethora of baked goods. Besides, both the brusque Marion and her polished sister-in-law Briony are too busy dealing with their own dramas to examine hers.
Well-to-do farmer's wife and proud mother Briony is in full denial of her family's troubles. Even with her eldest daughter's marriage in ruins and her son Blake's recent bombshell. Suddenly Briony and husband Vince have a full house again – and the piles of laundry aren't the only dirty linen that's about to be aired.
For Marion, the unearthing of a time capsule – its contents to be read at the Celebrate Badara weekend – is a disaster. She was only a teenager when she wrote down those poisonous words, but that doesn't mean she won't lose friends and family if they hear what she really thinks of them – especially as the letter reveals their darkest secrets to the world.
When the truth comes out for Badara, keeping up appearances may no longer be an option for anyone …
Pre-order Keeping Up Appearances
Read more about Tricia Stringer
Out 5 October 2022
'Bestselling Australian author Mandy Magro returns with a standalone rural romance, set in the world of Mandy's novel Jacaranda.'
Falling in love was never part of her plan … 'A captivating contemporary romance about new beginnings and risking it all, from bestselling Australian author Mandy Magro.'
What happens when fate sends you just the right person, at just the wrong time …?
Rose Jones is twenty-two, and has followed in her mother Molly's footsteps working with horses as a champion barrel racer. Hard on the heels of being dumped by her fiance Rose is determined to chart her own path in life from now on. But meeting handsome bull rider Ty Parker wasn't part of the plan.
After bonding at the Roses' family Christmas, Rose accepts Ty's offer of a quaint country cottage on his outback station as a bolthole to focus on her writing work and sorting through her feelings. Here among the beauty of the bush landscape she finds surprising adventure and friendships, but is taking a risk on love worth the gamble of breaking her heart all over again if it all goes wrong?
Pre-order Jillaroo from Jacaranda
Read more about Mandy Magro
Out 5 October 2022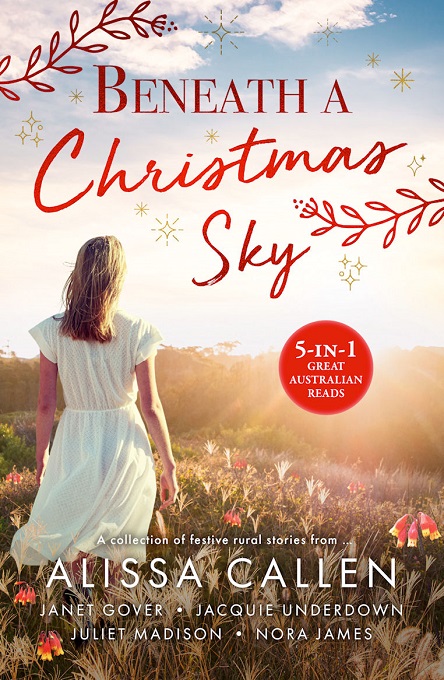 A collection of festive rural stories from five well-loved Australian authors.
*paperback only bindup
Under Christmas Stars by Alissa Callen
Small-town teacher Freya George is determined to make up for last year's disastrous Christmas. This year she will stop at nothing to ensure that she and the Woodlea community have the best holiday season ever. But from the moment Freya meets cattleman Drew Macgregor, her plans unravel faster than red Christmas ribbon…
Christmas at Coorah Creek by Janet Gover
English nurse Katie Brooks is here to stay after travelling halfway around the world to outback Queensland. But she hadn't anticipated being rescued on day one by Scott Collins: Coorah Creek's prodigal son … who is determined to leave town as soon as possible. Can a small-town Christmas change their minds?
The Christmas Wish by Jacquie Underdown
Returning home, schoolteacher Brielle hopes a quiet Christmas will quash the ever-present feeling that she no longer belongs anywhere. For single dad Luke, romance is off the agenda – no matter how appealing his one-time antagonist Brielle has become. It's not only his heart that's at risk – it's that of his young daughter too. But after a Christmas wish is cast, the spirit of Christmas conspires to create some holiday magic.
Above the Mistletoe by Juliet Madison
Determined to Escape all things Christmas in far-off Australia, Angelette hadn't counted on being forced to stay at the local Christmas-themed pub, where the owner is intent on enforcing holiday cheer. But embracing Christmas will mean opening up about the one reason Angelette vowed never to celebrate Christmas again. And that will take a miracle.
His Christmas Feast by Nora James
Jilted French chef Christophe has sworn off women. Until his sexy neighbour Emily turns up at the lavish Christmas party he throws at his country home. The trouble is, Emily, the queen of mixed signals, is hiding something. Will he ever understand her? Or will the fence they're building between their two properties keep them apart for good?
Pre-order Beneath a Christmas Sky
*paperback only bindup (each story is also available individually in eBook)
Out 1 November 2022
A young constable faces prejudice in a small country town, but the search for a missing child changes everything. 'A breathtaking novel of rural suspense from the bestselling Voice of the Outback.'
Mia, a newly graduated constable, on her first post is assigned to Broad River, a small country town. And as certain as she is about her ability to do the job, on day one she's already in conflict with colleagues who believe that women shouldn't be coppers.
It takes the shine off coming home, where her grandmother, Clara, is in the early stages of dementia. Clara is in a nursing home, living between her present and the mist-covered past of her life as dementia slowly steals her memories. Mia is accustomed to their conversations often not quite making sense but when Clara hints of veiled family secrets, Mia isn't sure what she should believe.
In the midst of all this, a local child goes missing and Mia is confined to barracks. When Detective Dave Burrows realises she has skills that could be put to use, Mia's career takes a new turn, and she must decide down which road to walk.
Pre-order Broad River Station
Read more about Fleur McDonald
Out 3 November 2022
What connects a botanical illustration of a butterfly with a missing baby and an enigma fifty years in the making? 'A twisty historical mystery from a bestselling Australian author.'
1868 Morpeth
Theodora Breckenridge, still in mourning after the loss of her parents and brother at sea, is more interested in working quietly on her art at the family's country estate than she is finding a husband in Sydney society, even if her elder sister Florence has other ideas. Theodora seeks to emulate prestigious nature illustrators, the Scott sisters, who lived nearby, so she cannot believe her luck when she discovers a butterfly never before sighted in Australia. With the help of Clarrie, her maid, and her beautiful illustrations, she is poised to make a natural science discovery that will put her name on the map. Then Clarrie's new-born son goes missing and everything changes.
1922 Sydney
When would-be correspondent Verity Binks is sent an anonymous parcel containing a spectacular butterfly costume and an invitation to the Sydney Artists Masquerade Ball on the same day she loses her job at The Arrow, she is both baffled and determined to go. Her late grandfather Sid, an esteemed newspaperman, would expect no less of her. At the ball, she lands a juicy commission to write the history of the Treadwell Foundation – an institution that supports disgraced young women and their babies. But as she begins to dig, her investigation quickly leads her to an increasingly dark and complex mystery, a mystery fifty years in the making. Can she solve it? And will anyone believe her if she does?
Pre-order The Butterfly Collector
Read more about Tea Cooper
Out 30 November 2022
'Escape to the coast with a collection of three heartwarming stories from Australian authors.'
*paperback only bindup
Nobody But Him by Victoria Purman
Fifteen years ago, Julia Jones left the small beachside town of Middle Point with a head full of grand plans. Plans that didn't involve a particular boy named Ryan Blackburn. Now Julia is back to finalise her mother's estate. But she didn't expect to run into her first love…or to fall back in love with him. Saying goodbye to her hometown – and to Ryan – turns out to be much harder the second time around.
One Summer Between Friends by Trish Morey
With a failed marriage behind her, and her career dreams in tatters, Sarah returns home to Lord Howe Island to run the family store. Paradise to most, it's the last place Sarah wants to be, trapped on an island with her two ex-best friends. Meanwhile Floss and Jules are dealing with their own problems, and Sarah's arrival just complicates things. This summer, can these women overcome the pain of the past and find their way back to the friendship they once had?
Reunited with the Millionaire by Rachel Armstrong
When Mirabella falls pregnant to her new boyfriend, it's not the end of the world … until she meets his wife. Pregnant, alone and contemplating life as a single mother, the last thing Mirabella expects is to run into her high school sweetheart or for him to invite her on an all-expenses trip to the Whitsundays. A platonic tropical holiday with an old friend could be the perfect remedy for heartache … or a recipe for more.
Pre-order All Summer Long
*paperback only bindup (each story is also available individually in eBook)
We hope you're enjoying our Book News 
We'd love you to follow us on Facebook & Instagram
You can also subscribe below by email to receive our occasional Book News blog post – and never miss a new book release!
Stay up-to-date on the latest Australian fiction releases and news