COMING SOON! Always an exciting post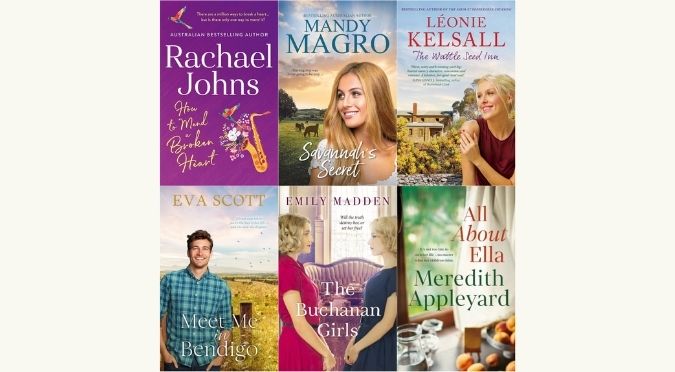 Here they are. The Coming Soon books from our group member authors!
Always an exciting post for us. So much to look forward to.
Did you know that by pre-ordering an upcoming new release, in either eBook or paperback, gives the authors a chance for their stories to make a greater impact on release day?
True! So if you love these authors and must have their next book or if you simply love the sound of any of the books (and who wouldn't?) we ask you to consider pre-ordering now whether it be in paperback or in eBook digital format (paperback pre-orders from Booktopia plus all the department stores like Target, BigW, Kmart and also from your independent bookshops along with Dymocks, and eBook pre-orders from your preferred digital retailer).
So let's get on with it.
Here they are: the covers, the story blurbs, the authors… (plus one special release surprise)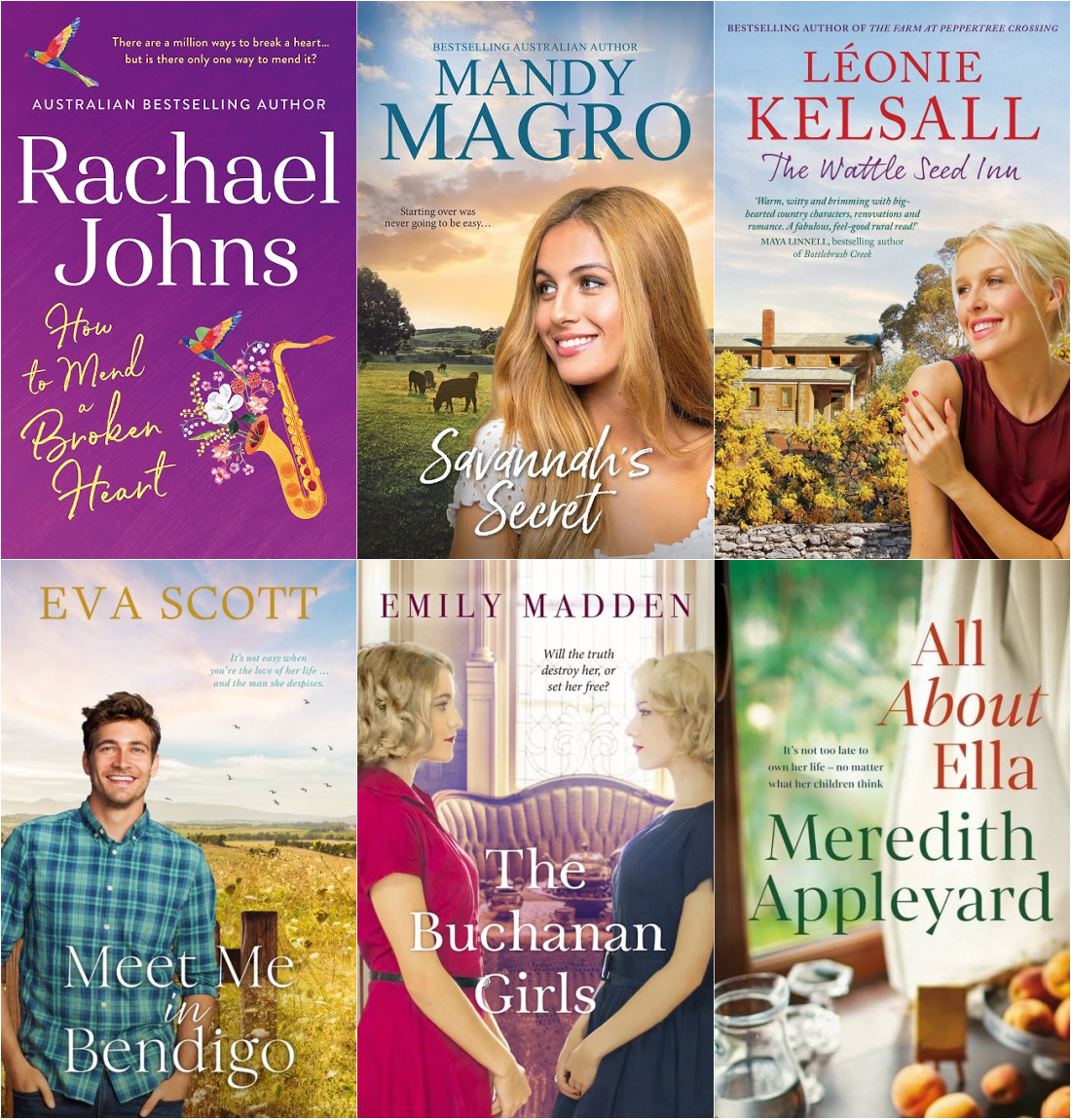 Releasing 5th May 2021
Summer in New Orleans means hot days, long nights, spooky stories and surprising new beginnings.
Felicity Bell has struggled to move on after her marriage broke down. Her ex has found love again, her children have their own lives, and it's beginning to feel like her only comfort comes from her dog and her job as a taxidermist. So when Flick gets an offer to work in New Orleans for a few months, she's drawn to the chance to make a fresh start.
Zoe is ready to start a family with her husband, but when he betrays her, she's left shattered and desperate for a change of scenery. Joining her mother on the other side of the world to drown her sorrows seems the perfect solution.
Although both mother and daughter are wary of risking their hearts to love again, Theo, a jazz bar owner, and Jack, a local ghost hunter, offer fun, friendship and distraction. But all is not as it seems in New Orleans…
A chance meeting with Aurelia, a reclusive artist who surprises them with lessons from her life, prompts Flick and Zoe to reassess what they want too. Can all three women learn from the past in order to embrace their future?
An uplifting novel about three women joyously learning to move on after heartbreak by the bestselling author of The Patterson Girls and Flying The Nest.
PRE-ORDER How to Mend a Broken Heart
Read more about Rachael Johns and her books and discover where to follow her on social media
Releasing 5th May 2021
Set in the heart of the Australian countryside comes a compelling romance with a touch of suspense from bestselling author Mandy Magro.
Starting over was never going to be easy, especially as he's looking for the one thing she can't give … the truth.
Savannah Silverton remains resolute in testifying as the sole eyewitness in Brisbane's most dangerous criminal case. For safety, the police have furnished her with a new identity and instructions to keep to herself. With a shiny new driver's licence in hand and job as a barmaid lined up, this die-hard city girl finds herself stepping off a bus and into the desolate street of the small country town she's now to call home.
Ash Sullivan has it all, money at his fingertips, his own property, and a successful chopper mustering business. But when it comes to love, he's failed miserably. Bitter experience has taught him that if he is ever lucky enough to meet a special woman he can fall for again, she has to be upfront from the get-go, no matter what.
These are two people, as different as chalk and cheese, who were never meant to meet until fate intervened. Will they grow to be the person each other needs? Or will their differences drive them apart?
PRE-ORDER Savannah's Secret
Read more about Mandy Magro and her books and discover where to follow her on social media
Releasing 2nd July 2021
Three aching hearts, a ramshackle country pub and a tangled web of secrets.
PR executive Gabrielle Moreau knows she has an easy life, but when her business partner claims she lacks career passion she takes ownership of a dilapidated pub in a tiny riverside settlement to prove she can be a success without falling back on her privilege.
Eighteen months ago, Settlers Bridge stonemason Hayden Paech had it all: a job he loved, good mates and a close family. All he needed was the right woman to come along, and he was ready to settle down. But one poor choice stole that chance and he'll never risk caring for anyone again.
Living at Wurruldi Hotel for … goodness, so many years, Ilse has seen more changes of ownership than she can recall. Clinging to her failing memories, she's tired of trying to protect the property her grandparents built. With the arrival of the elegant Gabrielle Moreau, however, it seems that finally an owner may recognise the importance of recapturing the grace and dignity of Ilse's past.
For Ilse to find peace, Hayden forgiveness and Gabrielle her true passion, three aching hearts must reveal their secrets.
PRE-ORDER The Wattle Seed Inn
Read more about Leonie Kelsall and her books and discover where to follow her on social media
SPECIAL RELEASE!
Releasing 7th July 2021 – a paperback-only bindup
A collection of feel-good stories about new beginnings from three bestselling Australian authors
The Red Dirt Road by Alissa Callen
After losing a patient, Dr Fliss Knight is back in small town Woodlea to embrace the isolation of rural life. But all her plans for solitude run aground when she meets the cowboy who will be staying in the renovated stables at the end of her country garden. Hewitt too has come to Woodlea needing space in which to heal and, despite his reserve, Fliss finds him impossible to ignore.
As a family secret threatens every truth Fliss has ever known, and the heavy spring rain continues to fall, both Fliss and Hewitt must face their deepest fears. But will love be enough to guarantee happiness or will the past refuse to relinquish its dark hold?
Run for the Hills by Carla Caruso
After leaving her wealthy hotelier groom at the altar, Bridie needs to lay low while the media storm passes. Working for a wedding business run by an attractive paparazzo might not be ideal, but it's slim pickings for work in the small Adelaide Hills town of Balkissoch. Cody seeks out secrets for a living, so blurring the lines of their professional relationship is a dangerous game. One they both seem intent on playing.
The Sweetest Secret by Jacquie Underdown
Ellie always falls for the wrong man. After her latest disastrous relationship, opening a florist shop in the small town of Alpine Ridge seems like the perfect fresh start. Local vineyard owner Sam also understands bad relationships and prefers to avoid romance in favour of spending his downtime growing flowers in his backyard greenhouse. When Ellie discovers Sam's nursery, a shared professional interest soon blossoms into something more. But is there a chance for a future together when they are both tied to the past?
PRE-ORDER The Road to You

Or check your favourite department store for online pre-ordering
* This special bindup is paperback only but each story can be purchased individually in eBook digital format and The Red Dirt Road by Alissa Callen is also available as an individual paperback.
Read more about Alissa Callen and her books and discover where to follow her on social media.
Read more about Carla Caruso and her books on her website
Read more about Jacquie Underdown and her books on her website 
Releasing 28th July 2021
Small-town Australia meets You've Got Mail in this rural romantic comedy about online dating, second chances, and following your heart.
Small-town sweetheart Annalisa Cappelli has returned to Wongilly to take over her family's hardware store while she heals from a tragic loss. The business was hit hard by the pandemic, and now a Carpenter's Warehouse hardware superstore is opening in the district. There's no way Annalisa is going to let two hundred years of history go down the drain, but she's going to need to fight to keep her family's legacy alive.
The one simple thing in her life is her no names, no complications, easy-breezy online relationship with GardenerGuy94. For now, their online flirtation is the only kind of romance Annalisa needs. Until she meets Ed Carpenter. Sexy as hell, he'd be the perfect man … if he wasn't trying to destroy her business.
Ed Carpenter is in Wongilly to offer the owner of a small hardware store a payout to pave the way for his family's next superstore. What he doesn't expect is for the owner to be the woman he's been talking to online. Annalisa is beautiful and passionate, and he's sure she's the one for him. But how can he reveal the truth without losing her?
PRE-ORDER Meet Me in Bendigo 
Read more about Eva Scott and her books and discover where to follow her on social media
Releasing 1st September 2021
Will the truth destroy her or set her free? A sweeping family saga about betrayal, forgiveness and the cost of love.
Sydney, 1941: Olive and Ivy may be identical twins, but they couldn't be more different. While Olive is focused on marrying a man appropriate to her station, Ivy wants to do more, to be more. Joining the Australian Women's Service Army is the perfect chance for her to escape her family obligations and make a real difference in the world. She doesn't expect serving her country to lead to romance … or devastating betrayal and unthinkable grief.
As the war progresses, both Olive and Ivy find themselves wanting the same thing: for their loves to return safely. But neither of the Buchanan girls is ready for what the future has in store for them.
Sydney, 2008: Escaping her husband's betrayal and an impossible personal loss, Madeline returns home to Sydney to nurse her broken heart. As she settles into her new routine, it's too easy to consider never returning to New York and her old life. But her husband won't give up on what they have so easily, and Madeline can't ignore his messages reminding her of why they fell in love in the first place. With her grandmother's support, Madeline has to decide if forgiveness means reconciliation. But is the biggest betrayal yet to come?
PRE-ORDER The Buchanan Girls
Read more about Emily Madden and her books and discover where to follow her on social media
Releasing 1st September 2021
A keenly observed story about aging and its inherent vulnerability, about community and chosen family, about how family stressors shape us all, about trust and loyalty, and about standing up for yourself.
Mum, you're behaving in a most irrational way, and you need to come home immediately. If you don't, there will be consequences.'
'I'm not going anywhere,' I said.
At 70, Ella's world is upended, leaving her at odds with her three adult children, whose attention is fixed more firmly on her money than her ongoing welfare. After an argument with her son Anthony, she flees his Adelaide home for Cutlers Bay, a seaside town on the Yorke Peninsula. There she befriends Angie, a 40-year-old drifter, and becomes an irritant to local cop Zach. He's keen to shift Ella off his turf, because Anthony phones daily, demanding his mother be sent home. And besides, Zach just doesn't trust Angie.
Ella warms to Cutlers Bay, and it warms to her. In a defiant act of self-determination, she buys an entirely unsuitable house on the outskirts of town, and Angie agrees to help make it habitable. Zach is drawn to the house on the clifftop, and finds himself revising his earlier opinions of Ella, and Angie.
PRE-ORDER All About Ella
Read more about Meredith Appleyard and her books and discover where to follow her on social media
We hope you're enjoying our Book News 
Subscribe below by email to receive our occasional Book News blog post – 
and never miss a new book release!
We'd also love you to stay connected with us on Facebook & Instagram
Stay up-to-date on the latest Australian fiction releases and news