Charlotte Pass – New Release from Lee Christine
Published:
February 4, 2020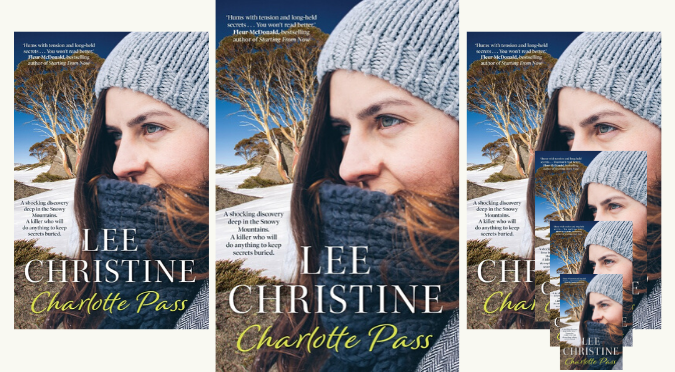 A shocking discovery deep in the Snowy Mountains.
A killer who will do anything to keep secrets buried.
Charlotte Pass
by Lee Christine
Out now in paperback and eBook
We've got an excerpt for you! Plus Lee answers The 5 Big Questions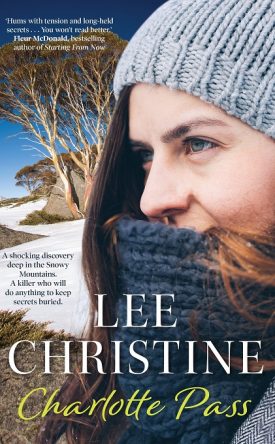 When ski patroller, Vanessa Bell, discovers human bones high on Mount Stilwell at Charlotte Pass ski resort, Detective Sergeant Pierce Ryder of Sydney Homicide Squad is called to lead the investigative team.
Arriving in the isolated, snowed-in village with Winterfest celebrations underway, Ryder soon determines that the bones are those of Celia Delaney, a young woman who disappeared from the ski resort in 1964, during the biggest winter storm in Australian alpine history.
When a second murder takes place, Ryder suspects that the deaths are related, and the person responsible is still in the village. Amid the escalating tension, Ryder is desperate to make an arrest before the stakes rise even higher.
Set within the stunning Snowy Mountains, this intriguing mystery uncovers deadly, long-buried secrets in the valleys and mountains of this iconic area.
Excerpt from Charlotte Pass by Lee Christine
In the freezing hour before dawn, Ryder and Flowers waited on the uneven slope above Stilwell Lodge and watched the Canberra pathologist at work. Harriet Ono, recently arrived from Canberra, was crouched beneath a set of portable lights that illuminated the cordoned off area brighter than Circular Quay during the Vivid Sydney Festival. Beyond the police fencing, snow gums clung to the hillside, their trunks smooth and streaked from shedding their bark, their boughs twisted into eerily ghostlike shapes.
Harriet took hold of the final bone from where it lay partially entangled in strawy snow grass. She held it aloft, turning it this way and that in her gloved hand until she was satisfied, then she put it down next to the others, lowered her protective face mask and spoke to Ryder over her shoulder. 'I'd say – it's the body of a small, adult female.'
He knelt beside Harriet on the rubber matting, his heavy duty police gear keeping out the cold though the frigid air pierced his cheeks like a hundred needles. He stared at the bones. The femur, pelvis, and three-quarters of a rib cage were laid out on a strip of felt fabric like pieces of jewellery on a counter top.
'It's the shape of the pelvis.' Harriet ran a latex-covered index finger around a curve in the bone. 'Female.'
'How old?'
'It's impossible to say with what I have here. There's no evidence of osteoporosis but that doesn't prove anything. It's not present in all older people, and young people can have juvenile osteoporosis.'
Ryder thought of the smiling girl in the small black and white photograph on file. Celia Delaney had been twenty-one when she'd disappeared without a trace in 1964.
'So, it's not the male hiker you hoped it would be.' Flowers stamped his feet, folded his arms and stuck his hands under his armpits. 'That sucks. I was hoping we'd wrap this one up quick and get back on the Hutton case.'
Ryder got to his feet. 'Personally, I was hoping they were animal bones. Whoever this person is, they lost their life up here, so show a little respect.' He gestured over his shoulder. 'Go and look through the file. Find out Celia Delaney's height.'
Harriet lifted her camera and took a photograph of the bones. 'Still your charming self, I see,' she said as Flowers trudged off in the darkness.
'He's a self-absorbed pain in the arse, most of the time.'
'Go easy, he might surprise you. Then you'd have to eat your words.'
'If Flowers' picks up his game, I'll gladly eat my words.' He looked at Harriet, her bulky layers covered in protective overalls. She was one of the best pathologists in the business, and he'd been pleased she'd agreed to come to Charlotte Pass. 'How long do you think she's been up here?'
'Hard to say.'
'Take a guess – an educated one.'
'Decades.' Harriet lowered the camera. 'Do you think it's that woman – Celia?'
Ryder nodded slowly. 'It's looking that way. She went missing in a storm back in 1964 when the Australian ski industry was in its infancy. Strange, isn't it, how the bones were just lying there?' To Ryder, it looked like someone had put them there. Or maybe an animal had interfered with them.
'Yeah, I don't know,' Harriet said. 'We're on a pretty steep slope. Soil erosion over time could have exposed some of the bones. These ones could have been washed away during a storm.'
'So, the rest of the skeleton could be further up the slope?'
'Not much further up. There's another possibility: the bones could be those of an Indigenous woman.'
'Can you tell if it is?'
'Nope. I need a skull.'
'So, what are you saying, Harriet? That you suspect an Aboriginal woman died right here sometime in the last, what, forty or fifty years?'
Harriet blew out an exasperated breath. 'I'm not saying anything, Pierce. You're the detective. You work it out.'
Work it out? What he should be working on was the manhunt for Gavin Hutton. Where was that bastard now anyway? Probably as warm as toast, tucked up inside the two sleeping bags he'd pilfered from the hikers. Still, Harriet had a point. The mountains were sacred to many clans. For thousands of years they'd trek from the east coast of New South Wales to the Snowy Mountains to set up camp at Dead Horse Gap where they held ceremonial rituals and feasted upon the protein rich Bogong moths. It was a possibility he hadn't considered.
Ryder looked to the horizon where the sun lightened the sky with a gentle glow. Despite what Harriet said his gut was telling him this was Celia Delaney. The Traditional Owners had extensive knowledge of the land and how to survive the seasons. Celia Delaney had no such knowledge. She was a dental nurse who'd gone missing during one of the biggest snow dumps in Australian alpine history. Seven years after her disappearance, the Coroner's Court found she'd left Charlotte Pass after an argument with her musician husband. Taking into consideration the extreme weather conditions and the balance of probabilities, the court had found that Celia had perished. They concluded she had most likely become disoriented and wandered off the roadway between Charlotte Pass and Perisher Valley. Lost in the back country in that weather, she would have frozen to death within hours. Only Detective Constable Roman Lewicki had been convinced otherwise. He'd always suspected that Celia's husband had played a hand in her disappearance.
Ryder shivered as icy air seeped inside his ski parka. Across the valley, he could just make out the spot where the road into Perisher met the driveway winding down into Charlotte Pass village. If this was Celia Delaney, how the hell had she ended up here?
Buy Charlotte Pass
A shocking discovery deep in the Snowy Mountains.
A killer who will do anything to keep secrets buried.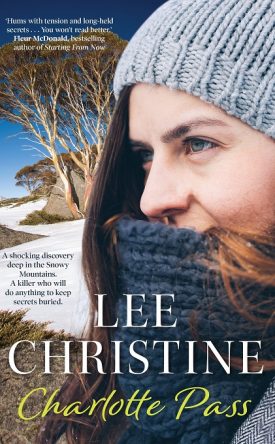 Lee Christine answers The 5 Big Questions
How long did it take to write the book?
From start to finish it was about eighteen months. I went through a tumultuous time during the writing of Charlotte Pass. My beautiful mother passed away a few days after Christmas 2018. She was almost ninety-three so, while it was very sad, I feel lucky to have had her for so long. And then in March, I lost my only brother to cancer. For someone who's always been the baby of the family, it feels strange to be the only one left.
What was the most difficult or complex aspect of writing this book?
Definitely the plot. In the beginning, I would sit for hours mulling over the plot in my head. In Charlotte Pass, the story begins with the re-opening of a cold case from 1964, and then a murder occurs during the re-opened investigation. The detectives suspect, but don't know for certain, if the murder is linked with the earlier missing persons case. I needed a comprehensive timeline for things like uncovering vital pieces of information, and where to plant clues and the odd red herring, while making sure my characters were where they were supposed to be.
What gave you the most pleasure when writing your book?
I had loads of fun developing the relationships between the three detectives and writing the dialogue between them. I have a retired inspector who, as a young detective, worked the original missing persons case. I have a Detective Sergeant with a tragic past who, along with his younger partner, is sent from Homicide to investigate the discovery of the bones. The younger partner is a turmeric latte drinking millennial who's rarely left Sydney.
Are you nervous when a new release comes out?
Always. This is my seventh novel, ninth if you count the two novellas I've written. I think I get more nervous now than I did when I first started.  And I have a new publisher for this novel, so I want everything to go well.
What's the best thing a reader could do if they enjoyed your novel?
Tell their friends, or if they've purchased the eBook, leave an Amazon review.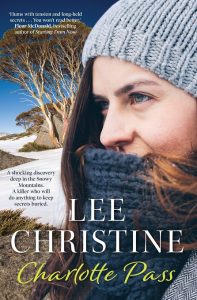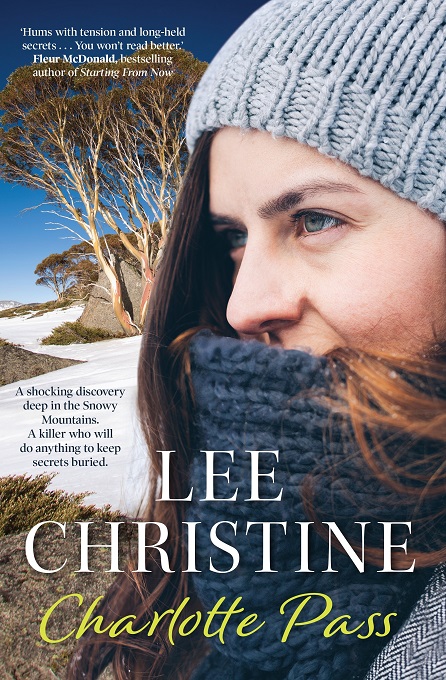 Lee Christine
Australian Author
A potent cocktail of danger, high stakes suspense, and crime
Read more about Lee Christine and her books and discover where to find her on social media
Subscribe by email to receive our occasional blog posts
 – and never miss a new book release!
Stay up-to-date on the latest Australian fiction releases and news