Book Club – Three Authors Pose Five Questions For Your Book Club
Published:
October 9, 2018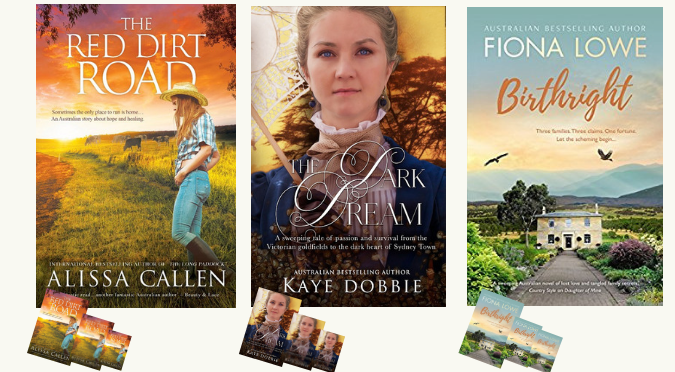 …
Have you heard?
Book clubs are all the rage
Here are three books to consider for your book club – or just for you
Alissa Callen, Kaye Dobbie, Fiona Lowe
The Red Dirt Road
Sometimes the only place to run to is home. But a family secret threatens every truth Dr Fliss Knight has ever believed.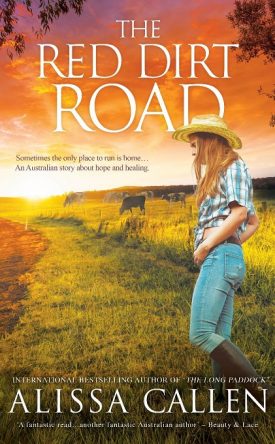 USA Today and International Bestselling Author, Alissa Callen
Rural and Small Town Fiction
Dusty roads. Secrets. Romance.
In The Red Dirt Road I had so much fun returning to the colourful and close-knit community of Woodlea that features in The Long Paddock. Hewitt, the new-to-town pickup rider proves the perfect match for no-nonsense Dr Fliss. Edna, the town gossip, as well as Reggie, the misunderstood carrot-obsessed bull, again make an appearance along with a cast of new and familiar characters and animals.
The Red Dirt Road is very much woven from the scents, sights and sounds of my everyday rural life in central western NSW. It isn't only the physical aspects of where I live that sneak into my stories. I also like to thread in local issues and concerns that people face in the bush. So while Woodlea, the small town of windmills, is fictitious, the landscape surrounding the town and the experiences of the local community are firmly grounded in reality.
What current rural issues does The Red Dirt Road deal with?
Can the rural setting of The Red Dirt Road be considered a character in itself?
How much of a role does DNA play in determining who a person is?
In what way do the central characters change within The Red Dirt Road?
If The Red Dirt Road was adapted to be a movie who could you see playing the main roles?
The Dark Dream
A sweeping tale of passion and survival from the Victorian goldfields to the dark heart of Sydney Town.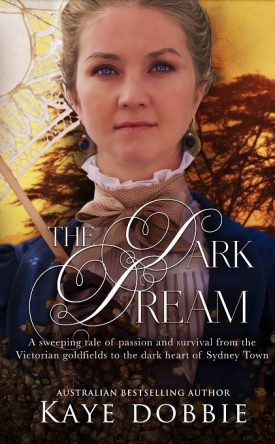 Multi-published, RuBY Award Finalist Author, Kaye Dobbie
Captivating historical and contemporary family sagas
Earlier this year I reissued one of my books, The Dark Dream. It is my favourite book, and perhaps that's because it was written about my local area. Evidence of the goldrush is everywhere around Bendigo, and you don't have to look very hard. I visited the places I was writing about, soaking in the history, and imagining them as they must have been in 1852.
The Dark Dream is a complex story, with lots of characters, but Adam and Ella are the two main protagonists. Ella has amnesia and throughout the book there are flashbacks of her privileged former life, before she ended up penniless and abandoned. These are her Dark Dreams. Adam is a convict's son who aspires to much more than life has dealt him. His time on the Californian goldfields has convinced him that every man is equal and Ella's initially cool response to him isn't about to convince him otherwise.
The Dark Dream was written when publishers were asking for 'big books'. Have times changed and do readers now prefer to read something less wordy?
The places mentioned in the book still exist, would you consider taking a road trip from Melbourne to Bendigo and rediscovering them?
What other books by this author have you read and do they compare?
What part of this story did you like best?
Do you like endings that are left to the reader's imagination or do you prefer to be told?
Birthright
Is inheritance a privilege or a right?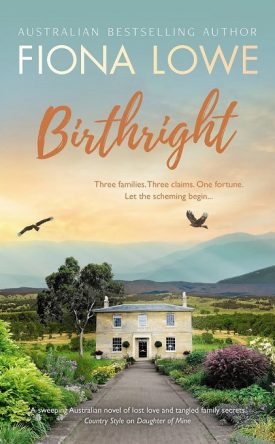 Multi-Published, International Award-Winning Australian Bestselling Author, Fiona Lowe
Small country towns featuring real people facing tough choices and how family ties impact on their decisions
Birthright is all about a family behaving badly. The inspiration for the novel came from a variety of places. With people living longer, Australia is dealing with a new phenomenon, 'inheritance impatience.' Take that and add in adult sibling rivalry, a sense of entitlement and a matriarch who has controlled her family for years and you get a powder keg of emotions ready to ignite. Birthright explores the relationship between three adult siblings—each have their own family and issues— and looks at their different relationships with their ageing mother.
We're spending our children's inheritance is a popular bumper sticker. Is inheritance a privilege or a right?
Experts say planning is important to avoid heir warfare, but can emotion ever be taken out of a will?
With the Baby Boomers holding more than half of Australia's wealth, elder abuse is on the rise. Is there any way of preventing this within families?
Family inheritance traditions today can still disadvantage women. Do you agree with this statement and why?
Secrets and lies morph over time to become family folklore. How hard is it to dismantle long held beliefs?
We hope you've enjoyed our first selection because we'll be bringing you regular Book Club suggestions every few weeks!
Happy reading
Stay up-to-date on the latest Australian fiction releases and news