Book Club – 3 Authors, 3 Books, 5 Questions for You or Your Club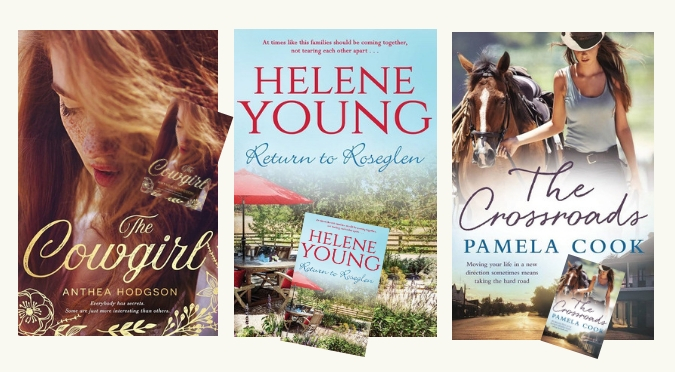 Take a seat in your favourite armchair or head over to your book club fully armed with three fantastic books
Here at Australian Fiction Authors we like to give you a choice of reading material and here are three we think you're going to love, whether they're for a book club you belong to, or just for your personal choice
Featuring Anthea Hodgson, Helene Young, Pamela Cook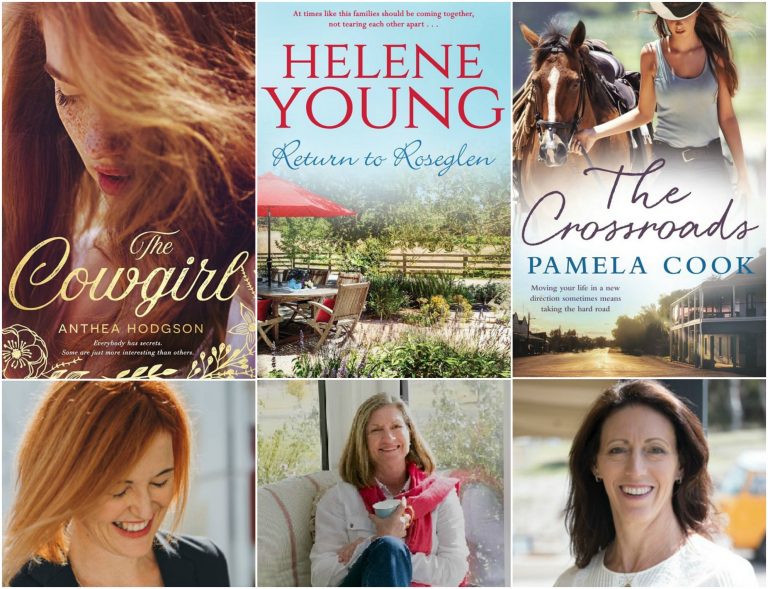 The Books
The Cowgirl
Australian Rural Fiction Author Anthea Hodgson
Stories that are a love letter back to my country roots
When I wrote my first novel, The Drifter about the town of Windstorm, I knew I'd be back, because I loved writing the character of Deidre so much I wanted to find out she became such a grumpy old woman. The Cowgirl is a return to Windstorm, and Deirdre and Teddy Broderick's farm. I grew up with a woman in my hometown who was exactly as fierce in real life as Deirdre is in my novels although she was also kind, loyal and hardworking. I wanted to give her her own story, not only because I loved her so much, but because I felt that her life was representative of so many women's lives, dedicated to everyone and everything but themselves.
I hope that The Cowgirl is not only a mystery about what happened to Deirdre's home and family, but also a look at the role of women and the opportunities available to them for so many generations. I wanted The Cowgirl to express the incredible, yet invisible, value of these many lives – and to say thank you.
The Cowgirl is the story of Deirdre and her granddaughter, Teddy, who live a quiet country life filled with work and duty. Teddy is a young woman devoted to her grandmother and her property, except that she yearns for more, and spends her time telling stories and dreaming of a life beyond the farm she is too scared to leave. When Deirdre announces that her childhood home was buried on the farm, Teddy is stunned. She hadn't realised Deirdre was a woman with secrets – which will soon be brought to the surface as young archaeologist Will Hastings comes to dig up the past.
Why does Deirdre need to see the relics of her childhood again? What will digging up the past bring into the light? And will Teddy find her freedom?
In my first novel, I brought The Drifter home – so I wanted to set The Cowgirl free. Did I succeed? Who did you think the Cowgirl really was?
Deirdre relies on Teddy for company and for help around the property – is she selfish to keep her there?
If you were Viv, and in love for the first time, what would you have done? Did she do the right thing by following her heart?
Do you think it's possible to want two things (the comfort of the farm and the excitement of travel) at the same time?
At the end of the novel Teddy makes an important decision about her future. Do you think she would have made that decision without Will's influence?

Buy The Cowgirl



Read more about Anthea Hodgson, her books, and where to find her on social media
Return to Roseglen
Multi Award-Winning Australian Author Helene Young
Writer, pilot, sailor and photographer weaving my experiences into my stories
Return to Roseglen is an intergenerational story set in the harsh grazing country of North Queensland in the midst of a drought. Having lived in Cairns and flown to so many regional towns I have nothing but admiration for the way country folk soldier on. But the inspiration was also personal. Over the space of a year I lost my mother, my mother-in-law, and another elderly friend of the same generation and I wanted to explore the dynamics within a family when the matriarch is approaching the end of her life. The strength of one of the main characters, Ivy, is a tribute to the wonderful matriarchs in my world and to the generation of women who stepped up and kept Australia running while their men went to war in the 1940s.
As I began talking to people about their experiences with ageing parents it became very obvious that the issue of elder abuse was something that touched many, many families and financial abuse, or 'inheritance impatience', is far more common than I realised. The extent of the problem in Australia is confronting and it's insidious. Many of those affected don't realise what's happening until it's too late. Many elderly people don't want to acknowledge their beloved child is doing the wrong thing.
I also wanted to explore the idea of the 'sandwich' generation of women who are juggling relationships, grown children, demands of busy jobs, plus the needs of their parents. Not to mention the changes menopause bring to many women's lives… The character of Felicity has a lot on her plate as she tries to hold her fracturing family together.
There are other themes I enjoyed exploring as well so with that in mind here are some questions for discussion.
What do you think are the central themes of Return to Roseglen?
Georgina described Ken's actions towards Ivy as 'abuse'. What do you think abusive behaviour looks like? If you've experienced it how did you tackle it?
Should the eldest child take responsibility for the family as their parents age? If so what steps could be put in place to safeguard the needs of the older generation?
How do women in their fifties and sixties cope with the changes in the bodies with menopause, their families, their marriages and their careers? Is the 'sandwich' generation really doing it tough or is it something we've invented?
Was Ivy right to keep Dottie's secret for so long knowing the ramifications if the truth came out earlier? Should families have secrets to protect the innocent?

Buy Return to Roseglen



Read more about Helene Young, her books, and where to find her on social media
The Crossroads
Australian Author Pamela Cook
Australian fiction with a country heart featuring feisty women, tangled family relationships and a healthy dose of romance.
The Crossroads is my fourth Rural Fiction novel and my first set in the outback. I visited the town of Hughenden a couple of years ago and was struck by the problems arising from the drought, both for those living on outlying properties and the towns people: cattle dying, land eroding, farmers losing their livelihoods, banks calling in loans and, in the townships, businesses closing down and people being forced to move away. But what struck me more than anything was the sense of community and the determination of the people to hang in there despite it all.
I wanted to write a novel centred around a pub and found the perfect inspiration: a two-storey hotel with wrap around veranda and wrought-iron lacework that had been closed down for a few years. My imagination took over and did the rest of the work, creating three female characters each with a different set of problems whose stories would intersect throughout the course of the novel. I loved writing The Crossroads and I hope you enjoy reading it.
On page 30 Faith thinks 'some things were just part of your DNA'. Do you think we inherit our personality traits or them from our environment?
Rose likes to think Mick is up there watching over her – she even talks to him on occasion. Do you think our loved ones know what we're up to or is it more like 'once we're gone, we're gone'?
Faith's first impression of Rose isn't very positive. How and why does her attitude towards her change?
Which of the three women – Rose, Stephanie or Faith – was your favourite character? Why?
What do you think will happen for each of the characters in the future?

Buy The Crossroads



Read more about Pamela Cook, her books, and where to find her on social media
Take a look at our first and second Book Club posts featuring Alissa Callen, Kaye Dobbie and Fiona Lowe plus Fiona Palmer, Jennie Jones and Alli Sinclair
Subscribe to receive our occasional blog posts by email and … 
never miss a new book release!
Stay up-to-date on the latest Australian fiction releases and news