Backlist Wednesday
Published:
September 11, 2019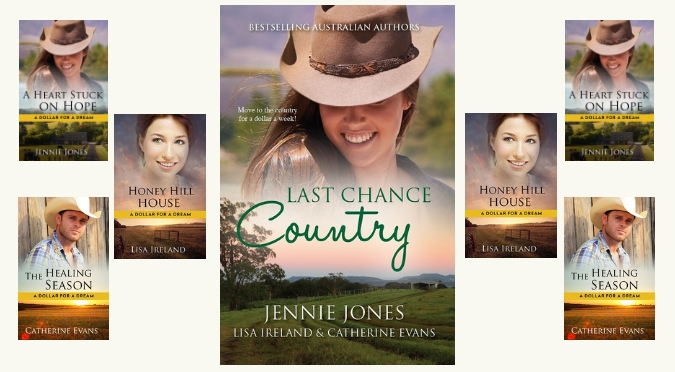 Three standalone stories set in one small town
If you're new to Australian Fiction Authors website a backlist is simply all the books in an author's repertoire and this month we're showcasing novels by Jennie Jones, Lisa Ireland and Catherine Evans
The three stories are available individually in eBook only, and together in the paperback anthology titled Last Chance Country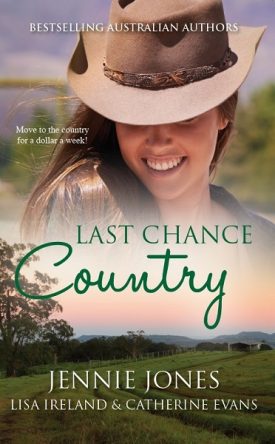 "A dollar for a dream…"
Dulili is suffering a people drought. Over the years more people have moved away than have arrived to stay in this old New South Wales farming town, and now only a handful of young families and elderly residents are left.
The locals put a plan into action to entice newcomers: offering the town's empty houses to newcomers from anywhere in Australia. 
Who could resist renting a beautiful homestead for a dollar a week?

Buy the paperback
(includes all three standalone stories: A Heart Stuck on Hope, Honey Hill House, The Healing Season

Find more paperback options here 
The stories

A Heart Stuck on Hope by Jennie Jones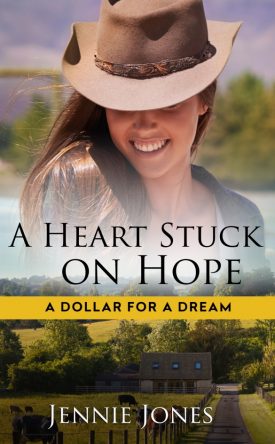 There's nothing left for Adele Devereux in Sydney: no job, no relationship, no hope, and no diagnosis for her shy, uncommunicative daughter Ali. So she packs her bags, takes her meagre savings, and moves her small family to the country. She never expects to meet Tom Wade, a man facing his own hopeless situation, but whose kindness reaches her daughter in an unexpected friendship. As the small town of Dulili attempts to regenerate itself, Adele finds herself drawn further in to the community – and into her attraction to Tom.
Tom is not back in Dulili to build a relationship. He's there to heal wounds, help his grandmother, and make new plans. Plans that don't come with his grandmother's new tenant, part of the Dulili dollar scheme. But as Adele and Ali effortlessly work their way into his thoughts and his heart, he realises that there are two crucial elements that he left out of his long-term plans – the chance to find love and renewed hope for the future.
Buy A Heart Stuck on Hope in eBook format
Jennie Jones
Bestselling Australian Author
Rich, romantic, engaging fiction
Life, love, laughter, and everything between…
Read more about Jennie and her books, and discover where to follow her on social media
Honey Hill House by Lisa Ireland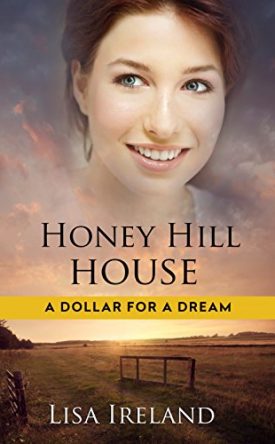 Newly divorced Bea Elliot needs Honey Hill House for more than just a quaint project – restoring a ramshackle old farm house to a successful B&B will prove to her family – and herself – that she is strong enough to make a go of things on her own. She doesn't need anyone to help her, even if the guy next door is remarkably obliging, delightfully generous, and terribly charming.
A city girl won't last six months in the country, but Callum 'Mitch' Mitchell has good manners and loves his town, so he'll be neighbourly, but keep his distance. Experience has taught him not to get involved with out–of–towners. Even if this out–of–towner is surprisingly resilient, unexpectedly tough, and unpredictably fond of local football.
Good fences make good neighbours, but in Dulili, it seems like barriers might instead be breaking down…
Buy Honey Hill House in eBook format
Lisa Ireland
Australian Bestselling Author
Getting to the heart of female friendship and the lives of women
Read more about Lisa and her books, and discover where to follow her on social media
The Healing Season by Catherine Evans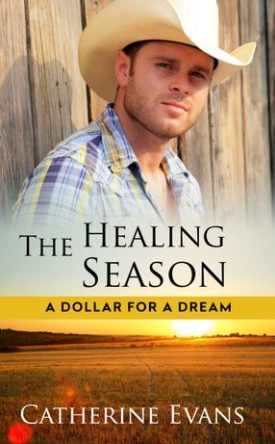 Alicia used to know exactly what her life would look like: marry her best friend, manage her home town agricultural store, and live in her grandparent's old house. But life never goes to plan, and Alicia is left with nothing more than the store to keep her going. Until a new employee walks through her door and offers a new friendship – and potentially something more.
Lachlan has spent his life running, and Dulili is just far enough away for a new start. But small towns have few secrets, and running from the past is a surefire way to guarantee no hope for a future.
Buy The Healing Season in eBook format

Catherine Evans
Australian Rural, and Country to City Romance Author
Fiction, farming, families
Read more about Catherine and her books, and discover where to find her on social media
We hope you enjoyed this month's Backlist Wednesday selection!
Subscribe by email to receive our occasional blog posts 
and never miss a new book release!
Stay up-to-date on the latest Australian fiction releases and news