AUTHOR GALLERY
Published:
August 29, 2021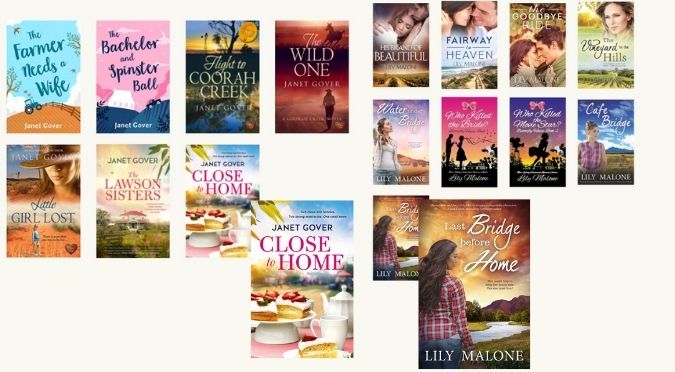 We asked our wonderful group member authors
What inspires you to write stories?
They couldn't wait to answer!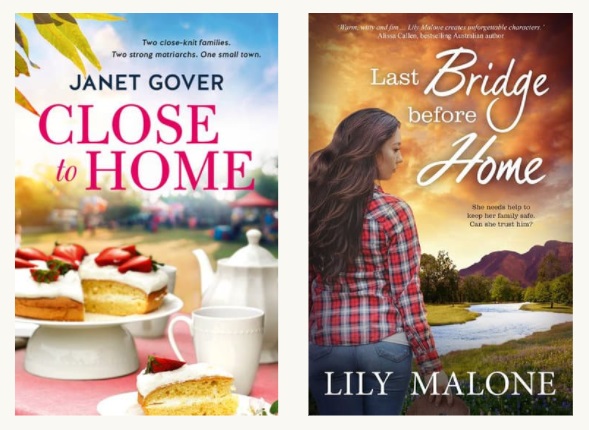 Janet Gover – award winning author with plentiful books set in her native Australia, but did you know Janet also writes under a pseudonym?
Lily Malone – Aussie author writing contemporary, country, Australian. Is there a new story from Lily's Chalk Hill series on the horizon?
Janet Gover
Award Winning Author
Australian fiction and more
What inspires me to write? That's easy… readers.
I was a reader long before I was a writer. If I'm still for five minutes, I have to read something… the back of the cornflakes packet it there's nothing else handy. When I was a kid, my Dad subscribed to a Children's encyclopaedia series … a new book covering one letter delivered each week. I read them as soon as they arrived. I got to M before anyone told me that's not what you're supposed to do with encyclopaedias. My general knowledge is a bit lopsided – alphabetically. I can tell you that a manta ray's wing span can be up to 7 metres, but don't ask me how big a Narwhale is.
Stories are so much better than an encyclopaedia.
Reading is an emotional experience for me. I laugh, and I cry. I meet people between the pages of a book and I connect with them. They become my friends.
I write stories set in rural Australia, because that's where I grew up and that's where my heart still lies. I have so many great memories of small towns and the people who live in them, and I want to share the joy of those moments with other people who love to read. My stories are fiction, but they are a reflection of reality – and that's the challenge of writing.
Books by Janet Gover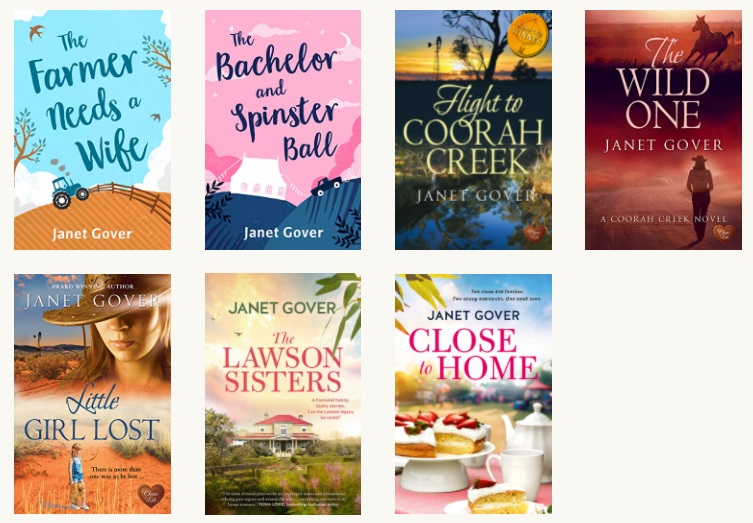 There is another side to my story-telling. A darker side. Her name is Juliet Bell. As Juliet, my friend Alison May and I write retellings of classic literature- reimagining heroes who aren't really that heroic. We've put Heathcliff in the middle of the UK miners strike and moved Mr Rochester to the outback. The books are far from romances – but they are all part of the conversation I like to have with other people who read books.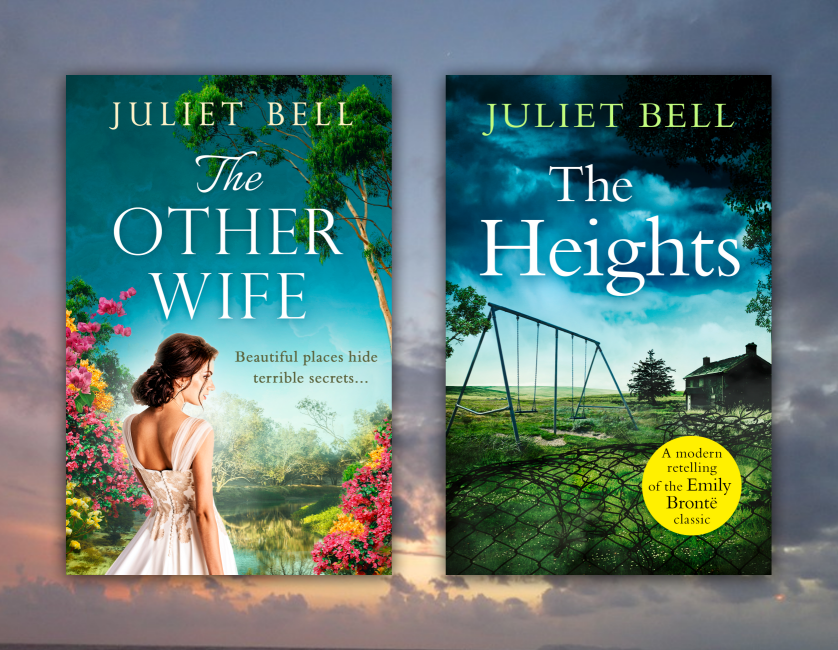 For all the information needed on Juliet Bell books head to the website http://www.julietbell.co.uk/ 
My latest release is Close to Home – another small town story. It has a touch of The Greatest Showman (how I loved Hugh in that) and a bit of Romeo and Juliette. It has two of my favourite characters – two matriarchs at odds with each other but more alike that they are willing to admit.
They are, to some extent, reflections of each other. And maybe that's what I am as a writer – a reflection of the readers who inspire me to write.
Janet's current release showcased on Australian Fiction Authors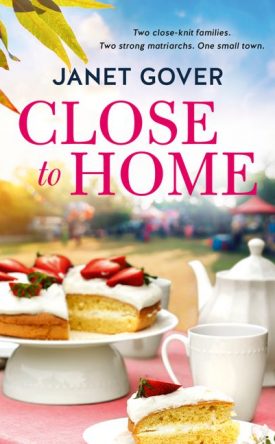 Two households, both alike in dignity…
Aunt Alice Dwyer loves her small Australian town. She's rarely left its comforting embrace. She knows everyone in it; in fact, she's related to most of them. All she wants is to keep her family safe and the town running exactly the way it always has. Her way. But when an exotic French artist comes to town, her hold begins to weaken…
Lucienne Chevalier, once the toast of Europe, has come to Nyringa after a tragic loss to hang up her sequins and create a place for her circus family to rest between tours. With her is Simon, her grandson, recovering from an injury so damaging he can no longer perform. Lucienne fears he'll never embrace a new future. That is, until she notices the chemistry between him and the new schoolteacher… All they need is a push.
Both grande dames think they know what's best, but with equal amounts of stubbornness on both sides, peace looks unlikely. Then a relationship between Alice's rebellious great-niece and a teenage acrobat sets the two communities on a collision course. But when the bakery starts making patisseries over lamingtons, the battle lines are truly drawn…
A story of community and family. Of the love that brings them together … and the fears that would tear them apart.
'A delightful small town story of community and family with shades of Romeo and Juliet and The Dressmaker.'
Read more about Janet Gover and her books
Lily Malone
Australian Fiction Author
Contemporary. Country. Australian.
What inspires me to write?
Lately, it's been my mates. For years now, every Thursday, I play cards with my 'card girls'. Usually cards night involves wine, beer or single malt scotch. Not too much of it most times and sometimes we all behave ourselves and drink herbal tea. We're good friends, all of us neighbours, and we thank our lucky stars that we have all ended up in the same stretch of street.
Conversation over the card table is our weekly 'pick me up' if we're ever feeling tired or flat. There are always laughs. There are always stories.
It's the stories that prick my ears because I'm always thinking: that would be great to put in a book.
Books by Lily Malone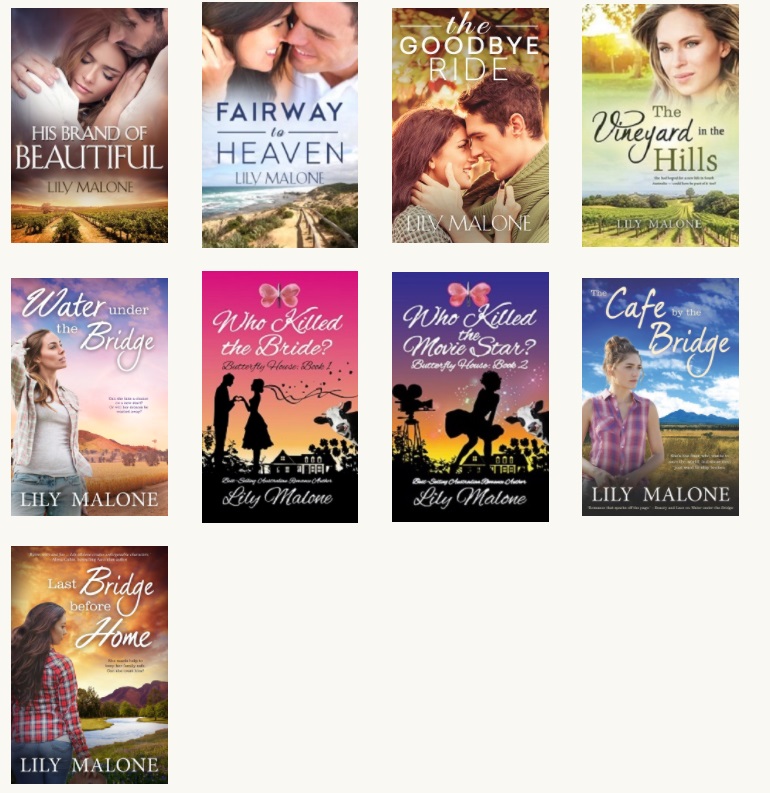 My next story will be out in 2022. It's another in the Chalk Hill Series, although not related to the Honeychurch boys of the first three books. The heroine is a vet. I made her a vet after weeks of listening to the card girls telling tales about Kylie's little Jack Russell dog, Trixie, that had a habit of sneaking into Carrie's place and piddling on her laundry floor! And then Dayna talking about a sick little chicken in her coop, and what she had to do to try to make it better. This had all of us in stitches.
Trixie and the chicken make cameo appearances in my new story: The Vet's Country Holiday.
This is a snippet of what my editor, Rachael Donovan, at Harper Collins thought when she first read it: 'I thoroughly enjoyed the read, and think readers – old and new to Chalk Hill – are going to love it! I never thought I'd find myself chuckling over a chicken, but such is the power of your storytelling! Poor little thing.'
So thanks, Card Girls, and now you need to do it again because I'm all out of ideas!
Lily also self-publishes stories. If you want more information on Lily's Butterfly House series head to your favourite online digital retailer or contact Lily directly about the paperbacks at https://lilymalone.blog/my-books/butterfly-house-series-pre-order-special/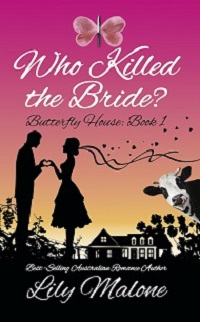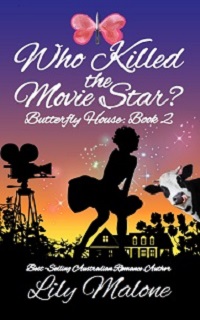 Lily's current release showcased on Australian Fiction Authors
With her trademark fresh and funny tone, Lily Malone returns with a captivating new romance set in the heart of the Australian outback.
For Jaydah Tully, the country town of Chalk Hill has never felt like home. Home is a place to feel loved. Home is a place to feel safe. Jaydah's home life is dark in ways the close-knit community could never imagine.
Jaydah knows that the man she loves has never understood her need for secrets. Brix is a Honeychurch, she's a Tully – her family are Chalk Hill's black sheep. It's better for everyone if Brix stays away.
But Brix is a one-woman man, and when he returns to his home town to help his brother, the first person he sees is Jaydah. Independent. Private. Proud. When things are good between them they are really really good but all too soon they're back in the old patterns, caught in the same argument: Her father. Her family. Her life that doesn't include him.
Underneath her tough exterior, Jaydah is drowning. She has one chance to change everything. Is she brave enough to take the risk and let Brix in? Or will her father keep them apart forever?
Read more about Lily Malone and her books
We hope you're enjoying our Book News 
Subscribe below by email to receive our occasional Book News blog post – and never miss a new book release!
We'd also love you to follow us on Facebook & Instagram
Stay up-to-date on the latest Australian fiction releases and news