Alli Sinclair Answers the 5 Big Questions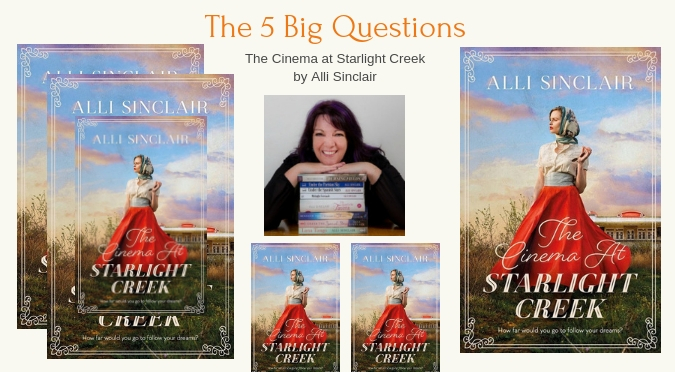 Set in the glamorous world of 1950s Hollywood and the rich beauty of north Queensland in 1994, The Cinema at Starlight Creek is a story about two women—born decades apart—and the challenges they face with love, hope and making their dreams a reality
The Cinema at Starlight Creek is out on 20th May and up for pre-order now
We asked Alli the 5 Big Questions about this book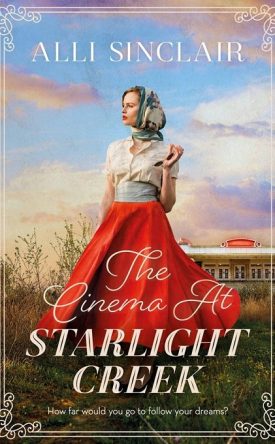 A heart-stirring novel of loss, love and new hope set against the glamorous backdrop of 1950s Hollywood and a small Australian country town. 
How far would you go to follow your dream?
Queensland, 1994: When location manager Claire Montgomery arrives in rural Queensland to work on a TV mini-series, she's captivated by the beauty of Starlight Creek and the surrounding sugarcane fields. Working in a male-dominated industry is challenging, but Claire has never let that stop her pursuing her dreams-until now. She must gain permission to film at Australia's most historically significant art deco cinema, located at Starlight Creek. But there is trouble ahead. The community is fractured and the cinema's reclusive owner, Hattie Fitzpatrick, and her enigmatic great nephew, Luke Jackson, stand in her way, putting Claire's career-launching project-and her heart-at risk.
Hollywood, 1950: Lena Lee has struggled to find the break that will catapult her into a star with influence. She longs for roles about strong, independent women but with Hollywood engulfed in politics and a censorship battle, Lena's timing is wrong. Forced to keep her love affair with actor Reeves Garrity a secret, Lena puts her career on the line to fight for equality for women in an industry ruled by men. Her generous and caring nature steers her onto a treacherous path, leaving Lena questioning what she is willing to endure to get what she desires.
Can two women-decades apart-uncover lies and secrets to live the life they've dared to dream?
Pre-order The Cinema at Starlight Creek now
releasing 20th May in paperback and eBook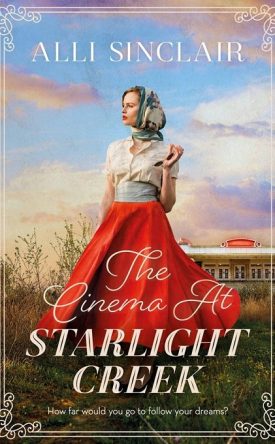 The 5 Big Questions
1. How long did it take you to write the book?
The first draft of the book took four months but the research I did beforehand took at least six months off and on. Then of course there's the editing process with my publisher which takes a few more weeks. So all in all, from story concept to having a story that is print ready, it took me around one year.
2. What was the most difficult or complex aspect of writing your book?
I always ensure the details about an era or topic I'm writing about are as close to authentic as possible. This way readers can travel to a time and place and feel like they are part of the story—the sights, sounds, smells, beliefs and challenges are all reflected in the story and characters. As I don't possess a time machine (I wish!) I need to undertake a lot of research which includes reading non-fiction books, watching documentaries and, where possible, interviewing people who can give me first-hand accounts. Aside from researching 1950s Hollywood, I got to speak to actors, producers and directors on a couple of well-known Australian TV dramas to help with my research for the part of my story that takes place on a film set in 1994 Australia. It was an amazing experience which has led me to working in short film and TV documentaries!
I'm very pedantic with my research so it can be time consuming and very challenging but it's absolutely worth it because the facts included in the story add extra layers and gives readers the best possible experience.
3. What gave you the most pleasure when writing your book?
Even though I start with an outline and a good idea as to what my characters are like, I never truly know how it will play out until I start writing. Sometimes characters take me down roads I never expected, or a new character might pop up out of nowhere and become central to the story. It's those twists and turns that make writing such a pleasurable and fun experience.
4. Are you nervous when a new release comes out?
Always! I don't think that will ever change. Writers spend so much time working on their books and only a handful of other people read it before it goes to print (critique partners, literary agent and editors) so when the book is out in the world, there's no going back! Luckily, I have a wonderful group of supportive readers and authors and book bloggers who help calm my nerves on release day so I can enjoy the fruits of my labour.
5. What's the best thing a reader could do if they enjoyed your book?
Tell your friends and leave a review on any of the websites or blogs you follow. Goodreads is a great review site and it's also a wonderful place to find new-to-you books. Authors are always grateful if you take the time to write a review (even if it's one line!) or you can always just tick how many stars you want to give. Leaving reviews and telling friends about the book is greatly appreciated and really helps spread the word.
Read more about Alli Sinclair, her books, and where to find her on social media
Multi-Award Winning, Internationally Published Australian Author
Writing compelling stories about secrets, family and love against all odds
We'll be bringing you an excerpt from The Cinema at Starlight Creek on 20th May.
In the meantime, why not follow Australian Fiction Authors on Facebook – and never miss a new book release!
Stay up-to-date on the latest Australian fiction releases and news