After the Party – new release and debut novel from Cassie Hamer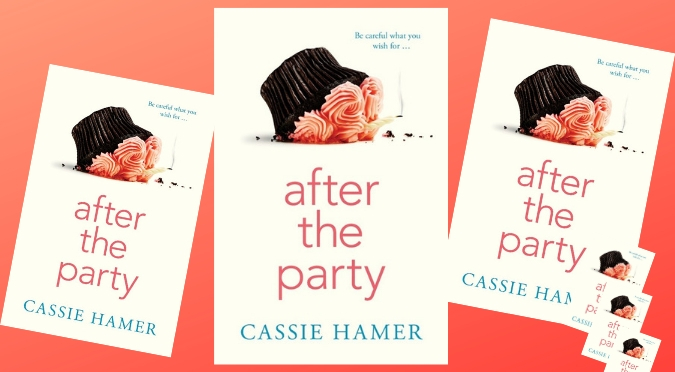 Not only is this a new release, it's a debut novel already climbing the charts
We're thrilled to showcase Cassie Hamer and After the Party on Australian Fiction Authors
You can read the blurb … you can read an excerpt!
We also asked Cassie the 5 Big Questions
Cassie Hamer
Australian Author of Women's Contemporary Fiction
Stories that take you behind the white picket fence…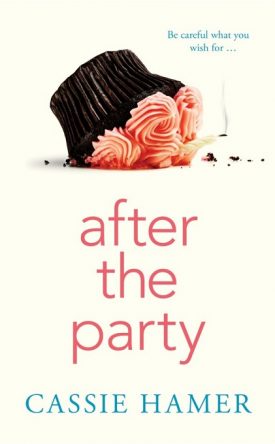 An unexpected gift left at her daughter's fifth birthday party in the form of a little girl pitches Sydney mum Lisa Wheeldon into events both hilarious and life-changing.
"Liane Moriarty meets Marian Keyes with a touch of Christos Tsiolkas's The Slap in this hilarious, touching and clever novel that asks what wouldn't you do to save a child?"
Be careful what you wish for…
Lisa Wheeldon has a lovely life. Wife to a gorgeous husband, Scott, and a devoted mother to two small daughters, the former accountant has everything she wants – except a third child. But the universe has a strange way of providing.
On the surface, Ava's fifth birthday party seems the ideal opportunity for Lisa to meet her daughter's new kindergarten friends – all 32 of them! But from beginning to end, the day is a complete nightmare, capped off by the discovery of a little girl hiding in the Wheeldon's backyard. At first, Lisa reasons that Ellie's mum is running late. But when they open a gift from the mysterious little girl, it becomes clear her mother has no intention of returning at all…
What sort of mother abandons her child? And why has she chosen the Wheeldons?
Together, Lisa and her sister Jamie launch their own efforts to find the missing mum, a journey that will force Lisa to face her past, Jamie to confront her future and see both embroiled with angry exes, pragmatic fortune-tellers, Russian mobsters and a hyena pack of yummy mummies.
A journey that will force Lisa to rethink all she knows about being a good mother.
Excerpt from After the Party by Cassie Hamer
CHAPTER ONE
Lisa Wheeldon yawned but kept her eyes shut. It was so cosy under the doona. So relaxing, and the semi-erotic dream she'd been having had left her with a warm, fuzzy feeling between her thighs.
Under the doona, she reached for her husband's leg and squeezed it. 'This is nice, isn't it?'
'Mmmm,' he murmured and placed his hand over hers.
Usually they woke to a prod in the back from Ava or Jemima, or both. Their two daughters had rendered all alarm clocks utterly useless. Mostly, they were up well before the sun, except for today.
Lisa stroked her husband's thigh. 'I was just having the hottest dream—'
'Yes?'
'About Max from Max's Garage. He came to me with his receipts—'
'Go on.'
'And they weren't in the bag.' At sixty-five, Max Ingall was her oldest client. Wizened as a sultana, his idea of bookkeeping involved chucking receipts into a plastic bag, and handing them over. It drove the order-loving Lisa insane.
'No bag?' Scott knew how much she hated the bag.
'He came to me with folders.' She paused. 'Colour coded.'
'Oh, god.' Scott moaned appreciatively.
'I know, right.'
Lisa rolled onto her side and took a second to appreciate her adorable husband, with his smile lines and greying hair around the temples. Men were lucky in the way they slid so easily into middle age.
Yep. My Scottie has still got it.
With a speed she hadn't mustered in years, Lisa launched herself onto her husband's chest and kissed him full on the mouth. Encouraged by the equally rapid response of Scott's groin, Lisa started kissing him down his chest.
'Nice to see you so relaxed about the party,' he murmured.
The party.
Oh goodness, the party.
Lisa blinked madly and looked at the alarm clock.
8.36 am.
'Why didn't you tell me?' She leapt off Scott and out of the bed, sending her pillow flying. Quickly, she grabbed it off the floor and threw it back onto the bed, accidentally hitting her husband in the head.
'Ow.'
Lisa wrenched open the doors of her cupboard. 'Why didn't you wake me?'
'Because I was asleep.' Scott rubbed his eyes while Lisa clutched at the first article of clothing she could find—an ancient white (now over-washed grey) T-shirt, and a tatty pair of light (intentionally) grey yoga pants, complete with faded bolognaise stains and a big hole in the knee from too much crawling on the floor with the girls.
'Of all the days, of course today would be the one where they slept in,' she muttered, roughly pushing her feet into ugg boots.
'Get up,' she hissed at her still-groggy husband, before skittering out the door and down the stairs. In less than ninety minutes—one hour, twenty-three minutes now, to be precise—there would be thirty-two children between the ages of four and six arriving on her doorstep for Ava's fifth birthday party.
Thirty. Two. Children.
'You've managed accounts for hundred-million-dollar companies, you've got this,' she whispered to herself, while trying to visualise the spreadsheet she'd drawn up yesterday on her laptop—with things already done in the green column, and those outstanding in the red. Spreadsheets made her feel so much better about life; Microsoft Excel was her yoga. But there was no time to fire-up the computer. From memory, she had to:
-Make fairy bread (no crusts, gluten-free bread)
-Cut fruit (star shapes, as per Ava's request)
-Collect sushi from shop
-Blow up balloons (find balloon pump so as not to collapse from dizziness)
-Put up streamers
-Sweep the back deck for possum poo
-Get the girls dressed
-Clean the toilet (the girls treated the flush button like a bomb detonator—something to be feared and avoided at all costs, regardless of smell emanating from the bowl)
-Decorate the cake (a princess castle, completely beyond Lisa's abilities)
-Set up tea cups and saucers for the adults
-Heat up the frozen sausage rolls (homemade was now out of the question)
At the bottom of the steps, Lisa stopped. On the couch in the lounge room, the girls were curled up shoulder-to-shoulder under a rug and watching Sunday morning cartoons. A familiar twinge went off in Lisa's ovaries and despite the gargantuan nature of the to-do list in her head she couldn't help gazing on the yawning space next to Ava and Jemima that seemed to cry out for an extra body.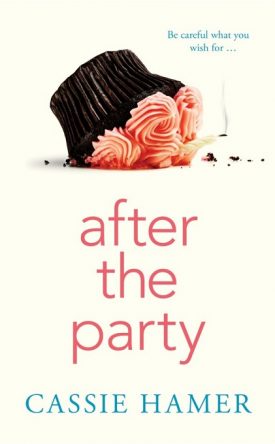 Out now in paperback and eBook
Now let's get to the 5 Big Questions
How long did it take you to write the book?
The first draft took six months, writing three days a week. From there, the book underwent three significant re-drafts – darlings didn't just get killed, they were massacred! It was hard, but necessary… Recently, I opened that very first draft of After the Party to have a look at how much similarity it bore to the final product. The good news is – not much! First drafts (mine, anyway) are generally pretty awful, but luckily I had a wonderful editor who told me, in no uncertain terms, where it needed fixing.
What was the most difficult or complex aspect of writing your book?
Writing this book was a joyous experience. After the Party was actually the third manuscript I wrote. The first two were very sad and serious – they were what I thought I should be writing. For After the Party, I threw off the shackles and had some fun. That said, it wasn't all rainbows and unicorns. Much as I love editing, there are points in the process I felt almost physically unwell at the idea of looking again at the bloody thing. Also, finding solutions to plot holes. It can require a lot of thinking and talking. I'm sure my poor husband gets quite sick of talking about it.
What gave you the most pleasure when writing your book?
I had a lot of fun depicting the absurdity and challenges of modern-day parenting. I have three daughters – aged 6, 8, and 10 – so I've hosted quite a few birthday parties and they always teeter on the edge of disaster. Something about lots of children + high emotion + win/lose games + lots of sugar = a very combustible mix! Depicting the chaos and stress, not to mention the inherent humour, of that situation really gave me a thrill.
Are you nervous when a new release comes out?
Of course! Are there authors who don't?! I must meet them and discover their secrets… No, I'm definitely nervous, but also excited, daunted, proud, and, at times, despairing. It's literally a case of #allthefeels.
What's the best thing a reader could do if they enjoyed your book?
Tell someone! Tell a friend, or relative, or neighbour, or even a random stranger on the bus. I'd love anyone and everyone to read this book. Recently, a friend of mine told me that she hadn't read any fiction in a long time (too busy reading books about how to help an anxious child) but After the Party brought back the pure joy of reading for entertainment. That feedback made my heart sing.
Cassie Hamer
Australian Author of Women's Contemporary Fiction
Stories that take you behind the white picket fence… 
Read more about Cassie and where to find her on social media
Subscribe to receive our occasional blog posts by email and never miss a new book release!
Stay up-to-date on the latest Australian fiction releases and news