The Shot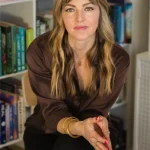 Naima Brown
Producer Mara Bolt is the queen of reality TV. Ambitious to the point of ruthlessness, Mara will do anything – anything
– for ratings. When she meets Kristy Shaw, Mara is certain she's found the star of her newest series, The Shot.
Kristy is languishing away in her small hometown and a dead-end job, pining for her first love, Max Irving. The Shot
offers her a Total Body Transformation – extreme plastic surgery to render her unrecognisable – as a way to recapture Max's affections under a new identity. But there's a catch: if she doesn't secure his heart in thirty days, she must have her surgeries reversed, and go back to her old life. As the cameras start rolling, Mara and Kristy both get the sense that there is something happening behind the scenes – something that threatens to reveal old wounds and new secrets that neither of them wants to reckon with. If they are going to keep the show on track, they must contain the truths and desires that lie just beneath the surface. The Shot is a rollercoaster read about our obsession with beauty and the trappings of success and the desperate, outrageous lengths we will go to for love and ambition.
Stay up-to-date on the latest Australian fiction releases and news