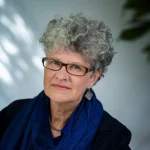 Kate Grenville
Kate Grenville has published more than ten books, including several about the writing process. Her novels have been published all over the world, and have been translated into many languages. Two have been made into feature films.
Grenville was born in Sydney. She was educated at Cremorne Girls' High School and the University of Sydney, and has worked as an editor of documentary films at Film Australia, a sub-editor of subtitles at SBS Television, and a teacher of Creative Writing. In 2006, she was awarded a Doctorate of Creative Arts by the University of Technology, Sydney. Grenville lives in Sydney with her husband, son and daughter.
Grenville's reputation as a short story writer was made by the publication in 1984 of her collection, https://www.waterstones.com/ebook/bearded-ladies/kate-grenville/9780702255229. https://www.waterstones.com/book/lilian-s-story/kate-grenville/9781841959955 was her first published novel – it's one of Australia's best-loved novels and was made into a 1996 film, starring Ruth Cracknell and Toni Collette. In 1994, Grenville returned to the characters and setting of Lilian's Story with a companion novel, Dark Places, that re-tells the events of the earlier novel from the point of view of Lilian's incestuous father. https://www.waterstones.com/book/the-secret-river/kate-grenville/diana-athill/9780857860842 was published in 2000, and was the first of Grenville's books to tackle Australia's colonial past as well as relations with the country's indigenous people.
Grenville has also written and co-written books about the writing process, which are widely used in Creative Writing workshops and universities.
Latest releases by Kate Grenville
Stay up-to-date on the latest Australian fiction releases and news