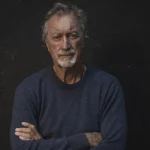 Bryan Brown
Iconic Australian actor Bryan Brown became an international success in the early eighties with critical acclaim for performances in Breaker Morant and the TV series A Town Like Alice.
 A stream of Australian hits and Hollywood productions followed including The Thorn Birds, Gorillas in the Mist, FX, Newsfront, The Shiralee, Cocktail, Two Hands, Beautiful Kate, Along Came Polly, Australia, and in 2019 Palm Beach which he produced, and starred in.
In a 40-year career, Bryan has appeared in over 80 films and worked in 25 countries. This achievement earned him the prestigious Longford Lyell Award at the 2018 AACTAs recognising his contribution to Australian cinema.
Latest releases by Bryan Brown
Stay up-to-date on the latest Australian fiction releases and news