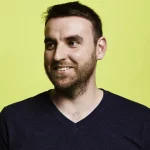 Benjamin Stevenson
Benjamin Stevenson is an award-winning stand-up comedian and author. His first novel, Greenlight, was shortlisted for the Ned Kelly Award for Best Debut Crime Fiction, and his second novel, Either Side of Midnight, was shortlisted for the International Thriller Writers Award for Best Original Paperback.
Everyone In My Family Has Killed Someone, his third novel, was a huge bestseller and has so far been sold in twenty-four territories around the world. It will soon be adapted into a major HBO TV series.
Benjamin has sold out live shows from the Melbourne International Comedy Festival all the way to the Edinburgh Festival Fringe and has appeared on ABC TV, Channel 10 and The Comedy Channel.
Latest releases by Benjamin Stevenson
Stay up-to-date on the latest Australian fiction releases and news