A Catchup on Latest Bestselling Releases
Published:
February 9, 2021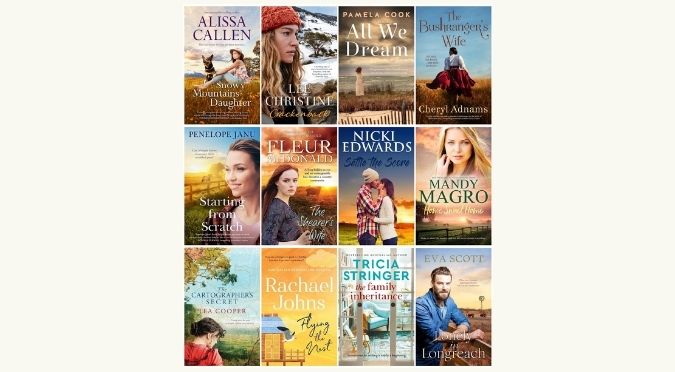 The 12 latest releases from our group member authors and don't they look awesome?
Read the story blurbs and pick the ones you know you really cannot miss reading…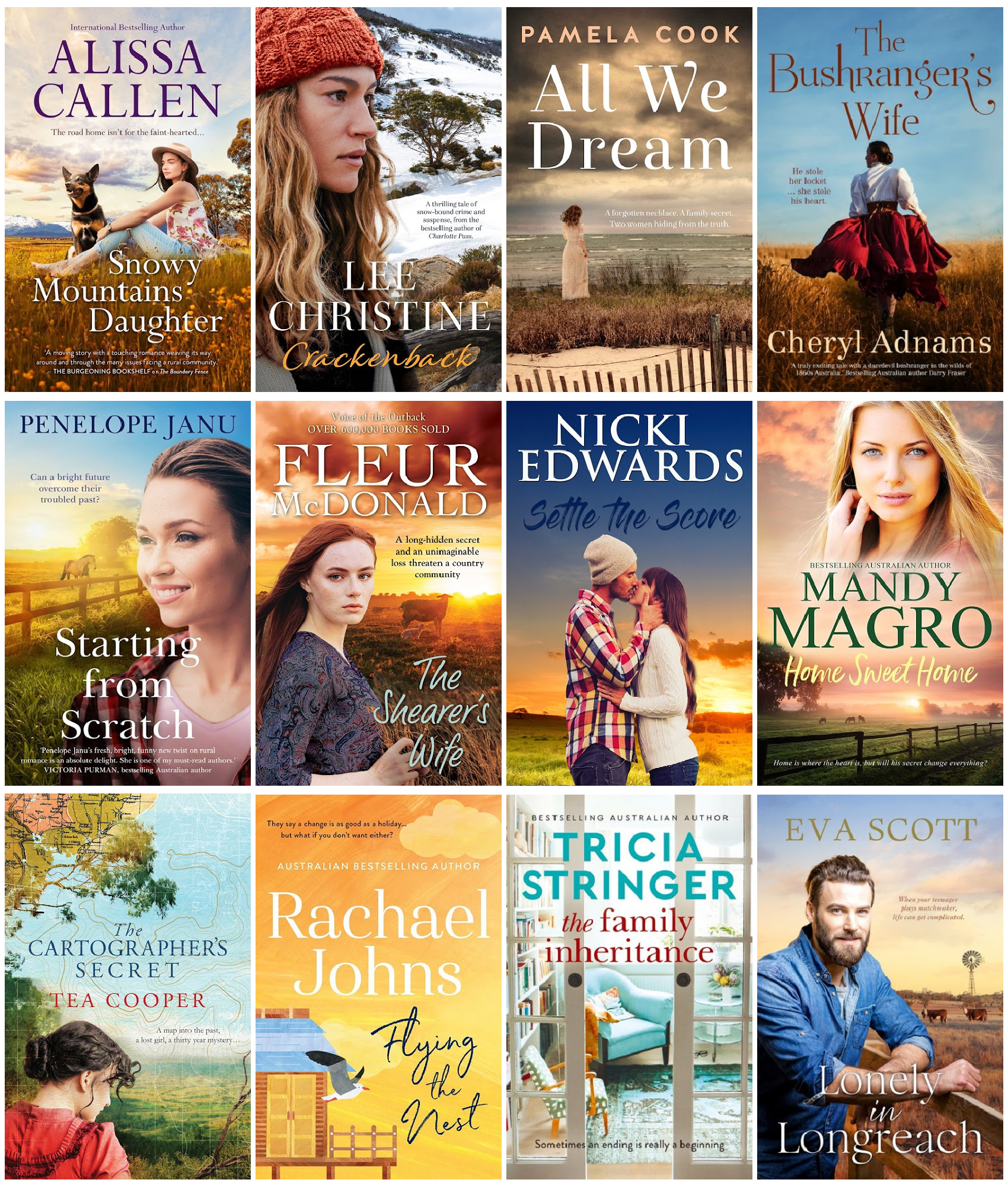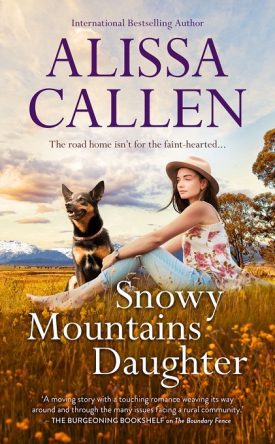 Welcome to Bundilla. A new close-knit community where romance can blossom.
'A compelling story of homecoming and family secrets by bestselling Australian author Alissa Callen.'
The road home isn't for the faint-hearted…
Peony flower farmer Clancy Parker was born and bred in the Australian high country. Small-town Bundilla is the only place she will ever truly belong, even if staying means remaining alone. The man she'd loved is long gone and single men are as rare as a summer snowfall.
As soon as he could, street artist Heath MacBride escaped his complicated family and traded mountain peaks for city concrete. Now a commission to paint a mural on Bundilla's water tower brings him home. It doesn't matter how long he's been away, the animosity of his cattleman father hasn't waned. As soon as the water tower is painted, he will be gone.
But between steadfast Clancy, who'd once been his muse, a free-spirited kelpie who becomes his shadow and a corrosive family secret, his best laid plans disintegrate. When life again backs him into a corner, will he have no choice but to leave or will he and Clancy have the second chance they'd each thought would forever remain out of reach?
A thrilling tale of snow-bound crime and suspense, from the bestselling author of Charlotte Pass
Detective Sergeant Pierce Ryder of the Sydney Homicide Squad is on the hunt for notorious fugitive Gavin Hutton.
After months of dead-ends, the breakthrough Ryder has been hoping for leads him back to the New South Wales Snowy Mountains on the trail of the suspected killer.
Meanwhile, when an injured man bursts into the remote Thredbo lodge managed by Eva Bell, her first instinct is to protect her daughter, Poppy. The terrifying arrival of Jack Walker turns Eva's world upside down as the consequences of Jack's presence become clear.
With a killer on the loose, Jack Walker and Ryder are tangled in the same treacherous web – spun across the perilously beautiful Crackenback Range.
A forgotten necklace. A family secret. Two women hiding from the truth…
When successful Sydney lawyer Miranda McIntyre searches for something old to go with her wedding dress, she remembers an antique necklace from her childhood. Her mother's denial of its existence only deepens Miranda's curiosity but the discovery of a faded wedding photo and an old newspaper clipping reveal long-buried family secrets.
Who is the woman in the photo? And why are these keepsakes hidden in her mother's closet?
Miranda's quest for the truth takes her on a road trip south to the idyllic seaside village of Pelican Point where she stumbles upon a secluded cliff-top cottage and the reclusive Esther Wilson. As Miranda begins to unravel the mystery, a tale of daring rescue, forbidden love and shocking betrayal unfolds. Meeting enigmatic horse trainer Vincent Kennedy forces Miranda to question the life she has worked so hard to create, throwing into turmoil everything she thought she knew about the past and about herself.
A rollicking historical tale about following your heart, finding home in unexpected places – and bushrangers.
He stole her locket … she stole his heart.
Central Highlands of Victoria, 1861
Jack the Devil's reputation precedes him. The most notorious bushranger on the Central Highlands, nothing throws him off his game … until he holds up Prudence Stanforth and her grandmother. With her sweeping red hair and complete lack of fear, Jack can't help but be captivated by the feisty Pru.
Weeks later, Pru crosses paths with the respectable businessman, Jack Fairweather, and it's not long before she recognises him as the bushranger who stole her beloved necklace. His price for the locket's return is her silence … and a kiss. A kiss that sparks something inside them both.
When Pru discovers her grandmother has been keeping a devastating secret, running away with Jack the Devil is the perfect escape for her broken heart. The dangerous nature of his less than salubrious occupation is a poetic contradiction to her sheltered upbringing and only fuels their passion. Until that danger becomes a reality. Between the return of dark elements from Jack's past and authorities intent on his capture, Jack and Pru must fight for their future together … or risk losing everything.
For readers of Karly Lane and Tricia Stringer…misunderstandings and injured pride stand in the way of true love in this charming rural romance from an award-winning and much-loved author.
Can a bright future overcome their troubled past?
After a troubled childhood and the loss of her beloved grandmother, Sapphie Brown finally finds somewhere to call home – the close-knit rural community of Horseshoe Hill.
The locals love Sapphie because she never gives up – as chair of the environment committee, with the children in her classes, the troubled teens at the youth centre, the ex-racehorses she cares for and even the neglected farmhouse and gardens she wants make her own. Sapphie gives second chances to everything and everyone. Except Matts Laarkin.
An impossibly attractive environmental engineer who travels the world, Matts was Sapphie's closest childhood friend. He came to deliver a warning – now he doesn't want to leave.
All Sapphie wants to do is forget their painful past, but thrown together they discover an attraction that challenges what they thought they knew about each other. Do they have a chance to recapture what they lost so long ago? Or will long-buried secrets tear them apart?
In the flowers she creates from paper and the beauty that grows on the land, Sapphie has found perfect imperfection. Could that be what love is like too?
A riveting new novel of rural suspense from the bestselling Voice of the Outback.
1980: Rose and Ian Kelly arrive in the small South Australian town of Barker for supplies, before driving a further couple of hundred kilometres to begin shearing at Jacksonville Station. Rose, heavily pregnant with their first babies, worries that despite Ian's impending fatherhood he remains a drifter who dreams of the open road.
2020: When the Australian Federal Police swoop unheralded into Barker and make a shocking arrest for possession of narcotics, Detective Dave Burrows is certain there is more to the story than meets the eye.
After many months of grief over her brother's illness and death, journalist Zara Ellison is finally ready to begin a new chapter of her life and make a commitment to her boyfriend, Senior Constable Jack Higgins. But when she's assigned to investigate the Barker arrest, Jack begins to believe that Zara is working against him.
It takes a series of unconnected incidents in Zara's digging to reveal an almost forgotten thread of mystery as to how these two events, forty years apart, could be connected.
Should you keep score when it comes to love?
As an adopted only child, Annabel Norton has always wanted children of her own. Having recently retired from playing semi-professional football for the AFLW, now would be the perfect time—except she's still reeling from the failure of her last relationship.
Special Operations Group police officer Ben Naylor loves the idea of a family, but with two marriages under his belt, he figures commitment isn't for a man like him. Especially as he needs time to process all he's lived through in his job. That's why it makes no sense that he falls head over heels for Annabel the very first time he sees her. He does the right thing though and keeps his distance…and then she moves in next door.
As their feelings become impossible to deny, Annabel starts to think that they might be made for each other. That is until she learns about an unexpected secret in Ben's past. For a chance at happiness, can she open her heart and accept that a future with Ben could involve more than children of her own?
Set in the heart of the Australian countryside comes a gorgeous romance about the power of fate from bestselling author Mandy Magro.
What happens when fate gets a little helping hand?
Sienna Lewis knows firsthand about being an Aussie battler, but she has her beautiful daughter, Zara, to keep fighting for. One day she dreams of giving Zara the life and big family she deserves. For now, Sienna can only focus on her work at the hospital. But when she connects with a new patient who has driven away nearly everyone in his life, she is astounded when he leaves her his sprawling Far-North Queensland property.
Mason King has worked tirelessly to follow in the footsteps of his beloved cattleman neighbour, Max, by raising ethically farmed cattle – despite the stream of disapproval from his old-fashioned father. Little does he know that Max, having seen sparks fly between Mason and Sienna, has set up his own plan to bring Sienna to town.
As new neighbours, Mason and Sienna discover they cherish similar things in life and are drawn to each other. Although, there's a secret between them that could ruin everything… When all seems lost, will fate then have another twist in store for them?
A young woman's quest to heal a family rift entangles her in one of Australia's greatest historical puzzles when an intricately illustrated map offers a clue to the fate of a long-lost girl. A mesmerising historical mystery set in the Hunter Valley from bestselling author Tea Cooper for readers of Natasha Lester and Kate Morton.
1880 The Hunter Valley
Evie Ludgrove loves to map the landscape around her home – hardly surprising since she grew up in the shadow of her father's obsession with the great Australian explorer Dr Ludwig Leichhardt. So when an advertisement appears in The Bulletin magazine offering a GBP1000 reward for proof of where Leichhardt met his fate, Evie is determined to figure it out – after all, there are clues in her father's papers and in the archives of The Royal Geographical Society. But when Evie sets out to prove her theory she vanishes without a trace, leaving behind a mystery that taints everyone's lives for 30 years.
A young woman's quest to heal a family rift entangles her in one of Australia's greatest historical puzzles when an intricately illustrated map offers a clue to the fate of a long-lost girl. A mesmerising historical mystery set in the Hunter Valley from bestselling author Tea Cooper for readers of Natasha Lester and Kate Morton.
When Letitia Rawlings arrives at the family estate in her Model T Ford, her purpose is to inform her Great Aunt Olivia of a bereavement. But Letitia is also escaping her own problems – her brother's sudden death, her mother's scheming and her own dissatisfaction with the life planned out for her. So when Letitia discovers a beautifully illustrated map that might hold a clue to the fate of her missing aunt, Evie Ludgrove, her curiosity is aroused and she sets out to discover the truth of Evie's disappearance.
But all is not as it seems at Yellow Rock estate and as events unfold, Letitia begins to realise that solving the mystery of her family's past could offer as much peril as redemption.
They say a change is as good as a holiday…but what if you don't want either?
Is her family's happiness more important than her own?
The first time Ashling Wood realises her marriage is on the rocks is when her husband, Adrian, suggests they try nest parenting. Heartbroken, Ash suddenly finds herself living a double life – one week with her children, the next cohabiting with her happily single sister-in-law. Her friends think the modern custody solution is an exciting opportunity for her to spread her wings, but all Ash wants is her family back together.
An offer to renovate a seaside cottage seems like the perfect distraction for Ash while waiting for Adrian to come to his senses. She's determined to fix her marriage as well as the cottage, but life gets even more complicated when she meets local fisherman Dan Emerson.
Soon, each home-stay becomes more dysfunctional, while for the other week Ash enjoys the peaceful life of the beachside community. The more time Ash spends in Ragged Point, the more she questions what she really wants. Is a sea-change the fresh start she needs to move on?
When tragedy calls Ash back to the city, she's torn between the needs of her family and her future. Can her family life fit in with a permanent move to the beach or could Ash's new-found independence attract Adrian back to the nest?
A toxic will plays havoc in the lives of three generations of women when they discover they have been living a lie. A keenly observed story of the danger of secrets, the legacy of betrayal and the power of family from a bestselling Australian author.
Sometimes an ending is really a beginning …
Felicity Lewis's fiftieth birthday party in her newly renovated home, loving husband and daughter Greta by her side, is going off with a bang when disaster strikes. Her father, Franklyn, with his usual impeccable timing, has keeled over and died.
For some members of the family, his wife Hazel for example, Franklyn's death is not the great loss it first appears to be. But when his toxic and inexplicable will is read out, it becomes clear that long-buried secrets are about to surface, starting with the astonishing reappearance of Hazel's long-lost sister.
Indeed, Franklyn's death sets in motion a chain of events that will cause three generations of Gifford family women to question everything they hold dear – their relationships, their loyalties, even their identities. Until, that is, they choose to fight back against their dark inheritance …
In the red heart of Queensland, two teenagers playing matchmaker are about to turn more than one life upside-down.
Widower Sam Costello has no time for love. When he's not working on his farm, he's trying to figure out how to connect with his teenage son Levi.
But Levi is about to finish high school, and he has big plans to move to Sydney for University with his best friend Maddie. If only he didn't feel so guilty about abandoning his dad. Maddie has her own reasons for wanting to go to Sydney and she's not going to let Levi's dad ruin her future happiness. Mr Costello needs a girlfriend and, with her talent for matchmaking, Maddie is the girl to make it happen. By the time Mr C figures out what she's done, surely he'll be too in love to be angry.
Journalist Sarah Lewis has a good job, a nice boyfriend and a safe life in Sydney. Though sometimes she wonders if life has more to offer than nice and safe. When she starts working on an article about finding love in the outback she finds herself asking whether journalists should become this invested in their research. But there's just something about Lonely in Longreach. Could it be that the man behind the dating profile is the key to the passion she has been looking for?
Many of these fabulous authors have new releases coming soon. Check them out here
Subscribe below by email to receive our occasional blog posts – and never miss a new book release!
Stay up-to-date on the latest Australian fiction releases and news