6 More Authors Spill the News on Writing Goals
Published:
January 30, 2019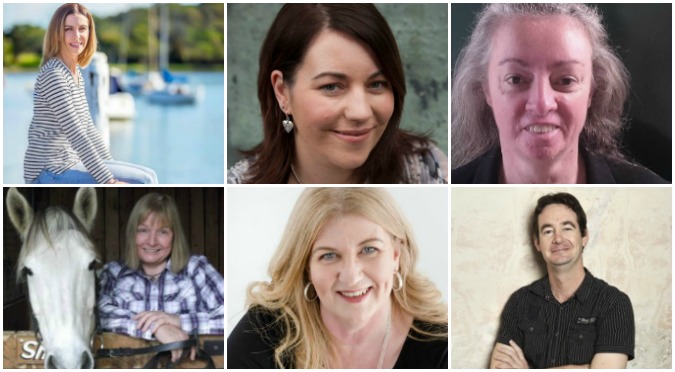 We loved the first Spill the News post so much we're bringing you more from our group of Australian Fiction Authors
Emily Madden, Rachael Johns, Catherine Evans, Jennifer Scoullar, Lisa Ireland, Michael Trant…over to you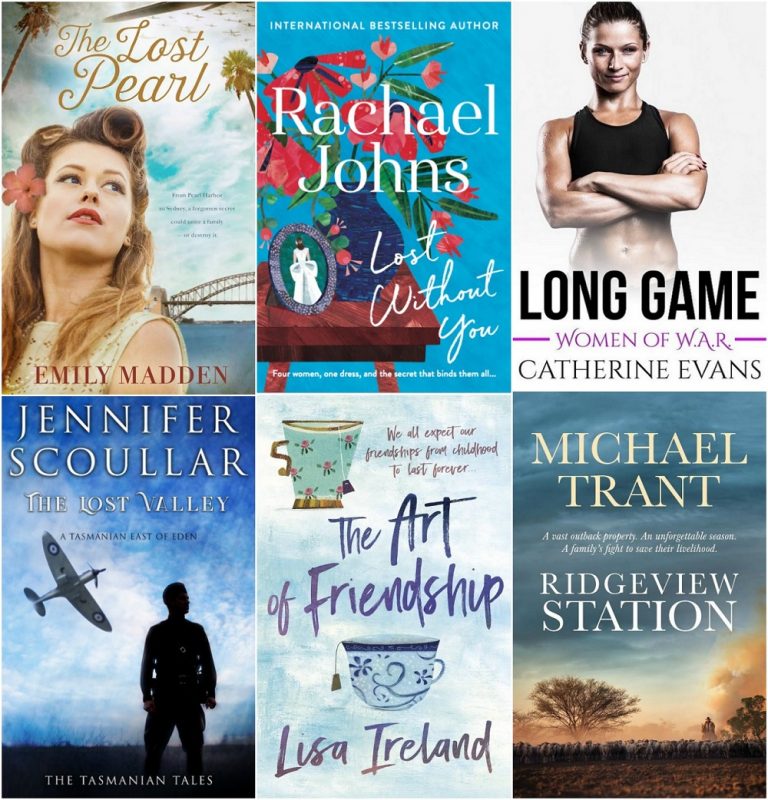 What are your writing goals for 2019?
Emily Madden
Australian Author
Get swept away by love…
2018 was busy (and that's putting it mildly). In August I was part of organising the Romance Writer's of Australia conference and then, the day after, I released my second book – The Lost Pearl, a dual time line spanning three generations, two islands and one explosive secret.
So what does 2019 have installed for me? If anyone has a word that means "more than busy" then please let me know what it is!
I have just finished the copy edits for my September 2019 release – Heart of the Cross and today, I just received the draft blurb! While I can't share it as yet – I can give you a glimpse of what the story is all about. I am so excited about this book – it was fun to both research and write about the infamous Kings Cross of Sydney.
Heart of the Cross is a story about three generations of women living in Kings Cross through very different times – the bohemian sixties, the crime ridden eighties and cosmopolitan present day. One is a fighter, one will lose their way and one will piece together secrets of the past to discover who she is.
Next up – I revert my focus back on my World War II story about a girl from a well to do family that defies her father's wishes and joins the Australian Women's Arms Service (AWAS).  This will hopefully be my 2020 release and then for 2021 I'm hoping to bring you a story that takes you from the red dust of Dampier in WA to the bright lights of Las Vegas and the killing fields of Vietnam.
So that ended up being a plan for the next three years (not one!) I dream big – let's just hope I can get there.
Read more about Emily Madden, her books, where to buy and where to find her on social media
Rachael Johns
Award Winning International Bestselling Author
Romance and Women's Fiction
2019 is already shaping up to be a busy and exciting year!! The phrase "no rest for the wicked" is certainly true for me right now as I launched straight into revisions on this year's book on Boxing Day and have barely stopped since.
So my first goal is to get the structural and copy edits out of the way for ONE LAST WISH, which will be released end of October. This book has been trying at times but I truly love the concept so can't wait to launch it into the world.
Next up on the list is a rural romance – I'm starting it as soon as the kids go back to school and it is a linked book to TALK OF THE TOWN. I've already written 16k words of SOMETHING TO TALK ABOUT but then had to stop to achieve other things, so I'm looking forward to getting back to it and finishing by the beginning of April! But in that time I'll also be editing ONE LAST WISH – there's always something.
I have two big overseas trips planned this year – the first with author Anthea Hodgson to New Orleans where we're both planning on doing research for books. I'll be making notes for THE ART OF MOVING ON, which I might write during the second half of this year. OR I might write another idea that's been mulling in my head a while – it all depends on what my muse and my publisher desire. Either way, I hope to write two books this year and maybe start thinking about a Christmas novel set in Bunyip Bay.
Overall though, my biggest goal for 2019 is to try and be positive and kind, to myself and others!
Read more about Rachael Johns, her books, where to buy and where to find her on social media
Catherine Evans
Australian Rural, and Country to City Romance Author
Fiction, farming, families
Happy 2019!
I've hit 2019 with a lot of plans, goals, enthusiasm and the hope that I can make writing a higher priority in my life. Let's see how that goes 🙂 I'm not always good at staying focussed, especially when it's my things.
In time for Valentine's Day, I have a short story in an anthology with a couple of other writers. We've each written a 20 000-word story with a fate/destiny theme. Mine's a sweet rural, Beth Prentice has a sweet mystery, and Kim Peterson's is a sexy paranormal. Look out for Untamed Destinies on Amazon. https://books2read.com/u/boZLN9
Another foray into self-publishing has seen me put together all the 3000-word short stories I've written with a gemstone theme for an annual competition from 2009 to 2016. 8 romance short stories are available on ebook – A Pocket of Pebbles. This is available on all sites.
I hope to meet readers at the Sydney ARRA signing in March. http://australianromancereaders.com.au/events/arr2019/
I'm still working away on the story I began in 2009. It's had lots of rewrites and this is the year that it'll be finished (surely!).
I've got half of a new story set in Dulili, the same town as The Healing Season. My plan is to have that finished by the end of the year.
For the future, there are a heap of short stories and long novels, in various states of disrepair, on my computer and more lined up in my head.
In between all this writing, I was hoping to get fitter and lose weight! These things seem to work against each other, which makes life more interesting 🙂
So that's my big list of wishful thinking. Now it's in print, I might have to be accountable.
Hope your plans for 2019 are fruitful.
Cath xo
Read more about Catherine Evans, her books, where to buy and where to find her on social media
Lisa Ireland
Australian Bestselling Author
Getting to the heart of female friendship and the lives of women
Once upon a time I made my living as a Professional Organiser. (Yes, the profession did exist before Marie Kondo went viral!) So there's nothing I like better than a list. I love the dawning of a fresh new year because it's the perfect time to reassess on my career goals. Every January I take the time to reflect on what I've achieved in the past twelve months and where I'd like to head in the current year.
This year is not going to be 'business as usual' for me, as I'm taking two months off to visit Europe with my husband and youngest son. I have solemnly promised that I will NOT be working while we are away. That means I need to carefully plan the rest of the year so I don't fall too far behind.
I only have two major goals this year but they will require some discipline to achieve. I subscribe to the SMART goal method, whereby goals must be Specific, Measurable, Achievable, Realistic and Time-based. With that in mind, here's my plan:
Goal One: Submit current manuscript by March 1st (just before I fly out!)
Action required to achieve this:
Complete revisions as per agent notes (finish February 12)
Revisit research on nursing homes and any other outstanding research queries (finish Feb 19)
Send to Beta reader (Feb 20)
Make any final changes and submit (March 1)
Goal Two: complete first draft of new book by December 20
Action required to achieve this:
Brainstorm ideas and seek input from agent (March)
Research and roughly outline story idea (April)
Write first draft – 20K words per month (May – September)
Seek input from beta readers and agent (complete by mid October)
Revisions completed and submit (December 20)
There you have it. Wish me luck!
Read more about Lisa Ireland, her books, where to buy and where to find her on social media
Jennifer Scoullar
Bestselling Author of Australian Fiction
A love affair with the wild…
I write novels about the land, people and wildlife that I love. This year I'm writing a sequel to Brumby's Run, a novel inspired by my love for the wild horses of the Victorian high country. However right now I'm editing The Memory Tree, the third book in my Tasmanian Tales series.
Here's a taste…
'The fools didn't realise what they had, did they?' Sarah turned to face the sweeping panorama across the Derwent River. A cold wind whipped off the water. 'And now Tasmanian tigers are gone.'
'Is anything ever really gone?' said Penny. 'They were here just a blink ago. There are traces of them everywhere ‒ in the rivers, in the trees. We're breathing the same air they did,' she kicked at a rock, '… walking the same ground. Look back in time and they're just behind us. Look too far ahead, and we're gone too.'
The Memory Tree will be released in  September. Here's the blurb:
Playing God is a dangerous  game …
When forest protests engulf a tiny Tasmanian timber town, one family's century of secrets threatens to destroy a marriage – and bring down a government.
Matt Abbott, head ranger at beautiful Binburra National Park, is a man with something to hide.  He confides his secret to nobody, not even his wife Penny. The deception gnaws away at their marriage.
Matt's father, timber and mining magnate Fraser Abbott, stands for everything Matt hates. Son disappoints father, father disappoints son – this is their well-worn template. But Fraser seems suddenly determined to repair the rift between them at any cost, and Matt will discover that secrets run in the family. When Sarah, a visiting Californian geneticist, tries to steal Matt's heart, the scene is set for a deadly betrayal.
The Memory Tree is a haunting story of family relationships, the unbreakable ties we all have to the past and the redemptive power of love.
Read more about Jennifer Scoullar, her books, where to buy and where to find her on social media
Michael Trant
Australian Rural Fiction Author
Using his own experiences and humour to tell stories about life on the family farm
My overall goal for 2019 is pretty simple – get something published. That's the big one. Listening to the struggles other writers had getting their first book on the shelves I always felt a bit of a fraud. I never had piles of manuscripts in the drawer, I didn't have a stack of rejection letters. I wrote a novel, revised it a couple of times, sent it off and was picked up. However I can safely say now the collection of manuscripts is growing, as are the letters, so this year we are going to fix that.
Step 1 is to continue building my portfolio of work. Since Ridgeview Station came out I've written two more manuscripts and almost finished a third. Ned is the story of a sheepdog, as told by him and ties in with Ridgeview Station. Fly-out Day deals with FIFO and the fun and games that involves, and The Dogger is about a grizzled outback dog trapper who uncovers a people smuggling operation. I'm also putting the finishing touches on a low magic fantasy novella that draws from Australian history, folklore and mythology. I'm quite excited about that one. And finally, I've pitched to an anthology callout for speculative fiction.
Step 2 is finding an agent, and in February I'll be attending The Nash Agency's writers retreat with that in mind. Even if nothing comes of it I'm sure I'll pick up some valuable tips and advice.
Step 3 is to keep writing. To enter competitions, to stay enthused. To surround myself with other writers whose energy and enthusiasm is infectious and draw from them.
And that's about it. Hopefully this time next year my goals for 2020 will be alone the lines of 'writing a sequel to the 2019 bestseller….'
Read more about Michael Trant, his books, where to buy and where to find him on social media
Thank you to the authors for their amazing insights into who they are, what they do, and how they go about it.
Stay connected on Facebook Australian Fiction Authors
Subscribe by email to receive our occasional blog posts.
Just enter your email address in the Subscribe button at the top of this page and
Never miss a new book release!
Stay up-to-date on the latest Australian fiction releases and news