5 Minute Spotlight – with Meredith Appleyard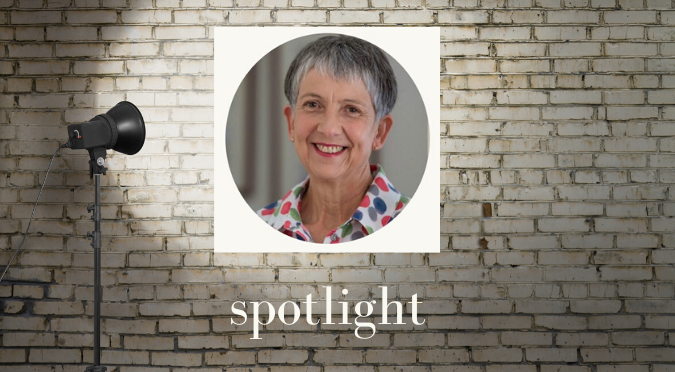 The spotlight is on our authors this year and we'll be bringing you regular and fascinating insights in a five minute read
Meredith Appleyard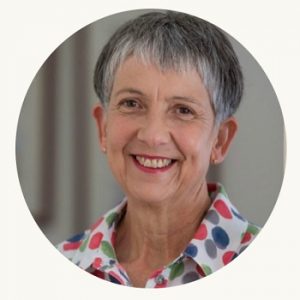 Bestselling Author of The Country Practice and warmhearted rural romance
Using her experience and fascination of providing health care to rural communities in her stories
Writers like new words. Recently, I learned one: solastalgia. It's a noun and the Macquarie Dictionary describes it as, 'feelings of distress and anxiety caused by changes in one's environment, as those brought about by climate change, natural disasters, etc.'
Somewhere, I read it described as 'being homesick without leaving home'.
I love where I live. My regular walks around the backroads and trails keep me fit, and nourish my soul. Watching the honey eaters nest in the tree outside my bedroom window is a joy. Listening to the kookaburras … Looking out to find a huge buck kangaroo staring back at me!  However, I can't deny that this place I call home is a high risk bushfire area. In the almost 30 years I've lived here it has gotten hotter, there is less rainfall, and I've noticed subtle changes in the landscape.
In 2018 and again in 2019 we experienced bushfires right on our doorstep. Luckily, prevailing conditions meant they were brought quickly under control. Charred trees and new fences remind us. And we're advised to prepare for the worst; not for if we have a major bushfire, but rather when.
On extreme and catastrophic fire days you'll find us glued to bushfire warning apps and websites. What we call our 'fire boxes' are packed and waiting near the front door. We know where our precious dog is. Her lead is on the kitchen table. We're ready to fire up pumps, fill gutters, turn on sprinklers. Or drive away.
Along with all the preparation is the dread that sits low and constant in my gut all through summer.
The horrific fires on the East Coast and Kangaroo Island showed us all in technicolour what can happen. The raw grief of the folk who lost everything brought me to tears. Myriad emotions swamped me: from relief it wasn't us to terror that tomorrow it could be.
So you see, for me, solastalgia is a useful word to add to my vocabulary. I wish it wasn't. Perhaps if I was a Missy Higgins fan I'd have stumbled across it sooner.
Two Quick Questions
eBook or paperback?
Paperback. Nothing beats the realness of it in my hands, the enjoyment waiting between the covers, and I can lend it to a friend.
Chocolate or cake?
What about chocolate cake? But if I have to choose it'll be chocolate … Haigh's dark chocolate coated liquorice bullets, to be precise.
Meredith's latest Australian Fiction Release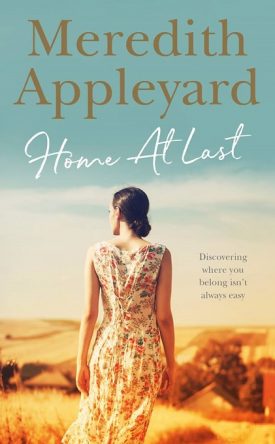 Flying solo can be harder than it looks … A warm-hearted rural romance about finding your way home.
Flying solo for the first time had been the greatest high of Anna Kelly's life. So when the chance of a dream job as a pilot with the Royal Flying Doctor Service comes up she takes it, even though she has to leave her home in Adelaide and move to remote Broken Hill – a place she had hoped she would never see again.
The bad memories the town provokes remind Anna why she keeps men at arm's length but as her work proves fulfilling, her housemate becomes a friend and a warm community grows around her, Anna is surprised to discover that Broken Hill is starting to feel like home.
But there is no such thing as plain sailing and with errant mothers, vengeful ex-patients and determined exes on the prowl, life is becoming increasingly complicated. More than that, the distractingly attractive Flight Nurse Nick Harrison seems keen to get to know her better, and he has a way of finding a path through her defences.
But will he still want her if the truth comes out?
Read more about Meredith and her books
(Meredith's next release is When Grace Went Away – out 18th May and up for pre-order now)
Subscribe by email to receive our occasional blog posts – and never miss a new book release!
POSTSCRIPT
Standing together while keeping our distance
reading throughout the COVID-19 crisis
Many of our wonderful bookshops and online bookstores are changing the way they work simply to keep us reading.
We thank them all for the tremendous support to Australian authors and we will support them right back.
Don't forget! Purchasing a book on pre-order also means you are helping to keep the wheels of small and independent businesses turning.
BOOKTOPIA
have *currently waived all postage costs in Australia – go buy! Then find them on Facebook and give them a Like.
DYMOCKS
stores have online ordering and *individual stores throughout Australia are offering various means of buying and delivering books. Check with your local store. Find your local Dymocks store and then give them a Like on Facebook to keep up to date.
Find a Dymocks Store
https://www.dymocks.com.au/stores
BOOK DEPOSITORY
*Free postage even if the books are coming from overseas – but don't be disappointed if your favourite author's books are not available. It's one of those things – not every author's book is available on Book Depository.
https://www.bookdepository.com/publishers/Australian
INDEPENDENT BOOKSHOPS
There are many in all states and territories. Some are offering *free postage for a certain length of time or free postage with orders over a certain amount. Check with your local independent bookshop. Contact them directly by phone or email or through their websites. Find them on Facebook and give them a Like to keep up to date.
BIGW
Order and *buy online including pre-orders
(*Standard delivery $3.90 – conditions apply)
TARGET
Order and *buy online
(*Free click & collect available, free home delivery on orders over a certain amount. Free delivery available for Club Catch members)
https://www.target.com.au/c/entertainment/books/adult-fiction/W406087
* Please note individual businesses may change their online purchasing conditions at any time. Always check with the individual business.
Stay up-to-date on the latest Australian fiction releases and news