29 Books in 2021! How Many Have You Read?
Published:
December 16, 2021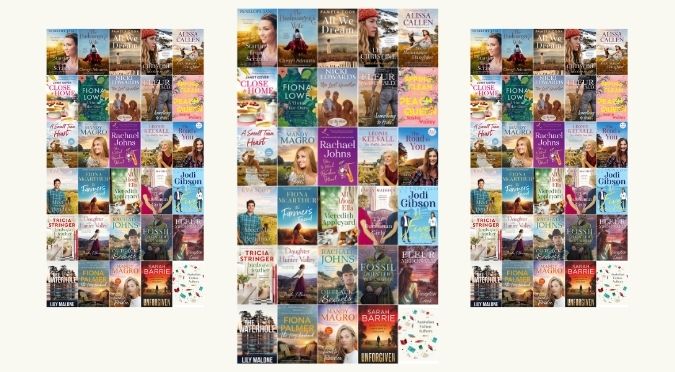 29 books released between January and December 2021 from our group member authors
We have all the story blurbs for you
Enjoy!
And we thank you for your amazing and continued support of Australian authors 🧡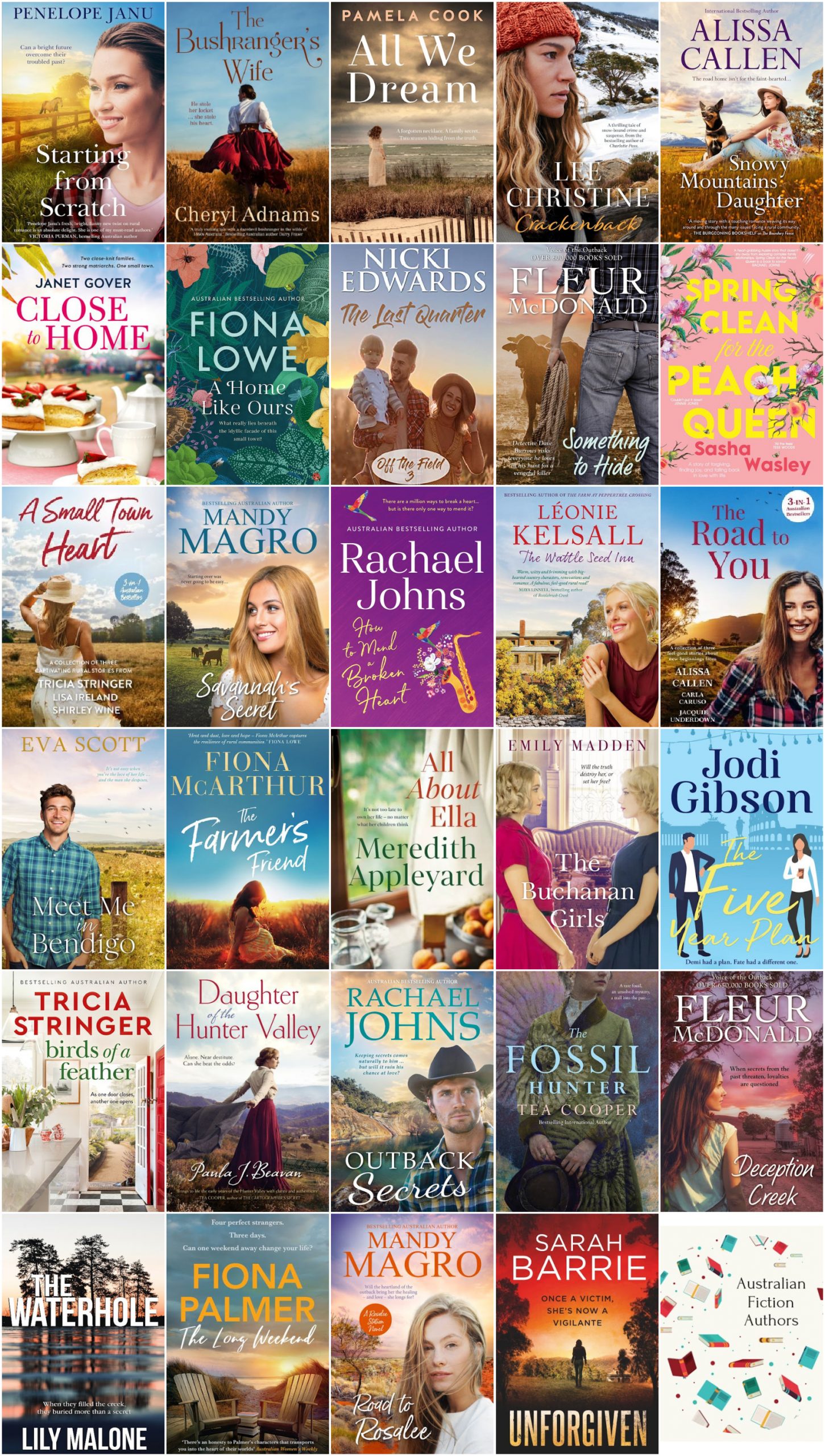 PENELOPE JANU
6 January 2021 
For readers of Karly Lane and Tricia Stringer…misunderstandings and injured pride stand in the way of true love in this charming rural romance from an award-winning and much-loved author.
After a troubled childhood and the loss of her beloved grandmother, Sapphie Brown finally finds somewhere to call home – the close-knit rural community of Horseshoe Hill.
The locals love Sapphie because she never gives up – as chair of the environment committee, with the children in her classes, the troubled teens at the youth centre, the ex-racehorses she cares for and even the neglected farmhouse and gardens she wants make her own. Sapphie gives second chances to everything and everyone. Except Matts Laarkin.
An impossibly attractive environmental engineer who travels the world, Matts was Sapphie's closest childhood friend. He came to deliver a warning – now he doesn't want to leave.
All Sapphie wants to do is forget their painful past, but thrown together they discover an attraction that challenges what they thought they knew about each other. Do they have a chance to recapture what they lost so long ago? Or will long-buried secrets tear them apart?
In the flowers she creates from paper and the beauty that grows on the land, Sapphie has found perfect imperfection. Could that be what love is like too?
Buy

Read more about Penelope Janu
CHERYL ADNAMS
6 January 2021
He stole her locket … she stole his heart.
Central Highlands of Victoria, 1861
Jack the Devil's reputation precedes him. The most notorious bushranger on the Central Highlands, nothing throws him off his game … until he holds up Prudence Stanforth and her grandmother. With her sweeping red hair and complete lack of fear, Jack can't help but be captivated by the feisty Pru.
Weeks later, Pru crosses paths with the respectable businessman, Jack Fairweather, and it's not long before she recognises him as the bushranger who stole her beloved necklace. His price for the locket's return is her silence … and a kiss. A kiss that sparks something inside them both.
When Pru discovers her grandmother has been keeping a devastating secret, running away with Jack the Devil is the perfect escape for her broken heart. The dangerous nature of his less than salubrious occupation is a poetic contradiction to her sheltered upbringing and only fuels their passion. Until that danger becomes a reality. Between the return of dark elements from Jack's past and authorities intent on his capture, Jack and Pru must fight for their future together … or risk losing everything.
A rollicking historical tale about following your heart, finding home in unexpected places – and bushrangers.
Buy
Read more about Cheryl Adnams
PAMELA COOK
14 January 2021
A forgotten necklace. A family secret. Two women hiding from the truth…
When successful Sydney lawyer Miranda McIntyre searches for something old to go with her wedding dress, she remembers an antique necklace from her childhood. Her mother's denial of its existence only deepens Miranda's curiosity but the discovery of a faded wedding photo and an old newspaper clipping reveal long-buried family secrets.
Who is the woman in the photo? And why are these keepsakes hidden in her mother's closet?
Miranda's quest for the truth takes her on a road trip south to the idyllic seaside village of Pelican Point where she stumbles upon a secluded cliff-top cottage and the reclusive Esther Wilson. As Miranda begins to unravel the mystery, a tale of daring rescue, forbidden love and shocking betrayal unfolds. Meeting enigmatic horse trainer Vincent Kennedy forces Miranda to question the life she has worked so hard to create, throwing into turmoil everything she thought she knew about the past and about herself.
A multi-generational story of family, hope and following your heart.
Buy
You can also order a signed paperback direct from Pamela at: https://www.pamelacook.com.au/contact/ 
Read more about Pamela Cook
Lee Christine
2 February 2021
A thrilling tale of snow-bound rural suspense, from the bestselling author of Charlotte Pass.
Detective Sergeant Pierce Ryder of the Sydney Homicide Squad is on the hunt for notorious fugitive Gavin Hutton.
After months of dead-ends, the breakthrough Ryder has been hoping for leads him back to the New South Wales Snowy Mountains on the trail of the suspected killer.
Meanwhile, when an injured man bursts into the remote Thredbo lodge managed by Eva Bell, her first instinct is to protect her daughter, Poppy. The terrifying arrival of Jack Walker turns Eva's world upside down as the consequences of Jack's presence become clear.
With a killer on the loose, Jack Walker and Ryder are tangled in the same treacherous web – spun across the perilously beautiful Crackenback Range.
Buy
Read more about Lee Christine
Alissa Callen
3 February 2021
Welcome to Bundilla. A new close-knit community where romance can blossom. A compelling story of homecoming and family secrets by bestselling Australian author Alissa Callen.
The road home isn't for the faint-hearted…
Peony flower farmer Clancy Parker was born and bred in the Australian high country. Small-town Bundilla is the only place she will ever truly belong, even if staying means remaining alone. The man she'd loved is long gone and single men are as rare as a summer snowfall.
As soon as he could, street artist Heath MacBride escaped his complicated family and traded mountain peaks for city concrete. Now a commission to paint a mural on Bundilla's water tower brings him home. It doesn't matter how long he's been away, the animosity of his cattleman father hasn't waned. As soon as the water tower is painted, he will be gone.
But between steadfast Clancy, who'd once been his muse, a free-spirited kelpie who becomes his shadow and a corrosive family secret, his best laid plans disintegrate. When life again backs him into a corner, will he have no choice but to leave or will he and Clancy have the second chance they'd each thought would forever remain out of reach?
Buy
Read more about Alissa Callen
JANET GOVER
3 February 2021
A delightful small-town story of community and family with shades of Romeo and Juliet and The Dressmaker
Two households, both alike in dignity…
Aunt Alice Dwyer loves her small Australian town. She's rarely left its comforting embrace. She knows everyone in it; in fact, she's related to most of them. All she wants is to keep her family safe and the town running exactly the way it always has. Her way. But when an exotic French artist comes to town, her hold begins to weaken…
Lucienne Chevalier, once the toast of Europe, has come to Nyringa after a tragic loss to hang up her sequins and create a place for her circus family to rest between tours. With her is Simon, her grandson, recovering from an injury so damaging he can no longer perform. Lucienne fears he'll never embrace a new future. That is, until she notices the chemistry between him and the new schoolteacher… All they need is a push.
Both grande dames think they know what's best, but with equal amounts of stubbornness on both sides, peace looks unlikely. Then a relationship between Alice's rebellious great-niece and a teenage acrobat sets the two communities on a collision course. But when the bakery starts making patisseries over lamingtons, the battle lines are truly drawn…
A story of community and family. Of the love that brings them together … and the fears that would tear them apart.
Buy
Read more about Janet Gover
Fiona Lowe
3 March 2021
A timely novel exploring prejudice and privilege, from bestselling Australian author Fiona Lowe.
Tara Hooper is at breaking point. With two young children, a business in a town struggling under an unexpected crime wave, and her husband more interested in his cricket team than their marriage, life is a juggling act. Then, when new neighbours arrive and they are exactly the sort of people the town doesn't want or need, things get worse.
Life has taught Helen Demetriou two things: being homeless is terrifying and survival means keeping your cards close to your chest. Having clawed back some stability through her involvement in the community garden, she dares to relax. But as she uncovers some shady goings-on in the council, that stability turns to quicksand.
For teenage mother Jade Innes, life can be lonely among the judgement of the town and the frequent absences of her boyfriend. A chance encounter draws her into the endangered community garden where she makes friends for the first time. Glimpsing a different way of life is enticing but its demands are terrifying. Does she even deserve to try?
Can these women with such differing loyalties unite to save the garden and ultimately stop the town from tearing itself apart?
Buy
Read more about Fiona Lowe
Nicki Edwards
28 March 2021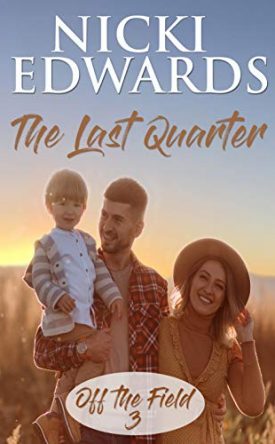 Independent barrister Zara Pritchard never planned on returning to her hometown of Glengarrick, but a shock breast cancer diagnosis while pregnant with her son forces her to rely on others for a change.
For Dr. Ryan Dunlop, Glengarrick is exactly the place he needs to avoid the spotlight after a simple mistake as an AFL club doctor almost cost him his career. As soon as the dust has settled, he intends to return to Queensland.
At least that's the plan until he falls hard for the first woman he meets in town. But Zara doesn't have time for romance. She's too busy with a new business venture and raising Finn, whose DNA she needs to keep a secret.
Can Ryan convince Zara he's the one for her and Finn? And if Zara opens her heart to Ryan, will his feelings for her change when he discovers the truth about her past?
Buy
Order signed paperbacks direct from Nicki here
Read more about Nicki Edwards
Sasha Wasley
30 March 2021
A deeply moving story about forgiving, forgetting and falling in love with life again.
Twelve years had passed since the last Harvest Ball. I was just eighteen when my hometown crowned me their Peach Queen with a blossom coronet. And I was eighteen when I left.
One tanked career, one badly timed glamour shoot and one dead boyfriend later, thirty-year-old Lottie Bentz is finally going home.
Back in the orchard town of Bonnievale, Lottie embarks on a radical declutter of her life, Marie Kondo-style. She casts out everything that got her into trouble: her phone, socials, make-up and a tendency to tell little white lies – to herself and others. But home has its own issues, not least Lottie's staunchly feminist mother, who is furious with her.
When Lottie lands herself a place to stay in exchange for helping kindly Mrs Brooker try out the Kondo method, it seems like the perfect farm escape. That's until Angus, Lottie's former Peach King and heir to the Brooker orchards, makes it clear she's not welcome – especially when Lottie's declutter begins to stir up long buried memories and half-truths.
As Lottie finds her way back to herself, can she use her talents to coax Bonnievale and the Brookers out of the past? After all, everyone deserves to feel love, hope and the occasional spark of joy.
Buy
Read more about Sasha Wasley
Fleur McDonald
30 March 2021
With her acclaimed skill for tension and drama, Fleur McDonald has delivered another compelling story in Something to Hide.
With the sickening realisation that his cover has been blown, Detective Dave Burrows knows his family is in serious danger from the vicious stock thieves and murderers, Bulldust and his brother Scotty.
Bent on revenge, Bulldust and Scotty are hiding out close to Dave and Mel's old home town of Barrabine. When devastating news brings Dave back there, he has to question his determination to stay in the police force. How could he face himself if anything happened to Mel and the kids?
Mel, understandably frightened, must decide who she'll listen to. Can she live with this threat hanging over her family, or is her father right to argue that she should leave Dave immediately?
Detective Dave Burrows risks everyone he loves in the hunt for a vengeful killer.
Buy
Read more about Fleur McDonald
7 April 2021
A collection of captivating rural stories from three bestselling Australian authors
Queen of the Road by Tricia Stringer
For struggling single mum Angela Ranger, a job driving trucks in small town Munirilla is a lifeline. But Munirilla may not be the godsend it seemed. Her accommodation is dingy, her fellow truckies are less than happy to see her, and the locals are reluctant to use her services.
As much as he likes Angela, farm-manager Coop has problems of his own – sheep are going missing, his neighbours are acting strangely and the demons of his past are urging him to move on again. Put to the test, will they follow reason and leave? Or follow their hearts and build a home…together?
Honey Hill House by Lisa Ireland
Newly divorced Bea Elliot needs Honey Hill House for more than just a quaint project – converting the ramshackle farm house to a successful B&B will prove to her family, and herself, that she is strong enough to go it alone.
Callum 'Mitch' Mitchell will be neighbourly to the new city girl. But experience has taught him not to get involved with out-of-towners – even if they're surprisingly irresistible. Good fences make good neighbours but in small town Dulili, it seems like barriers might instead be breaking down…
Ask Me No Questions by Shirley Wine
Returning to Darkhaven after ten years, Logan is greeted with suspicion and distrust. Cambridge residents have long memories and he quickly discovers he can't escape the ghosts of his past, Piper – the woman he left behind – or the grief that threatens to bring him to his knees…
He's heard it said often enough that you can never return home…and it looks like they were right. Will learning his secrets push Piper further away, or will he get a second chance at love?
Buy

Each story in this paperback-only bindup can be purchased individually as an eBook
Read more about
Rachael Johns
5 May 2021
Summer in New Orleans means hot days, long nights, spooky stories and surprising new beginnings.
Felicity Bell has struggled to move on after her marriage broke down. Her ex has found love again, her children have their own lives, and it's beginning to feel like her only comfort comes from her dog and her job as a taxidermist. So when Flick gets an offer to work in New Orleans for a few months, she's drawn to the chance to make a fresh start.
Zoe is ready to start a family with her husband, but when he betrays her, she's left shattered and desperate for a change of scenery. Joining her mother on the other side of the world to drown her sorrows seems the perfect solution.
Although both mother and daughter are wary of risking their hearts to love again, Theo, a jazz bar owner, and Jack, a local ghost hunter, offer fun, friendship and distraction. But all is not as it seems in New Orleans…
A chance meeting with Aurelia, a reclusive artist who surprises them with lessons from her life, prompts Flick and Zoe to reassess what they want too. Can all three women learn from the past in order to embrace their future?
An uplifting novel about three women joyously learning to move on after heartbreak by the bestselling author of The Patterson Girls and Flying The Nest.
Buy
Read more about Rachael Johns
Mandy Magro
5 May 2021
Set in the heart of the Australian countryside comes a compelling romance with a touch of suspense from bestselling author Mandy Magro.
Starting over was never going to be easy, especially as he's looking for the one thing she can't give … the truth.
Savannah Silverton remains resolute in testifying as the sole eyewitness in Brisbane's most dangerous criminal case. For safety, the police have furnished her with a new identity and instructions to keep to herself. With a shiny new driver's licence in hand and job as a barmaid lined up, this die-hard city girl finds herself stepping off a bus and into the desolate street of the small country town she's now to call home.
Ash Sullivan has it all, money at his fingertips, his own property, and a successful chopper mustering business. But when it comes to love, he's failed miserably. Bitter experience has taught him that if he is ever lucky enough to meet a special woman he can fall for again, she has to be upfront from the get-go, no matter what.
These are two people, as different as chalk and cheese, who were never meant to meet until fate intervened. Will they grow to be the person each other needs? Or will their differences drive them apart?
Buy
Read more about Mandy Magro
Leonie Kelsall
2 July 2021
Three aching hearts, a ramshackle country pub and a tangled web of secrets.
PR executive Gabrielle Moreau knows she has an easy life, but when her business partner claims she lacks career passion she takes ownership of a dilapidated pub in a tiny riverside settlement to prove she can be a success without falling back on her privilege.
Eighteen months ago, Settlers Bridge stonemason Hayden Paech had it all: a job he loved, good mates and a close family. All he needed was the right woman to come along, and he was ready to settle down. But one poor choice stole that chance and he'll never risk caring for anyone again.
Living at Wurruldi Hotel for … goodness, so many years, Ilse has seen more changes of ownership than she can recall. Clinging to her failing memories, she's tired of trying to protect the property her grandparents built. With the arrival of the elegant Gabrielle Moreau, however, it seems that finally an owner may recognise the importance of recapturing the grace and dignity of Ilse's past.
For Ilse to find peace, Hayden forgiveness and Gabrielle her true passion, three aching hearts must reveal their secrets.
Buy
Read more about Leonie Kelsall
7 July 2021 
A collection of feel-good stories about new beginnings from three bestselling Australian authors
The Red Dirt Road by Alissa Callen
After losing a patient, Dr Fliss Knight is back in small town Woodlea to embrace the isolation of rural life. But all her plans for solitude run aground when she meets the cowboy who will be staying in the renovated stables at the end of her country garden. Hewitt too has come to Woodlea needing space in which to heal and, despite his reserve, Fliss finds him impossible to ignore.
As a family secret threatens every truth Fliss has ever known, and the heavy spring rain continues to fall, both Fliss and Hewitt must face their deepest fears. But will love be enough to guarantee happiness or will the past refuse to relinquish its dark hold?
Run for the Hills by Carla Caruso
After leaving her wealthy hotelier groom at the altar, Bridie needs to lay low while the media storm passes. Working for a wedding business run by an attractive paparazzo might not be ideal, but it's slim pickings for work in the small Adelaide Hills town of Balkissoch. Cody seeks out secrets for a living, so blurring the lines of their professional relationship is a dangerous game. One they both seem intent on playing.
The Sweetest Secret by Jacquie Underdown
Ellie always falls for the wrong man. After her latest disastrous relationship, opening a florist shop in the small town of Alpine Ridge seems like the perfect fresh start. Local vineyard owner Sam also understands bad relationships and prefers to avoid romance in favour of spending his downtime growing flowers in his backyard greenhouse. When Ellie discovers Sam's nursery, a shared professional interest soon blossoms into something more. But is there a chance for a future together when they are both tied to the past?
Buy

Each story in this paperback-only bindup can be purchased individually as an eBook and The Red Dirt Road by Alissa Callen is also available in paperback
Read more about Alissa Callen
Read more about Carla Caruso  on her website
Read more about Jacquie Underdown on her website 
Eva Scott
28 July 2021
Small-town Australia meets You've Got Mail in this rural romantic comedy about online dating, second chances, and following your heart.
Small-town sweetheart Annalisa Cappelli has returned to Wongilly to take over her family's hardware store while she heals from a tragic loss. The business was hit hard by the pandemic, and now a Carpenter's Warehouse hardware superstore is opening in the district. There's no way Annalisa is going to let two hundred years of history go down the drain, but she's going to need to fight to keep her family's legacy alive.
The one simple thing in her life is her no names, no complications, easy-breezy online relationship with GardenerGuy94. For now, their online flirtation is the only kind of romance Annalisa needs. Until she meets Ed Carpenter. Sexy as hell, he'd be the perfect man … if he wasn't trying to destroy her business.
Ed Carpenter is in Wongilly to offer the owner of a small hardware store a payout to pave the way for his family's next superstore. What he doesn't expect is for the owner to be the woman he's been talking to online. Annalisa is beautiful and passionate, and he's sure she's the one for him. But how can he reveal the truth without losing her?
Buy

Read more about Eva Scott
Fiona McArthur
31 August 2021
A moving and uplifting Australian drama about what it really means to be a community – and learning that best friends can also make the best family.
They'd bought a stock and feed store called, of all things, The Farmer's Friend.
Gracie could tell Jed thought it a great name. 'Farmers stick together. I like it.'
Jed and Gracie's move to Featherwood brings big dreams and open hearts, despite the drought around them. The ready-made rural store even comes with an ancient homestead overlooking the river, albeit one requiring some TLC. Gracie is expecting, and they're eager to put down family roots in the tiny community.
Midwife Nell has fled her life in Sydney, hoping to start afresh on a small farm away from prying eyes and gossip. She strives to go unnoticed, but that proves near impossible when she meets charismatic Gracie and Jed, and the unpredictable, attractive Liam, who has as much emotional baggage as Nell does herself.
Jed's store becomes the meeting place for the town's colourful characters, people who'd do anything for their neighbours and friends. As Gracie's due date draws close, tensions rise between her and Jed when his impulsiveness strains their precarious financial situation. As a bushfire ravages the region, the whole town comes under threat, putting relationships and lives on the line.
Can quiet achievers, unexpected heroes, and a valley of part-time fire-fighters and farmers help Featherwood rise again?
Buy
Read more about Fiona McArthur
Emily Madden
1 September 2021
Will the truth destroy her or set her free? A sweeping family saga about betrayal, forgiveness and the cost of love.
Sydney, 1941: Olive and Ivy may be identical twins, but they couldn't be more different. While Olive is focused on marrying a man appropriate to her station, Ivy wants to do more, to be more. Joining the Australian Women's Service Army is the perfect chance for her to escape her family obligations and make a real difference in the world. She doesn't expect serving her country to lead to romance … or devastating betrayal and unthinkable grief.
As the war progresses, both Olive and Ivy find themselves wanting the same thing: for their loves to return safely. But neither of the Buchanan girls is ready for what the future has in store for them.
Sydney, 2008: Escaping her husband's betrayal and an impossible personal loss, Madeline returns home to Sydney to nurse her broken heart. As she settles into her new routine, it's too easy to consider never returning to New York and her old life. But her husband won't give up on what they have so easily, and Madeline can't ignore his messages reminding her of why they fell in love in the first place. With her grandmother's support, Madeline has to decide if forgiveness means reconciliation. But is the biggest betrayal yet to come?
Buy
Read more about Emily Madden
Meredith Appleyard
1 September 2021
A keenly observed story about aging and its inherent vulnerability, about community and chosen family, about how family stressors shape us all, about trust and loyalty, and about standing up for yourself.
Mum, you're behaving in a most irrational way, and you need to come home immediately. If you don't, there will be consequences.'
'I'm not going anywhere,' I said.
At 70, Ella's world is upended, leaving her at odds with her three adult children, whose attention is fixed more firmly on her money than her ongoing welfare. After an argument with her son Anthony, she flees his Adelaide home for Cutlers Bay, a seaside town on the Yorke Peninsula. There she befriends Angie, a 40-year-old drifter, and becomes an irritant to local cop Zach. He's keen to shift Ella off his turf, because Anthony phones daily, demanding his mother be sent home. And besides, Zach just doesn't trust Angie.
Ella warms to Cutlers Bay, and it warms to her. In a defiant act of self-determination, she buys an entirely unsuitable house on the outskirts of town, and Angie agrees to help make it habitable. Zach is drawn to the house on the clifftop, and finds himself revising his earlier opinions of Ella, and Angie.
Buy
Read more about Meredith Appleyard
Jodi Gibson
7 September 2021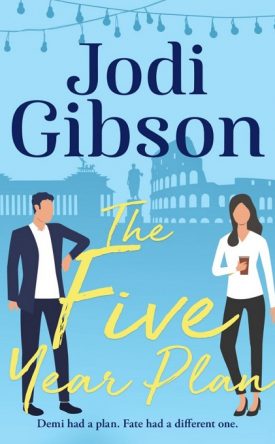 The Five Year Plan is contemporary women's fiction with a touch of humour and a lot of heart.
At 33, Demi's five-year plan is on track. She's moved in with boyfriend, Wil, and is waiting patiently for her father to retire so she can take over the running of the family café. But when her father blindsides her by handing the café to her older brother Nick, and discovers Wil is hiding something, Demi's five-year plan crumbles like crostoli.
Determined to get her life back on track, Demi travels to Italy to learn about her Italian heritage and mend her frayed heart — hoping her father will come to his senses while she's away.
However, Demi's Italian escape isn't so perfect. Long-held family feuds, a love triangle from the past, and a surprising new friend in Leo, find Demi questioning everything; especially her five-year plan.
Will Demi get her plan back on track? Or will she learn that the best plans are the ones you don't make?
The Five Year Plan will appeal to readers who want to be whisked away from their day-to-day life and immersed in a feel-good story full of food, travel and romance.
Buy
Read more about Jodi Gibson
Tricia Stringer
29 September 2021
When three women are thrown together by unusual circumstances, ruffled feelings are just the beginning.
A wise, sharply observed celebration of the life-changing power of female friendships.
Eve has been a partner in a Wallaby Bay fishing fleet as long as she can remember. Now they want her to sell – but what would her life be without work? She lives alone, her role on the town committee has been spiked by malicious gossip and she is incapacitated after surgery. For the first time in her life she feels weak, vulnerable – old.
When her troubled god-daughter Julia arrives at Wallaby Bay, she seems to offer Eve a reprieve from her own concerns. But there is no such thing as plain sailing. Eve has another house guest, the abrasive Lucy, who is helping her recuperate and does not look kindly on Julia's desire for Eve's attention.
But Lucy, too, has demons to battle and as each woman struggles to overcome their loss of place in the world, they start to realise that there may be more that holds them together, than keeps them apart.
But will these birds of feather truly be able to reinvent what family means? Or will the secrets and hurts of the past shatter their precarious hold on their new lives … and each other?
Buy
Read more about Tricia Stringer
Paula J. Beavan
29 September 2021
Alone. Near destitute. Can she beat the odds?
An exciting Australian historical debut.
1831, New South Wales
Reeling from her mother's death, Madeleine Barker-Trent arrives in the newly colonised Hunter River to find her father's promises are nothing more than a halcyon dream. A day later, after a dubious accident, she becomes the sole owner of a thousand acres of bushland, with only three convicts and handsome overseer Daniel Coulter for company.
Determined to fulfil her family's aspirations, Maddy refuses to return to England and braves everything the beautiful but wild Australian country can throw at her – violence, danger, the forces of nature and loneliness. But when a scandalous secret and a new arrival threaten to destroy all she's worked for, her future looks bleak …
Can Maddy persevere or should she simply admit defeat?
Buy
Read more about Paula J. Beavan
Rachael Johns
Out 27 October 2021
Keeping secrets comes naturally to him…but will it ruin his chance at love?
Liam Castle knows the secrets of everyone in Bunyip Bay. As the owner of the pub, he's heard it all – from marriage proposals and farming disasters to family rifts and everything in between. The locals love to confide in him, but no one knows he's hiding a tragic past.
And he wants to keep it that way.
Agricultural pilot Henrietta Forward lives for her job, choosing work over romance. But when an incident in the air brings Henri home to Bunyip Bay earlier than planned, she finds herself questioning everything she believes about herself.
But Henri's secret isn't her only problem.
Her mother will stop at nothing to have her settled down back in the Bay, and while Henri had always known domesticity wasn't the life for her, now she wonders what her future holds. So when Liam – always the first to lend a hand to those in need – agrees to play along with Henri's scheme to ward off her mother, she has mixed feelings. What happens when a pretend romance starts to feel like the real thing?
Will Henri's demons and Liam's traumatic past prove too great a barrier to love?
Buy
Read more about Rachael Johns
Tea Cooper
Out 27 October 2021
A rare fossil, an unsolved mystery, a trail into the past
Wollombi, The Hunter Valley 1847
The last thing Mellie remembers before the fever takes her is running through the bush as a monster chases her – but no one believes her story. In a bid to curb Mellie's overactive imagination, her benefactors send her to visit a family friend, Anthea Winstanley. Anthea is an amateur palaeontologist with a dream. She is convinced she will one day find proof the great sea dragons – the ichthyosaur and the plesiosaur – swam in the vast inland sea that millions of years ago covered her property at Bow Wow Gorge, and soon Mellie shares that dream for she loves fossil hunting too…
1919
When Penelope Jane Martindale arrives home from the battlefields of World War 1 with the intention of making her peace with her father and commemorating the death of her two younger brothers in the trenches, her reception is not as she had hoped. Looking for distraction, she finds a connection between a fossil at London's Natural History museum and her brothers which leads her to Bow Wow Gorge. But the gorge has a sinister reputation – 70 years ago people disappeared. So when PJ uncovers some unexpected remains, it seems as if the past is reaching into the present and she becomes determined to discover what really happened all that time ago…
Buy
Read more about Tea Cooper
Fleur McDonald
2 November 2021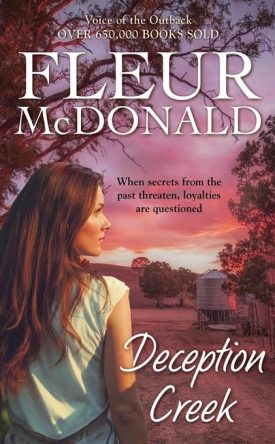 A returned criminal, a cult-like family and cybercrime all clash against the backdrop of the Flinders Ranges in this thrilling new rural suspense novel from the best-selling Voice of the Outback.
Emma Cameron, a recently divorced farmer and a local in Barker, runs Deception Creek, the farm that three generations of her family have owned before her. Every day Emma pushes herself hard on the land, hoping to make ten-year-old memories of a terrible car accident disappear. And now there are more recent nightmares of an ex-husband who refuses to understand how much the farm means to Emma.
When criminal Joel Hammond is released from jail and heads home to Barker, Detective Dave Burrows and his officer Senior Sergeant Jack Higgins are on high alert. Joel has a long and sorry history with many of the townsfolk and they are not keen to see him home to stay.
Not all of the Barker locals want to see Joel run out of town though. Some even harbour doubts about Joel's conviction. The town finds itself split down the middle, families pitted against each other with devastating outcomes.
Buy
Read more about Fleur McDonald
Lily Malone
21 November 2021
When they filled the creek, they buried more than a secret
When a backyard dare to discover the source of a fabled waterhole uncovers human bones, small town detective, Marley West, leaps at the chance to kickstart his stalled career. But it's more than two decades since developers filled the Cowaramup creek. The woman who owned the land—the Ross family matriarch—has passed away. Relations between her sons, Jack and Bill, are colder than the case.
Then the Ross family learn Marley is the grandson of notorious police sergeant, Alan West, the corrupt cop who once ruled the town with an iron fist.
To solve the case, Marley must gain the trust of three people with no reason to trust each other and less reason to trust him: Bill, who left the love of his life to fight in Vietnam; charismatic Jack, who could always catch the eye of a pretty girl; and city school teacher, Annette, whose move to Cowaramup in 1966 would change the Ross brothers' lives forever.
As he navigates a tangled web of lies and betrayals, jealousies and murder, Marley has to ask himself: are these bones better left buried?
Buy
Paperback copies are only available from Lily Malone
ps://lilymalone.blog/the-waterhole/ 
Digital eBooks are available from all your preferred E-retailers
Read more about Lily Malone
Fiona Palmer
1 December 2021
Four perfect strangers.
Three days
Can one week away change your life?
The unputdownable new drama by one of Australia's most beloved storytellers
Coming together for a writing workshop with bestselling author Jan Goldstein, four strangers converge upon a luxury forest retreat. But along with their notepads and laptops, each of the participants has brought some emotional baggage.
Beth is a solo parent and busy career woman haunted by a tragic car accident. Simone, the youngest at 26, is a successful Instagram star but she's hiding behind a facade. Jamie is the only man. He's a handsome personal trainer – but he looks out of place with a pen in his hand. Finally, Alice is a wife and mum recovering from post-natal depression. She and Jamie soon realise they are not such perfect strangers after all.
Only one thing is for sure: on this creative getaway, nothing will go according to script.
Buy

Read more about Fiona Palmer
Mandy Magro
1 December 2021
Will the heartland of the outback bring her the healing – and love – she longs for?
A new Rosalee Station novel 
City girl Melody Harrison finds herself questioning everything in the wake of her mother's deathbed confession of a long-held secret – a secret that drives her far into the outback, to the wide-open skies of Rosalee Station…
Matt and Sarah Walsh have finally reached a time in their lives where they are at peace, but their happiness is again thrown into turmoil when Matt answers the door to a young woman with shocking news. But what is the truth? Only by offering her sanctuary at Rosalee Station will they find space to come to grips with each other.
Long ago accepting he's never going to fit in with his wealthy family, Zai Wellstone has finally landed his dream job as head stockman at Rosalee Station. It's here he crosses paths with the most intriguing woman he's ever met, Melody, the new camp cook. Sparks fly between them from their first encounter, but will the secrets she's keeping stand in their way?
Rosalee Station is the place where love is found and family ties mean more than anything – will its magic once again show a heartbroken young woman her way forward, to the healing and connection she craves?
Buy
Read more about Mandy Magro
Sarah Barrie
1 December 2021
Once a victim, she's now a vigilante.
An addictive and suspenseful thriller for readers of Candice Fox and Sarah Bailey.
Lexi Winter is tough, street-smart and has stood on her own two feet since childhood, when she was a victim of notorious paedophile the Spider. All she cares about now is a roof over her head and her long-term relationship with Johnny Walker. She isn't particular about who she sleeps with … as long as they pay before leaving.
Lexi is also an ace hacker, tracking and entrapping local paedophiles and reporting them to the cops. When she finds a particularly dangerous paedophile who the police can't touch, she decides to gather enough evidence to put him away. Instead, she's a witness to his death …
Detective Inspector Rachael Langley is the cop who cracked the Spider case, 18 years earlier – but failed to protect Lexi. Now a man claiming to be the real Spider is emulating his murderous acts, and Rachael is under pressure from government, media and her police colleagues. Did she get it wrong all those years ago, or is this killer a copycat?
Lexi and Rachael cross paths at last, the Spider in their sights … but they may be too late …
Buy
Read more about Sarah Barrie
We hope you're enjoying our Book News 
Don't forget to check our COMING SOON page for 2022 releases up for pre-order now
We'd also love you to follow us on Facebook & Instagram
You can also subscribe below by email to receive our occasional Book News blog post – and never miss a new book release!
Stay up-to-date on the latest Australian fiction releases and news