2019 Writing Goals – 6 Authors Spill the News
Published:
January 12, 2019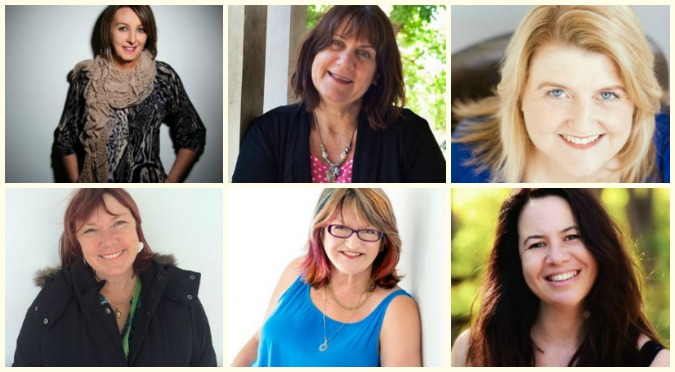 We've picked a random six authors who belong to Australian Fiction Authors group of Aussie writers and asked them what their writing goals are for 2019
(which means we get a sneak peek of what we can look forward to)
Sarah Barrie, Kaye Dobbie, Cathryn Hein, Fiona McArthur, Trish Morey, Sasha Wasley … take it away!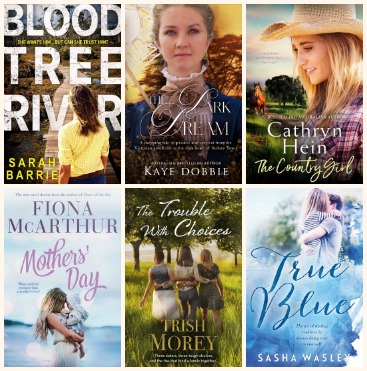 What are your writing goals for 2019?
Sarah Barrie
Bestselling Australian Author
The promise of romance…the terror of isolation and evil
The first half of this year I'll be working on my next as-yet unnamed novel. It will be the third and last to be set in the beautiful Tasmanian wilderness. But right now I'm busily editing Devil's Lair. Here's a snippet…
An insidious chill washed over her. It ran down her spine, settled in the pit of her stomach. How had the doll gotten onto the chair? In the darkness, with only the mad, flickering dance of the firelight and the harsh, direct beam of the torch, Callie could have sworn that white, glowing face was watching her, laughing at her.
Devil's Lair is coming out in July. Although it's a stand-alone novel, some of you may remember Connor from Bloodtree River. Well, Connor certainly finds himself in over his head after falling for Callie! Here's a sneak peek at the blurb…
After the violent death of her husband, Callie Jones retreats to a cottage in the grounds of an old mansion in Tasmania. The relative remoteness of the place and the wild beauty of the Tasmanian landscape are a balm to her shattered nerves and the locals seem friendly, particularly horseman Connor Atherton and his siblings at the nearby property, Calico Lodge.
But all is not well: The old mansion has a sinister past, one associated with witchcraft and murder. As Callie is threatened by odd events in the night and strange dreams overtake her sleep, she begins to doubt her own sanity. What's really going on beneath the surface of this apparently peaceful town? Are her friends and neighbours really who they seem? As events escalate, Callie starts to realise that the mansion may hold the key to unlocking the mystery, but the truth might have as much power to destroy as it does to save.
Happy reading!
Sarah x
Read more about Sarah Barrie, her books, where to buy and where to find her on social media
Kaye Dobbie
Multi-Published, RuBY Award Finalist Author
Captivating historical and contemporary family sagas
My Writing Goals for 2019 could be called Writing in Difficult Circumstances.
Let me explain briefly. My mother is reaching the last stages of her terminal illness and, as I am her carer, writing has given way to other priorities.
I still have lots of ideas, in fact my head is full to bursting, but putting my plans into action is the problem. Anyway, I don't want to sound like a 'poor me', I know everyone has their problems. Here is what I hope is going to happen in 2019.
 I want to finish my contracted Harlequin Mira Australia book, which has been on hold for a year. My publisher was generous enough to give me an extension. This is another dual timeline book, and it needs editing and some rewriting, but everything is there, just waiting for me to pull it together.
 I have some more self publishing projects I want to dive into. Two of my earlier Australian historical books (The Bond and The Glass House) are still out of print. I intend to begin work on The Bond sometime later this year.
 A writing friend and I have talked about collaborating on a novella, something with ghosts in it, but we both seem to be very busy. Maybe it will never happen.
 As well as my Australian fiction books, I write historical romance as Sara Bennett. I have just finished a series of Regency era novellas and the last one, Reckless, will be published at the end of January. Now I want to begin my new series.
Maybe My Writing Goals for 2019 should go by another title. Finding Time. But whatever happens in 2019 I will be writing something, you can be sure of it!
Thank you to all of my readers for sticking with me 😊
Read more about Kaye Dobbie, her books, where to buy and where to find her on social media
Cathryn Hein
Bestselling Rural Romance and Romantic Adventure Author
Taking your heart on an adventure…
I'm very excited about this year. 2018 was a challenge, to put it mildly, and its dramas and difficulties significantly affected my writing output. With the new year here, I'm determined to get back on track.
First book off the rank will be Eddie and the Show Queen, a follow-on story to Chrissy and the Burroughs Boy and the newest addition to my loosely related Levenham Love Story series. I think you'll adore this one. Eddie and the Show Queen is a heart-warming second-chance romance filled with humour, emotion and small-town shenanigans.
No firm release date yet but the book is close to completion and news shouldn't be far off. As usual, newsletter subscribers will hear all the details first, so make sure you're signed up at cathrynhein.com/newsletter.
As for what's coming after Eddie and the Show Queen, my goal is to write one full-length novel and another novella. I'm not sure which will come first. I'll have to see which new hero calls to me the strongest. Although given my ginormous crush on Eddie, whoever it is will have to be super special to break through!
Read more about Cathryn Hein, her books, where to buy and where to find her on social media
Fiona McArthur
Multi-Published International Bestselling Author
Feel-good fiction and drama
What are my writing goals for 2019?
My word is Renaissance – (last year it was Sparkly) so this year I'm reinventing myself as a full-time writer and committing to health, serenity and a sensible diet. Really! My writing goals are one big Aussie outback book and one shorter romance in rural Australia. And my secret squirrel book as well. May the muse be with me.
I'm still writing so much about what I believe in– which is the power of love, women's relationships and the great Australian countryside – all highlighted by my heroes of medical drama. So please join me.
The books for 2019:
Lacey – In March for Tule, the US publisher, and she's the first of the NEW Outback Bride Series.
The Desert Midwife – 16th July for Penguin Random House – my new big outback drama is set in central Australia starring the majesty of Uluru. I can't wait to show you. I love the scenery, the tough heroine, the tough moments, and the flashes of fun and teasing that made me laugh out loud. Go Ava and I so love central Australia.
Midwives of Lighthouse Bay 3 for HM&B late 2019 or early 2020 –Don't you love series and re-visiting old friends, and we'll be waving to lots of gorgeous babies in this small rural town in northern NSW. I opened this book crawling through my heroine Faith's favourite cave complex, she's a guide, and I bet you enjoy your trip underground with her gorgeous Italian hero.
Did you get to read Mother's Day last year? A book of the heart and such fun.
And socially if you're talking books I'm so excited to be meeting more readers across Australia because I loved WCFF in Perth in November. I do hope I see you at…
1/ARRA Brisbane in March
2/Winton Outback Writers Festival and road trip in June with the fab Janette Paul
3/Fictionally Yours Melbourne in July
4/Romance Australia Melbourne in August.
So that's my party what's yours?
Wishing you fab books to find for 2019 and thank you, wonderful readers
xx Fi
Read more about Fiona McArthur, her books, where to buy and where to find her on social media
Trish Morey
Award Winning, Multi-Published International Bestselling Author
Passionate, emotional, page turning stories
Happy new year!
How was your 2018? Were you happy to see the back of it, or was it one of your best yet and you'd like more of the same, please? 😊
Well, whatever else 2019 brings, you can be sure to find some amazing Aussie reads to see you through those days and nights where you just feel like curling up with a good book.
I've got two releases slated for the year – one a Harlequin/Mills and Boon coming out in August and called Prince's Virgin in Venice. Unsurprisingly this one is set in Venice, so if you love all things Venetian and magical and romantic, then look out for Vittorio and Rosa's story.
But if you like your stories set closer to home, I've also got a single title book (tentatively) called The Five Stages of Forgiveness coming out in the second half of the year, and this one is set on the gorgeous Lord Howe Island. It's about three school friends, now grown up, and each facing their own set of issues. It's about friendship and promises, infertility and betrayal, and forgiveness and coming home. Of course, it's still got a romantic thread, because the world needs more happy endings, but it's a big meaty book full of interesting (and sometimes infuriating!) characters, and I can't wait to share it with you.
And when I'm not fiddling bits for either release, I'll be working on something quite different again – but I might leave that big reveal for 2020!
Meanwhile, enjoy a bumper new year of reading!
Best wishes,
Trish Morey
Read more about Trish Morey, her books, where to buy and where to find her on social media
Sasha Wasley
Australian Author
Australian stories of passion, family and society with characters who live and breathe
I have a bit of a restless heart when it comes to writing and cannot seem to confine myself to one genre!
Obviously I have the release of Love Song coming in June (this is book 3 in my outback romance series) but I have some other things going on as well, in wildly different areas of fiction. But before I go there, I have to tell you my really exciting news: the film options for Dear Banjo, True Blue and Love Song have been acquired by Aussie production Thomas Street Productions! Who knows what will happen next, but personally I am OVER THE MOON at the thought of seeing Willow, Free and Beth on screen.
So, back to my genre switching. Last year, I wrote a general fiction (probably women's lit, if pushed to categorise it) called Spring Clean for the Peach Queen. I'm still sitting on and thinking about this one, as I feel it needs another look. I have also just finished writing a psychological suspense called The Rhyme Game. I am super excited about it and have really enjoyed writing in this genre. It's with beta readers at the moment and will then go off to my agent.
My next steps are still undecided. I have commenced writing a teen TV series screenplay and am rereading my The Seventh paranormal series because I am hoping to complete it this year. But I also took the rights back to my amateur detective book Strange Truths recently and wish to rework it so it fits more solidly into a young adult genre. I'm not sure which of these projects will get my attention first in 2019.
So I have lots on, across a bunch of genres, so I sure hope my readers like reading different kinds of books!
Sasha
Read more about Sasha Wasley, her books, where to buy and where to find her on social media
Thank you to the authors for their amazing insights into who they are, what they do, and how they go about it.
It's inspiring for all of us.
Australian Fiction Authors has another goal for 2019. This year, we're hoping to grow our Facebook page Likers and followers from 2,300-ish to 3,000!
If you can help us, we'd love to have you on board on our Facebook page, Australian Fiction Authors
You can also subscribe by email to receive our occasional blog posts with new release updates and snippets of info from the authors. Just enter your email address in the Subscribe button at the top of this page.
Never miss a new book release!
And thank you for your continued support because it's awesome.
Stay up-to-date on the latest Australian fiction releases and news